19-year-old gets prison in slaying, robbery spurred by NASCAR jacket
February 18, 2009 - 12:09 pm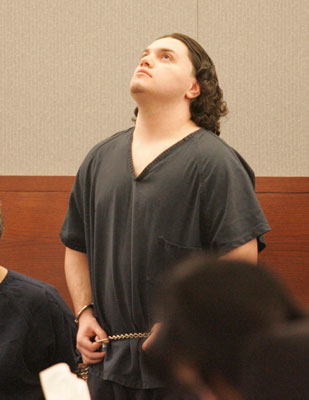 Two years ago, 14-year-old Davonta Toms was gunned down and killed during a robbery attempt spurred, in part, by a Budweiser NASCAR jacket.
The motive for killing the Valley High School freshman who had NBA dreams made the shock of his death even worse for his family.
On Wednesday, one of three men accused of taking part in Davonta's slaying was sentenced to life in prison, with the possibility of parole after 10 years.
District Judge Kathy Hardcastle sentenced Alex Garcia, 19, who pleaded guilty in December to second-degree murder and other charges in connection with Davonta's killing.
Garcia, who was 17 at the time of the shooting, spoke barely above a whisper during the hearing as he apologized for the slaying.
One of his attorneys, deputy special public defender Ivette Maningo, said the slaying was tragic. Garcia, she said, has no criminal record and wasn't the triggerman during the attack.
"He has, from the very beginning, shown remorse and taken responsibility," Maningo said.
Garcia, originally from California, lived with his mother, four siblings and two nieces. He was raised in a poor neighborhood troubled by gangs and drugs but wasn't a gang member, court records state.
He occasionally worked as a carpet and tile installer and also cared for a young niece. Like the victim, Garcia attended Valley High School near Eastern Avenue and Vegas Valley Drive.
After the shooting, Garcia cooperated with police and gave a full confession, court documents state.
The man authorities accuse of shooting Davonta, 21-year-old Joseph Regala, is awaiting trial in the county jail. He could receive the death penalty if convicted of Davonta's killing.
Davonta's February 2007 slaying drew headlines because of the senselessness of his death. Davonta, his brother and two friends were exiting a Citizens Area Transit bus on Stewart Avenue near Lamb Boulevard when they were confronted by Garcia, Regala and another man, Jesse Gonzalez.
Gonzalez has also pleaded guilty in connection with the slaying.
Davonta and his friends had little money on them. Davonta's family said that he wasn't even wearing the NASCAR jacket that the assailants wanted. Davonta's brother, Nolan, was the one wearing the jacket. Family members said Nolan gladly would have surrendered the jacket to save his brother's life.
But Regala, authorities said, had spotted the teens leaving the bus and wanted the NASCAR jacket. Regala, Garcia and Gonzalez ambushed Davonta's group and tried to rob them, authorities said.
The ambushed teens fled when Regala confronted them. Regala, armed with a shortened .22-caliber rifle, fired at the teens as they ran away, authorities said. Davonta was shot in the back of the head.
A Las Vegas police report states that after the slaying, Regala told officers that he was aiming low and didn't intend to kill anyone.
Contact reporter David Kihara at dkihara@reviewjournal.com or 702-380-1039.