Bill to help solar customers clears hurdle in Nevada Legislature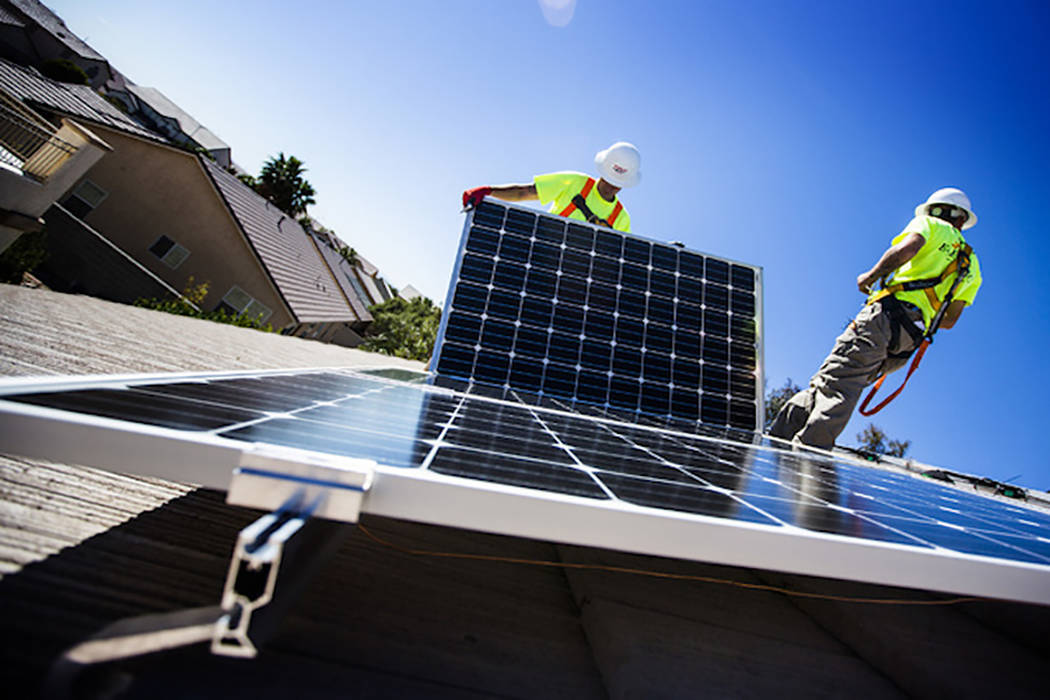 CARSON CITY — A bill that would restore commercially viable rates for homeowners who want to install rooftop solar panels and participate in net metering survived the first of many legislative hurdles on Monday.
Assembly Bill 270, which would bring back retail rates for homeowners who want to install rooftop solar systems, was forwarded to the full Assembly Commerce Committee with several amendments but no firm recommendation from the subcommittee that reviewed the proposal.
"This is very complicated stuff," said Assemblywoman Maggie Carlton, D-Las Vegas, a subcommittee member. "It's not baked yet."
The full Assembly Commerce and Labor Committee has set a Wednesday hearing to consider the amended bill and several other energy measures.
AB270, introduced by Assemblyman Justin Watkins, D-Las Vegas, would set a minimum credit of 11 cents per kilowatt-hour for electricity that is fed back into a utility's grid from a rooftop solar installation.
Of this amount, 9 cents would encompass such benefits as avoided new generation capacity and avoided transmission and distribution costs. The other 2 cents would be based on such environmental benefits as avoided carbon dioxide emissions and avoided water consumption, along with the benefits of job creation by renewing the rooftop solar industry in Nevada.
Rooftop solar customers would be responsible for fixed charges that all utility customers pay.
Watkins said at a hearing on the measure last week that it is intended to be a starting point for discussions on how to restore the rooftop solar industry in Nevada. Major solar companies left the state after the Public Utilities Commission adopted a rate structure for net metering customers that increased a flat monthly charge and reduced the amount of credit for the excess electricity generated by rooftop systems.
The move to wholesale credits for rooftop solar systems caused the industry to lurch to a halt in Nevada.
Since then, the PUC has decided to grandfather in thousands of rooftop solar customers who had systems installed or were in the pipeline for approval under the old retail rates for 20 years.
The measure also would require the PUC to review and make a determination on whether rooftop solar customers are being subsidized by nonsolar customers.
Contact Sean Whaley at swhaley@reviewjournal.com or 775-461-3820. Follow @seanw801 on Twitter.