Furious pace on tap as midway point of Nevada Legislature looms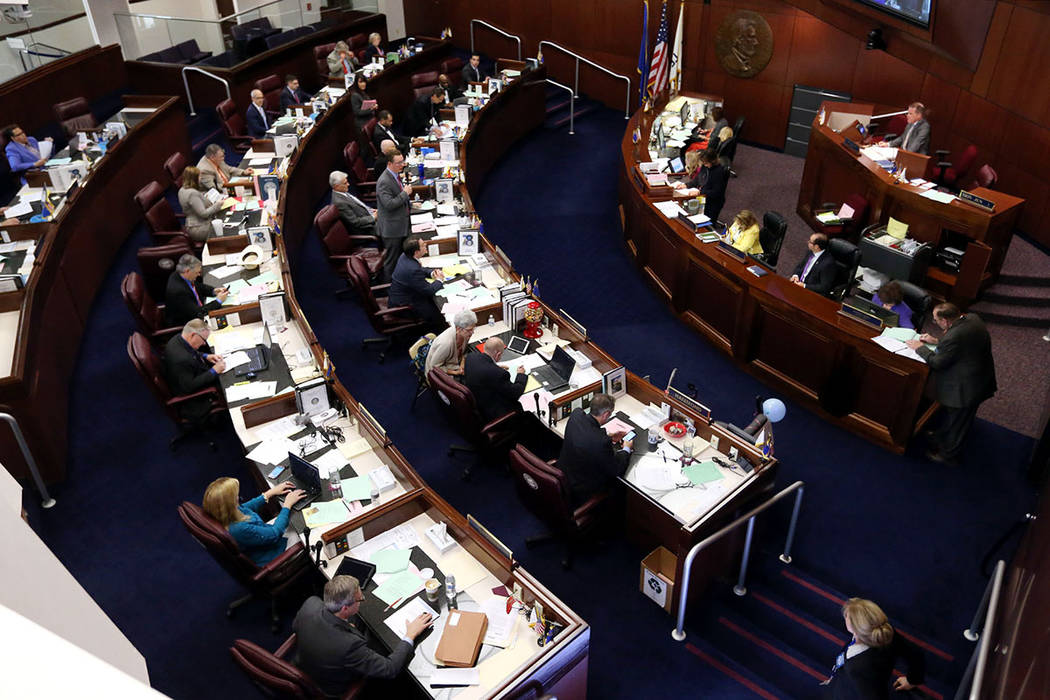 CARSON CITY — As lawmakers rush to get bills heard by a looming drop-dead date, a milestone will be reached Thursday when the 2017 session hits the halfway point.
It's downhill after that for the 120-day session that must conclude on June 5.
The halfway point of the session is significant for another reason. Lawmakers no longer get their roughly $150 a day in pay, though they will continue to receive per diem of $142 a day for the remainder of the session.
The focus this week will be on hearing bills that were introduced by the scores over the past two weeks, as well as moving bills already heard out of committee for votes by the full Assembly and Senate. Bills that do not have an exemption must be out of the committee of origin by April 14, or they will die.
The Senate Finance and Assembly Ways and Means committees will also finalize various agency budgets as decisions are made on elements of Gov. Brian Sandoval's proposed $8.1 billion general fund budget for the two years beginning July 1. The big budget decisions will not come until the final revenue picture is clarified in early May.
MONDAY
Under federal law, all gift cards are subject to an expiration date of at least five years. Assembly Bill 287, which will be heard in the Assembly Judiciary Committee, would ban expiration dates on gift cards sold in Nevada.
The Senate Judiciary Committee will take up a bill to create an animal abuser registry. Senate Bill 405, from Las Vegas Democrats Sens. Mark Manendo and David Parks, is a new effort to set up the registry. Previous efforts to establish a list of people who would be prohibited from owning pets have not been successful.
The Assembly Education Committee will take up a measure to separate governance of Nevada's community colleges from its state universities. Assembly Bill 331, sponsored by Assemblyman Ira Hansen, R-Sparks, would create the Nevada System of Community Colleges.
TUESDAY
The Assembly Corrections, Parole and Probation Committee will consider Assembly Bill 303 to prohibit the use of private companies to provide correctional services.
The Senate Transportation Committee will take up a bill to create a Tule Springs Fossil Beds National Monument license plate.
The Senate Revenue and Economic Development Committee will take up Senate Bill 455, which would grant tax credits to businesses that assist employees in paying for child care.
WEDNESDAY
The Assembly Education Committee has a big agenda, with bills that would change instruction in sex education and measures aimed at eliminating or delaying the Achievement School District, which allows for the takeover of underperforming schools by charters.
Finally, the panel is expected to take a vote on Assembly Bill 469, which is intended to move the Clark County School District reorganization forward on schedule. The bill is sponsored by the legislative leaders of both parities and is expected to be on Sandoval's desk within the week.
THURSDAY
The Assembly Taxation Committee will take up a second measure aimed at the "pink tax" on feminine hygiene products. Assembly Bill 402 from Assemblywoman Sandra Jauregui, D-Las Vegas, is similar to a measure heard last week in the Senate. It would ask voters to weigh in on whether such products should be exempted from the sales tax.
Contact Sean Whaley at swhaley@reviewjournal.com or 775-461-3820. Follow @seanw801 on Twitter.
FOLLOW THE BILLS
Here is where to keep track of the progress of the 2017 session of the Nevada Legislature:
https://www.leg.state.nv.us/App/Calendar/A/