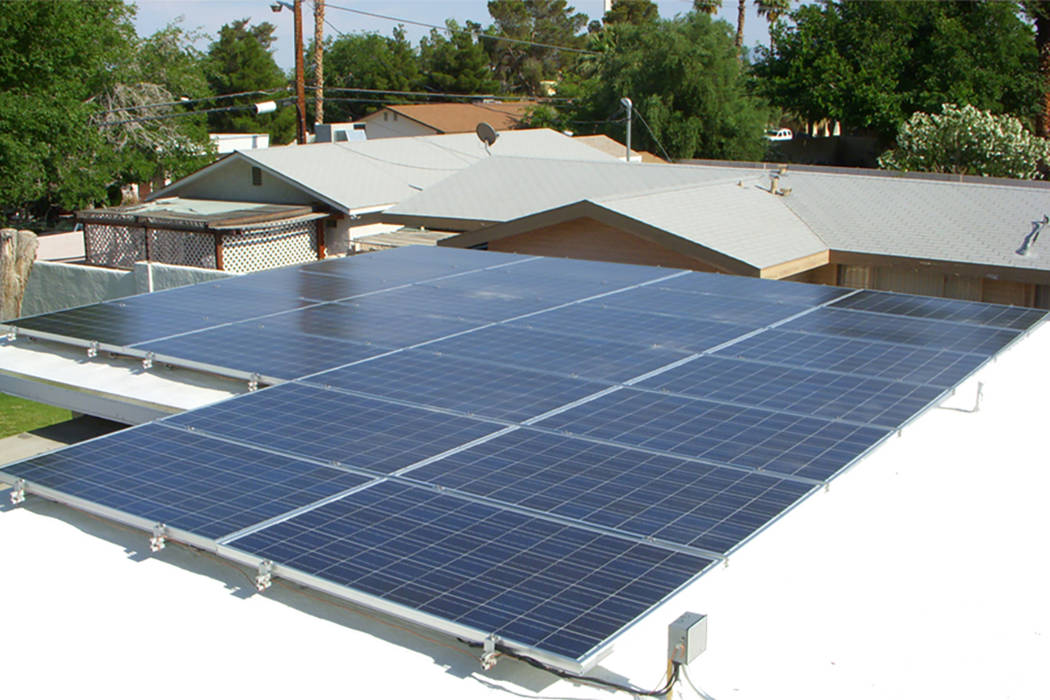 CARSON CITY — The Nevada Assembly passed a measure intended to make net metering a realistic choice for Silver State utility customers.
The Assembly on Tuesday voted 38-2 on Assembly Bill 405. The measure would institute protections for consumers who want to buy rooftop solar systems and participate in net metering, in which a utility reimburses homeowners for excess electricity they generate. Assemblymen Ira Hansen, R-Sparks, and Skip Daly, D-Sparks, were opposed.
The measure from Assemblyman Chris Brooks, D-Las Vegas, includes net metering provisions first proposed in Assembly Bill 270 by Assemblyman Justin Watkins, D-Las Vegas.
The bill would reimburse rooftop solar owners at 95 percent of the retail rate of the generated electricity, which is 11.3 cents per kilowatt hour in NV Energy's Southern Nevada region. The average Southern Nevada residential customer uses 1,141 kilowatts of electricity a month.
Left unchanged are the rates for current rooftop solar customers who were grandfathered in under the original net metering rates by the Nevada Public Utilities Commission.
The 95 percent reimbursement rate would be available for the first 250 megawatts of rooftop solar generation. The reimbursement rate would be reduced to 90 percent for the next 160 megawatts, dropping to an 80 percent rate when rooftop solar energy totals 10 percent of the total power grid production.
The reimbursement rates would be maintained for 20 years under the rate when the homeowner installed a system. This is intended to give stability to homeowners who will spend $20,000 or more to install a rooftop system. In all, 25,598 net metering customers are interconnected statewide.
NV Energy, which operates as Nevada Power in Southern Nevada, is neutral on the legislation, which heads to the Senate.
Rooftop solar companies view AB405 as a shot at restoring their fortunes, which plummeted after state utility regulators adopted generous payments for the excess electricity.
Alex McDonough, vice president of public policy for Sunrun, one of the biggest rooftop solar companies that left Nevada when the PUC changed the rate structure effective Jan. 1, 2016, said after the Assembly Commerce Committee passed AB405:
"We've heard from hundreds of Nevadans, including former solar workers, solar customers and people who want to go solar. The message is clear: They're looking to the Legislature to act to bring back solar choice and jobs. We're grateful to legislators for their vote today to restore rooftop solar jobs in Nevada."
Review-Journal Capital Bureau reporter Sean Whaley contributed to this report.
Contact Ben Botkin at bbotkin@reviewjournal.com or 775-461-0661. Follow @BenBotkin1 on Twitter.
Related
The sun could soon shine again on rooftop solar in Nevada
Bill to help solar customers clears hurdle in Nevada Legislature