Nevada college presidents pitch money needs to Legislature
Updated April 14, 2017 - 11:22 pm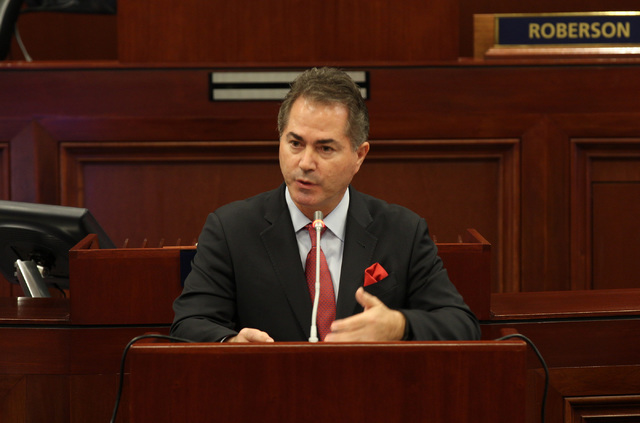 UNLV President Len Jessup asked lawmakers Friday for $4 million to plan a new building for the school's engineering program.
He said the hope would be to expand efforts in biomedical engineering, and he sees future partnerships with UNLV's new medical school.
"There's great power in that for the state," Jessup said.
However, state Senate Assistant Minority Leader Ben Kieckhefer, R-Reno, said he believes the state should not have to contribute dollars to universities for planning.
Jessup's request for what he called the university's fastest-growing program came during the same legislative committee meeting where University of Nevada, Reno President Mark Johnson asked for $41 million to ensure its proposed engineering building is a reality.
"If we do not get this … the donors are allowed to walk away," Johnson said, adding that 93 percent of the donor money has been identified.
The estimated total for the UNR project — which would provide research laboratories, computer and instructional labs, offices and a 200-seat classroom — is nearly $85 million, with $43 million coming from university and donor funds.
Johnson said student fees will be allocated to the project, but fees will not increase. He added that the project is a "priority" for the university, as engineering is the fastest-growing program at UNR, too.
The difference between the two is that UNR's project was part of the governor's proposed budget. If funded, construction would begin in October 2018, with projected completion in June 2020.
"We need the growth capacity," Johnson said.
Jessup expressed similar sentiments for his proposal, citing 2,600 students in UNLV's engineering program. "If we had room for them, we'd channel more there," he said, adding that the program averages $10 million annually in federal grant funding.
Lawmakers also heard support for a new health sciences building to be jointly used by the College of Southern Nevada and Nevada State College. NSC President Bart Patterson also requested more than $3 million in planning money for a new education building, citing the goal to reduce the teacher shortage.
Patterson said the last time NSC received state funding for a building was in 2008; for CSN, it was 2007.
Contact Natalie Bruzda at nbruzda@reviewjournal.com or 702-477-3897. Follow @NatalieBruzda on Twitter.
Other requests
Nevada System of Higher Education requests for capital improvement projects:
$15 million for deferred maintenance projects
$2.8 million for furniture, fixtures and equipment at UNLV's hospitality college