Nevada Democratic leaders tout bill to support first responders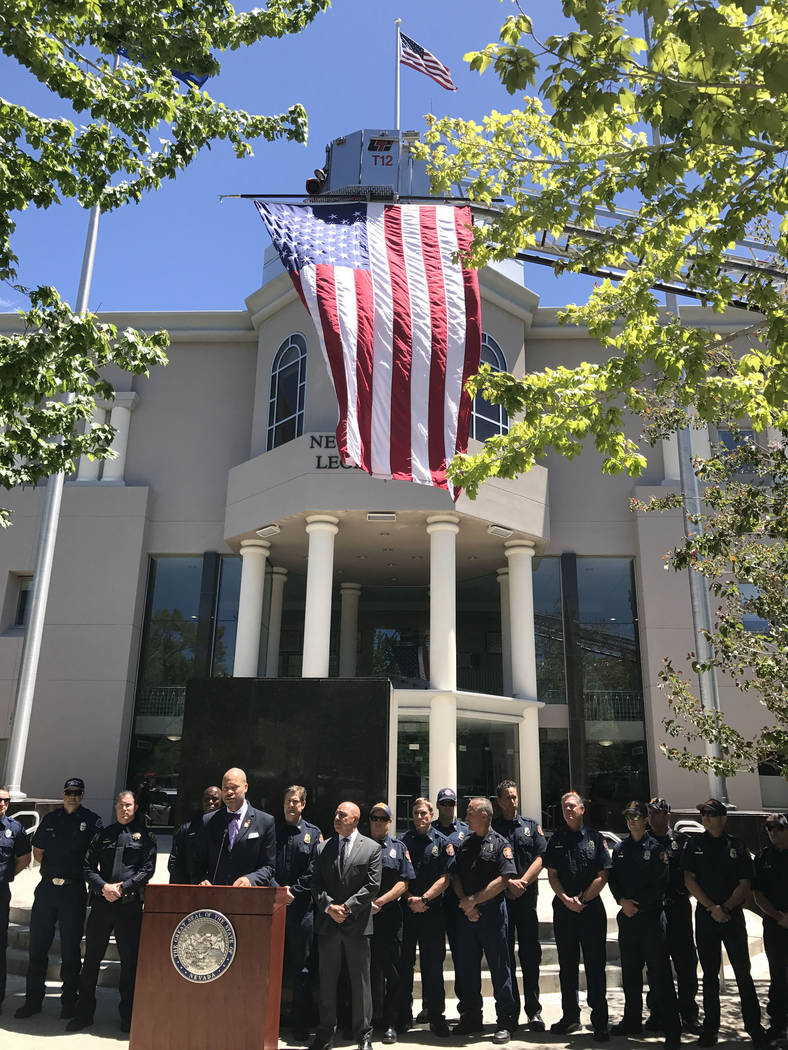 CARSON CITY — People who commit felonies against first responders and target them because of the jobs they do would face enhanced penalties under a bill introduced Thursday in the state Senate.
Sponsored by Majority Leader Aaron Ford, Speaker Jason Frierson and others, Senate Bill 541 adds prison time of one year to 20 years for felonies committed against police officers, firefighters or emergency medical personnel acting in their normal course of duty.
Speaking at a press conference flanked by law enforcement, firefighters and others, Ford, D-Las Vegas, said the proposed legislation will "send a message, one that is loud and clear, one that conveys the message that Nevada will not tolerate attacks on our brave first responders who work to protect and defend our liberties."
The bill is a response to several incidents around the country where first responders were ambushed while answering emergencies.
Under the bill, any enhanced punishment cannot exceed the sentence imposed for the crime itself, and must run consecutively to the sentence for the primary crime.
Rick McCann, executive director of the Nevada Association of Public Safety Officers, said first responders risk injury and possible death every day to protect the public.
SB541, he said, "will send a message that the state of Nevada has no tolerance for those who seek to harm law enforcement and first responders, and those who do will face significant penalties."
Another measure introduced Thursday, Senate Bill 540, directs the Legislative Commission to authorize construction or installation of a memorial to fallen firefighters on the Capitol Complex.
Mills Park in Carson City has a firefighters' memorial, but officials say moving it or erecting a new one on the Capitol grounds will give fallen firefighters the recognition they deserve.
"Nevada's fallen firefighters deserve to be honored at the seat of state government." said Angelo Aragon, president of the Professional Firefighters of Nevada.
The memorial, he said, will show firefighters and their families that Nevada appreciates the service of those who made the ultimate sacrifice.
SB540 prohibits the use of public money for the design, construction or installation of the memorial, which will be paid for by private donations.
Contact Sandra Chereb at schereb@reviewjournal.com or 775-461-3821. Follow @SandraChereb on Twitter.
Enhanced penalties
People convicted of crimes targeting emergency responders would face enhanced penalties of one year to 20 years under a bill introduced Thursday in the Nevada Senate.
The enhancement would apply to crimes committed against any police, fire or emergency medial personnel acting in the normal course of duty.