Nevada Senate panel OKs doctor-assisted death measure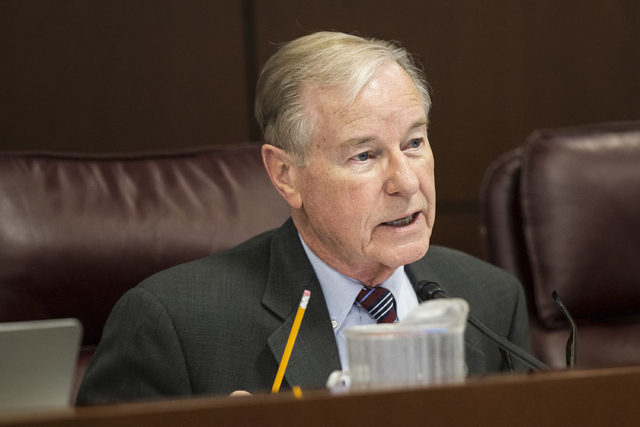 CARSON CITY — A Nevada Senate committee approved a bill Monday allowing terminally ill people to obtain life-ending drugs from a doctor.
Senate Bill 261, sponsored by Sen. David Parks, D-Las Vegas, was passed on a 3-2 party-line vote by the Senate Health and Human Services Committee, with Republicans voting no.
The bill allows patients who are 18 or older, of sound mind and given six months or fewer to live, to request a prescription from their doctor to end their life at the time of their choosing.
Physicians, pharmacists and health care facilities would not be mandated to participate.
Sen. Joe Hardy, R-Boulder City, and Sen. Scott Hammond, R-Las Vegas, voted against the bill.
"I have obvious concerns about doctors and physician-assisted suicide," said Hardy, a doctor and member of the Mormon church. He also echoed fears raised by opponents that the legislation would make suicide a preferred course for the sick and frail.
Hardy said depression and mental illness may be temporary, and he cannot support an option "that is very final."
But Sen. Pat Spearman, D-North Las Vegas, said the bill is a "humane option" that will save patients and their families the agony of prolonged death. Spearman said she spoke with former high school classmates about the bill and was reminded of a former principal who battled terminal cancer.
"He did not have this as an option, just a weapon, and took just a horrible way out for the family," she said.
Democratic Sens. Julia Ratti of Sparks and Joyce Woodhouse of Henderson also supported the bill.
The committee Monday unanimously passed another bill that defines brain death.
Assembly Bill 424, previously approved by the Assembly, would codify national medical standards for determining when a patient is brain dead. The bill stems from the case of 20-year-old Las Vegas woman who was declared brain dead at a Reno hospital, but her family went to court to try to keep her on life support.
AB424 states that consent of family is not required to declare someone brain dead. It prohibits withdrawal of life-sustaining efforts if the patient is pregnant and the fetus could survive with continued treatment.
It also provides that "organ-sustaining" treatment must continue until organs are harvested if the patient is an organ donor.
Both bills now go to the full Senate.
Contact Sandra Chereb at schereb@reviewjournal.com or 775-461-3821. Follow @SandraChereb on Twitter.