Nevada women's group pushes for Sandoval to sign birth control bill
Updated May 26, 2017 - 9:41 pm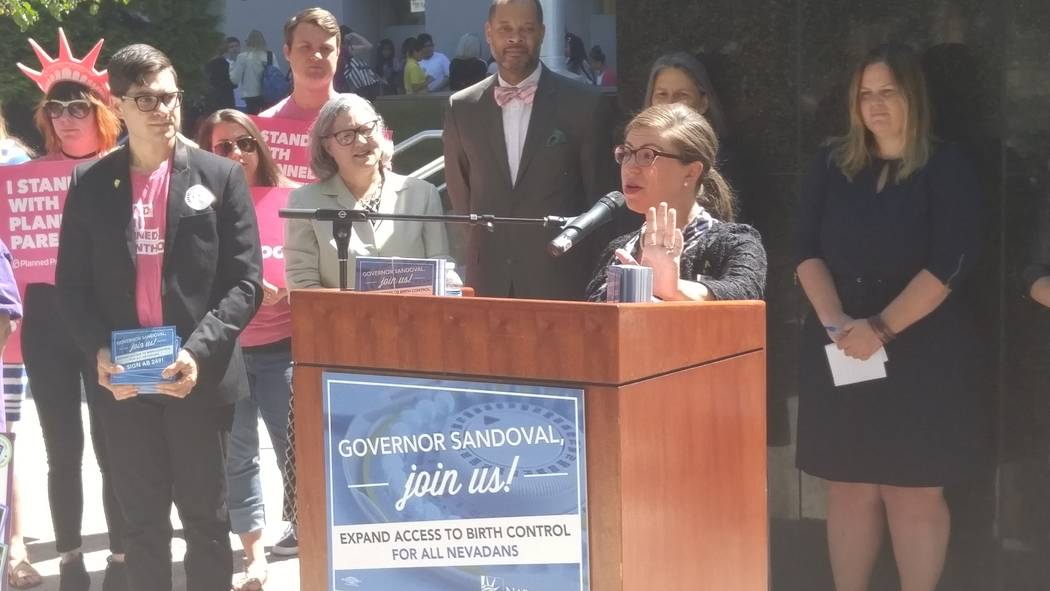 CARSON CITY — After monthly treks from Las Vegas to Carson City, shaking hands, advocating and lobbying have come down to this: Senate Bill 233 needs a signature from Gov. Brian Sandoval.
A group of legislators and activists with NARAL Pro-Choice Nevada gathered on Friday in front of the Legislative Building to urge Sandoval to sign a bill that would improve women's access to contraception.
"We took feminist road trips from Las Vegas to Carson City every month, which is no small feat," said Caroline Mello Roberson of NARAL, told the group.
Senate Bill 233, sponsored by Sen. Julia Ratti, D-Sparks, passed the Assembly with a 32-8 vote and the Senate with a 13-8 vote.
"To those women, we heard you and we fought for you," Ratti said.
Assembly Majority Floor Leader Teresa Benitez-Thompson, D-Reno, also pushed for the passage of Assembly Bill 249, which would require a 12-month supply of contraceptives to be included in health insurance plans. The bill has passed the Assembly 40-2.
The measure passed the Senate 18-3 on Friday. It now goes back to the Assembly to concur with a minor amendment.
"Women shouldn't have to sacrifice their reproductive health because they couldn't make it to the pharmacy on time," Benitez-Thompson said.
After the event, the women walked to the governor's office to deliver more than 3,000 postcards asking him to support the legislation.
Contact Ben Botkin at bbotkin@reviewjournal.com or 775-461-0661. Follow @BenBotkin1 on Twitter.