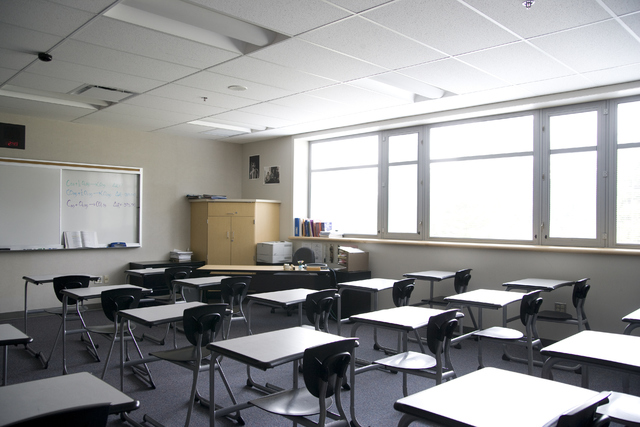 CARSON CITY — Opponents of a bill updating sex education in public schools focused Monday on costs as reason for lawmakers to reject the bill.
Assembly Bill 348, previously approved by a policy committee, was considered Monday by the Assembly Committee on Ways and Means because of potential costs submitted by some school districts and the Department of Education.
Some parents said the potential costs would be a waste of taxpayer dollars at a time when school districts are struggling to keep up with growth and some, like Washoe County, are fighting budget deficits.
Democratic committee members countered any expense should be weighed against the cost of accommodating teen mothers.
Assemblywoman Amber Joiner, a Reno Democrat and sponsor of the bill, said Nevada's statute on sex ed has not been updated since the late 1980s.
"Current law requires instruction in AIDS but not how to protect against getting HIV," Joiner told the committee.
The bill was amended to restore existing "opt-in" provisions, requiring permission from parents for their children to participate in sex education. Parents could also give consent online and for as long as the child remains in the district.
It would require the state to develop appropriate curriculum standards that are "evidence-based" and "medically accurate." Local school districts would then set specific, age-appropriate lessons.
Joiner said she is working with state education officials and local school districts to try to reduce or eliminate fiscal notes attached to the bill.
For example, she said Department of Education officials indicated it might be able to eliminate an $8,000 cost if the timing for writing standards was amended to coincide with the agency's existing cycle for reviewing standards.
The Clark County School District submitted a cost projection of $263,000 for the upcoming two years, including $73,000 for staff training and $51,000 for class materials and textbooks.
Douglas County School District, a rural area just south of Carson City, submitted the largest fiscal note, estimating it could cost as much as $720,000 of the purchase of materials.
Ways and Means took no action on the bill.
Contact Sandra Chereb at schereb@reviewjournal.com or 775-461-3821. Follow @SandraChereb on Twitter.
Related
Bill would require families to 'opt out' of sex ed in high school
CCSD tweaks sex ed policy for coming school year
School Board votes to support state mandate for parental opt-in for sex ed classes