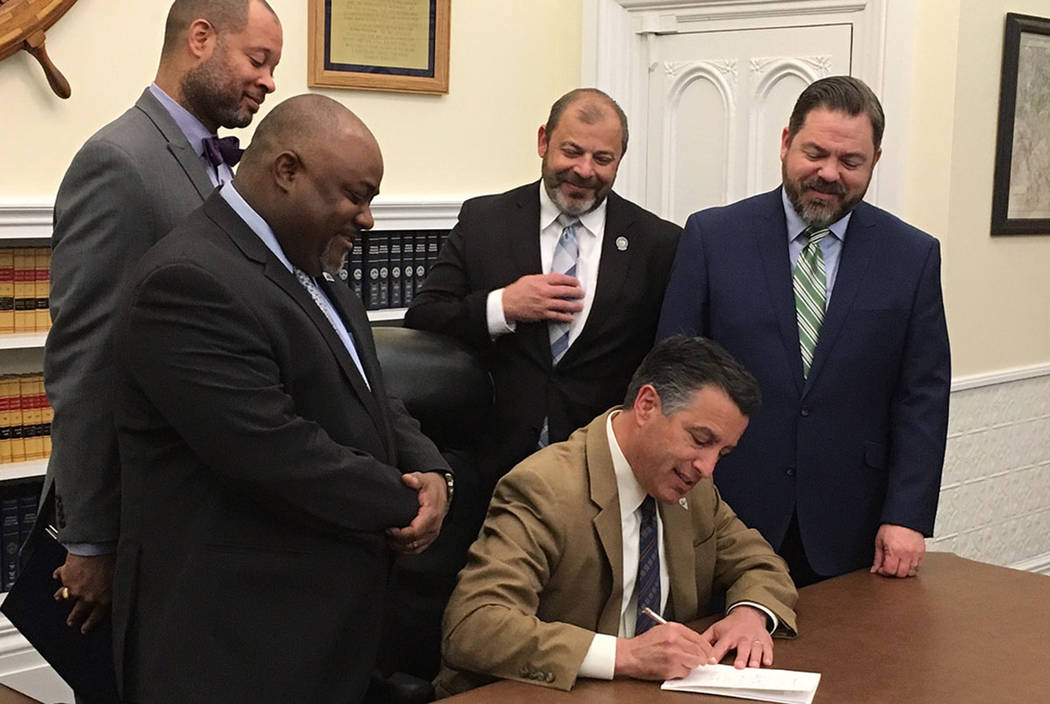 CARSON CITY — The months turned into weeks, and now it's days for the Nevada Legislature to finish up by a mandated deadline of June 5.
Many issues remain under discussion in Week 17, from Education Savings Accounts to a possible bump in the minimum wage to a retail tax on marijuana needed to plug a hole in the state education budget.
Net metering, which Gov. Brian Sandoval said he supports, is also part of the discussions, as are other bills that are priorities for the Democratic leadership in the Senate and Assembly. Net metering allows individuals with rooftop solar to receive credits for the excess energy they generate.
Despite the lack of resolution on the many issues with just over a week to go, Sandoval said last week that he remains optimistic that lawmakers will finish on time.
"Obviously, there are some budget deadlines that are coming up," he said. "We're going to get this done. I'm confident."
The budget bills that will implement Sandoval's 2017-19, $8.2 billion general fund spending plan and funding for public education must be introduced by Wednesday.
Working on ESAs
Sandoval has included $60 million for the ESA program.
Asked on Wednesday how committed he is to getting ESAs funded, Sandoval said: "100 percent. It's no secret that ESAs are a big priority for me."
"It's another fluid conversation we're having with the Legislature," he said.
The conversations on ESAs involve a variety of issues, including the potential of income limits for who would be eligible, since there would likely be far more applications than money available.
Senate Bill 506, which would implement the program, has no limits now. It is awaiting a hearing in the Senate Finance Committee.
"That's all part of the discussion," Sandoval said of the potential for income limits. "There has been no agreement."
Sandoval visited Faith Lutheran private school in Las Vegas this month and said he was told by the principal that a separate program to help low-income students attend private schools using tax credits, called Opportunity Scholarships, has been transformational for those students.
ESAs would help expand opportunities for students who would not otherwise have the chance to attend a private school, Sandoval said.
But the program has been the most controversial piece of Sandoval's budget. It would provide a limited number of parents with $5,200 to help pay for private school, including religious schools. Republican, are adamant that the program, approved in 2015, be funded this session.
Democrats are not enthusiastic about the program, which critics call a voucher program.
Other negotiations
Sandoval said conversations with Democratic leaders of the Assembly and Senate, as well as the Republican minority leadership, are ongoing on several other fronts, including a potential raise in the minimum wage.
Nevada's minimum wage is $7.25 an hour for employees who are offered health insurance. The minimum wage for employees who are not offered health benefits is $8.25 per hour.
Senate Bill 106 would increase the minimum by 75 cents each year until it reaches $11 if employers offer health insurance and $12 if they do not. But Sandoval said he wants the issue of overtime to be discussed in relationship to an increase in the wage. The issue is overtime within a 24-hour period, he said.
Sandoval would not pick a number for a minimum wage he would support. If it goes up too much, people could lose jobs, he said.
"It is under discussion," Sandoval said. "I think ($7.25) is adequate, but I'm going to consider looking at raising it."
Sandoval said he is also working with Assembly Speaker Jason Frierson, D-Las Vegas, on a bill that would restore voting rights to felons.
Sandoval said both Frierson and Senate Majority Leader Aaron Ford, D-Las Vegas, have been willing to work with him to make changes to measures they want passed so he can consider signing them into law.
"This has been an ongoing conversation on a variety of issues," he said. "Nothing happens in a vacuum."
Contact Sean Whaley at swhaley@reviewjournal.com or 775-461-3820. Follow @seanw801 on Twitter.