Sandoval's marijuana bill gets no vote, but will survive key deadline
Updated April 13, 2017 - 10:26 pm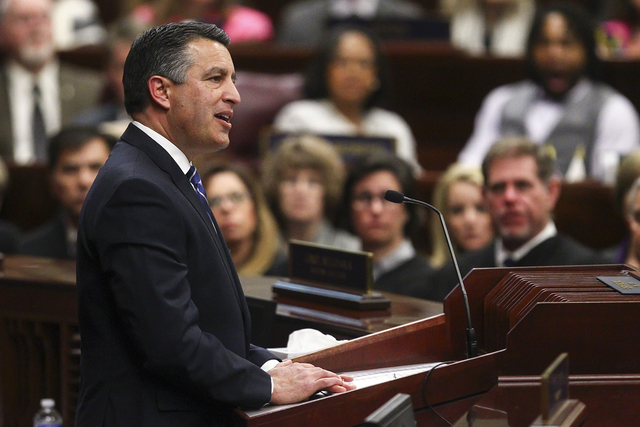 CARSON CITY — Nevada Gov. Brian Sandoval's marijuana tax bill was sent to the Senate Finance Committee on Thursday — a move needed to keep the bill alive beyond a looming deadline.
The Senate Revenue and Economic Development Committee referred Senate Bill 508 to the finance committee without recommendation. Bills must pass their committee of origin or be sent to a finance committee by Friday.
The bill would levy a 10 percent special tax on the sale of recreational marijuana. Sandoval's proposed two-year budget is betting on roughly $70 million of revenue from that tax to go to the state's education fund.
Committee chairwoman Sen. Julia Ratti, D-Sparks, said after the hearing that lawmakers need more time to discuss how to distribute the revenue from marijuana taxes.
Ratti has her own marijuana tax proposal, Senate Bill 487, which calls for portions of the revenue to go to local governments and substance abuse programs. A third bill, Senate Bill 302, offers a slightly different option on how to spend that money.
Both of those bills were granted waivers to avoid Friday's deadline.
Ratti proposed an amendment to her bill that combines her original bill, Sen. Tick Segerblom's Senate Bill 302 and Sandoval's tax proposal into a single bill. The goal, Ratti said, is to use that amended bill to make it easier to debate the best tax structure, rather than have separate bills floating around.
Contact Colton Lochhead at clochhead@reviewjournal.com or 702-383-4638. Follow @ColtonLochhead on Twitter.
Moving along
Four other marijuana bills passed committees on Thursday and await a floor vote in their respective houses:
SB 341 — Allows Nevada universities to research medical cannabis.
SB 396—Allows for the cultivation and production of industrial hemp in Nevada.
SB 416—Allows for medical marijuana apprenticeship programs.
AB 463—Changes the tax structure of medical marijuana so that medical and recreational cannabis don't need to be separated from seed to sale.