Students watch Sandoval sign bills promoting Nevada state parks
Updated May 12, 2017 - 4:54 pm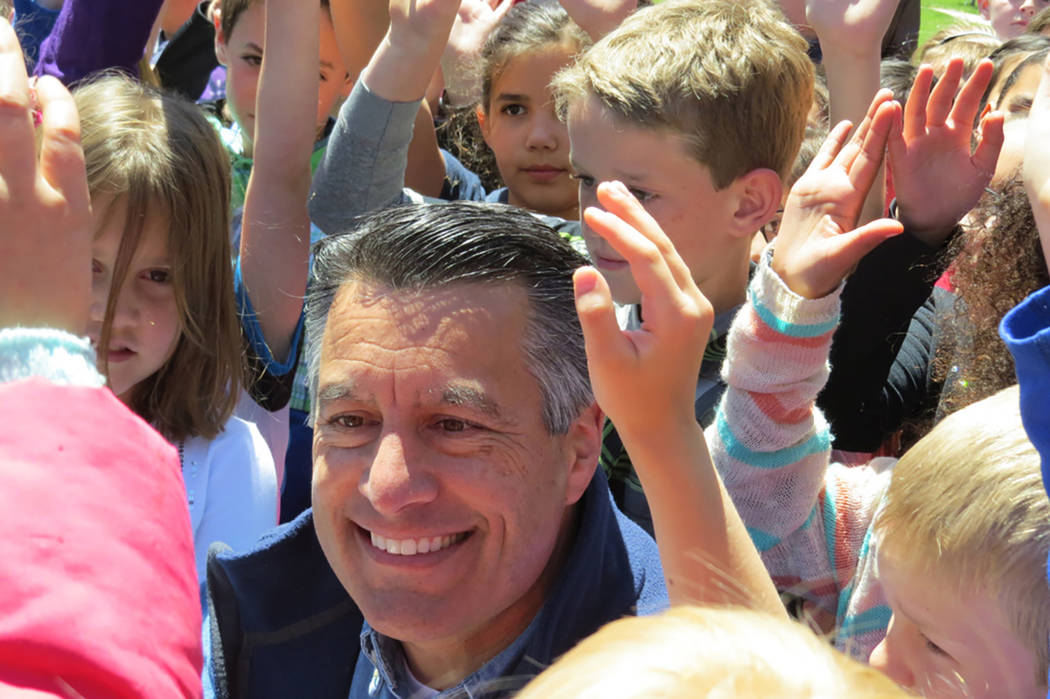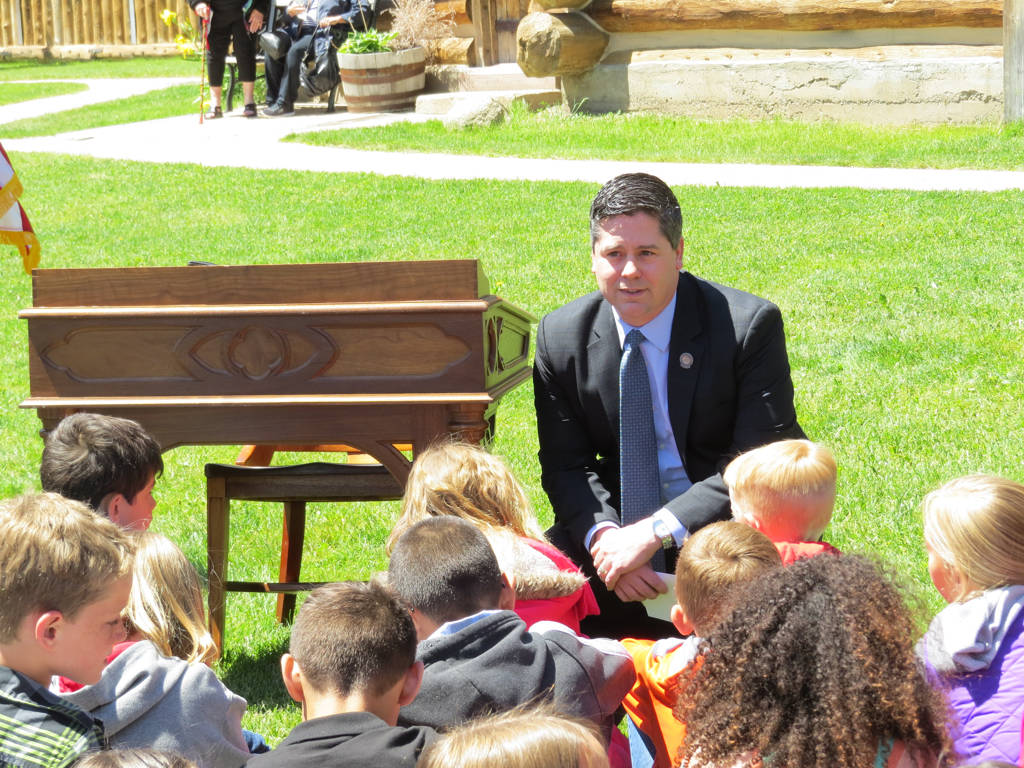 GENOA — Gov. Brian Sandoval, surrounded by swarms of delighted schoolchildren at a historic site in Nevada's oldest settlement, signed two bills Friday promoting state parks.
Mormon Station State Park in Genoa provided the scenic setting as the Republican governor signed into law Assembly Bill 385, the "Kids in Parks" measure that will give every Nevada fifth-grader a free pass for a year to the 26 state parks.
Sponsored by Assemblyman Steve Yeager, D-Las Vegas, the intent is to instill in children a love of the outdoors and promote an active lifestyle.
"What's really important for me is that all of our Nevada families and all of you get to see the beauty and splendor of the great state of Nevada," Sandoval told the pint-sized audience sprawled on the grass.
Assembly Bill 490, also signed Friday, authorizes more money from a dedicated account to address a backlog of park maintenance and upkeep.
"State parks are something that are very special to me and they're very special to our state history," Sandoval said.
In his State of the State address in January, Sandoval promoted the Explore Your Nevada Initiative, directing $13.2 million in state general funds to the state park system and creation of the Walker River State Recreation Area in Lyon County and Tule Springs State Park in North Las Vegas.
Funding for the initiative was approved this week by a legislative committee.
"It's really a privilege and honor for me … this is what it's all about," Sandoval said Friday as the Carson Range loomed behind him. He urged the youngsters to "make it part of your DNA, your Nevada DNA."
Children from four area schools participated in the ceremony, and a class from Lummis Elementary in Las Vegas got to watch the bill signing via the internet. Lummis students wrote letters of support for the bill, which Yeager credited with helping it to win unanimous support in the Assembly and Senate.
Yeager said he wants all children to "visit and take advantage of our wonderful state parks," adding the pass for fifth-graders includes free admission for everyone in the vehicle.
As part of the ceremony, each child received a state parks passport, a promotion Sandoval launched two years ago.
"Every time you visit a state park you get a stamp," the governor said. "And after you visit 15 state parks you get an annual pass to go to any state park for free for an entire year."
Sandoval made it a personal mission to visit all 26 Nevada parks, and on Friday wore a shirt he received for accomplishing his quest.
He also sported a pin of an Ichthyosaur, the official state fossil that he got at Berlin-Ichthyosaur State Historic Park. The park is home to the largest concentration of fossils of the ancient marine reptile that once swam in waters covering central Nevada more than 200 million years ago.
Contact Sandra Chereb at schereb@reviewjournal.com or 775-461-3821. Follow @SandraChereb on Twitter.
NEVADA STATE PARKS
Beaver Dam State Park
Berlin-Ichthyosaur State Park
Cathedral Gorge State Park
Cave Lake State Park
Dayton State Park
Floyd R Lamb State Park
Forty Mile State Park
Kershaw-Ryan State Park
Lake Tahoe State Park
Snyder Meadows State Park
Spring Mountain Ranch State Park
Spring Valley State Park
Valley of Fire State Park
Walker Lake State Park
Ward Charcoal Ovens State Park
Washoe Lake State Park