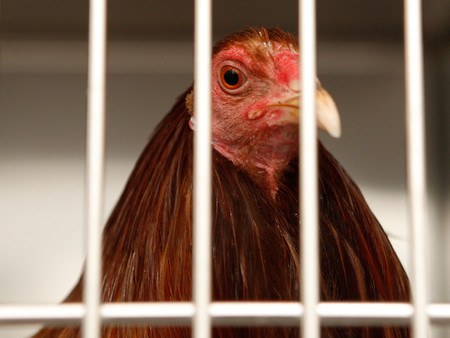 More than 300 roosters and hens were brought to a county animal shelter Sunday afternoon to be housed while animal control conducts an investigation.
Lied Animal Shelter spokesman Jason Smith said the last time a large number of roosters were held at the facility was in March 2006, when about 170 roosters were seized from a home in the 2600 block of Gateway Road, near Carey Avenue and Lamb Boulevard. The roosters seized in 2006 were found to be part of a cockfighting operation.
According to Las Vegas police 911 call records, on Sunday morning an animal complaint was made pertaining to a home in the same block as the 2006 raid. Police and animal control officials would not comment on the case.
Cockfighting, a form of animal fighting in which a rooster usually dies and is then disposed of, is illegal is all 50 states.
Dr. Randall Lockwood, senior vice president for the American Society for the Prevention of Cruelty to Animals, said hundreds of cockfighting and dog fighting operations are broken up each week in the United States.
Officials with Clark County Animal Control said that locally, raids occur only about three or four times a year.
No arrests in relation to Sunday's bird seizure had been made as of Monday afternoon.
On Sunday, 240 roosters and 90 hens were impounded at the shelter. About 20 birds died en route to the facility or were immediately euthanized because they were in poor health, Smith said.
Each rooster has to be individually housed, and the hens are split into two large pens.
"Animal control is aware of the extreme burden that comes when this happens," Smith said. "We don't have the housing facilities for 200-plus birds on hand. We are being overrun."
David March, a county animal control supervisor, wouldn't speak about Sunday's raid, but said the department handles a few cockfighting cases every year.
"I wouldn't say it's become any more prevalent," he said about cockfighting. "It's a problem that is addressed when they come up," he said. "They have varied anywhere from a few (roosters) fighting to hundreds."
In March 2006, Clark County Animal Control brought 177 roosters involved in a cockfighting operation to the shelter. Officers responding to Gateway Road had found an unusually large number of cars parked on the residential road, and people carrying roosters entering and leaving a residence.
Officers found between 50 and 75 people gathered in the backyard and about 100 roosters penned in a cage. One man was arrested and charged with keeping a place for baiting/fighting of animals, a gross misdemeanor.
Smith said the birds were held for about a month before they were all euthanized.
He did not know how long the birds currently at the facility would be held.
In most cases, the birds have to be destroyed because they are too aggressive to be held as pets or weren't raised as food stock to be used in agriculture, Lockwood said.
He added that Sunday's seizure is large, but he recalled operations involving as many as 700 roosters in the past.
Contact reporter Maggie Lillis at mlillis@reviewjournal.com or 702-383-0279.