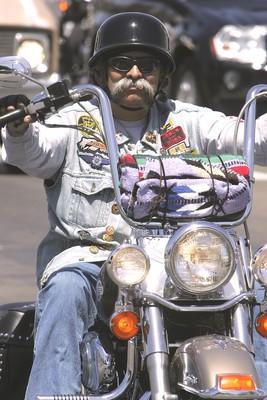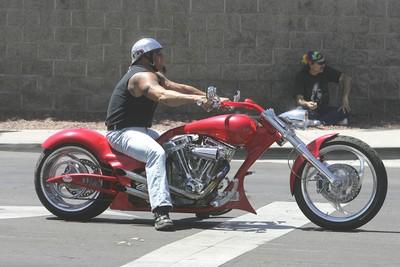 LAUGHLIN — An ever-growing throng of bikers opened up their pipes and sounded a ferocious roar on Friday as they hit Laughlin's main drag for the town's 25th annual River Run.
By noon, hundreds of people were lining up at vendor stalls and custom bike displays to check out the latest trends in machinery and accessories designed to tempt those who believe that two wheels are better than four.
"I'm looking," said 48-year-old Californian Chris Garcia, who cast longing eyes at Harley-Davidson's 2007 Nightster, a compact $10,000 bike available for demo rides. "It's nice and low for short legs like mine, and it's got good balance."
Garcia is one of the estimated 75,000 people in town for what promoters bill as the largest ride-in motorcycle rally in the West. Police presence permeated the crowd from the outset, with officers on bicycles, motorcycles and in patrol cars keeping a high profile.
Laughlin is within the jurisdiction of the Metropolitan Police Department, but numerous officers from Arizona, California and Nevada law enforcement agencies have been called in to assist with security. River Run safety has been a priority for police since 2002, when a melee inside Harrah's Laughlin left three bikers dead and numerous others injured.
"Things have been kind of quiet so far, but we like it that way," Las Vegas police spokesman Jose Montoya said late Friday afternoon. "Ninety-nine percent of the people here are good people who just want to have a good time. But there's always that one percent who can ruin it for everybody, as they did five years ago."
Montoya said that as of Friday afternoon, only one felony arrest had been made, and that was for forgery, a nonviolent crime. That bodes well, Montoya said, but River Run action traditionally doesn't pick up until late Friday evening, when revels reach their peak.
Police said they will exercise zero-tolerence with lawbreakers, a message enforced in a notice printed in the River Run program.
Event participants were notified of Nevada helmet laws and informed that no bottles or cans are permitted on Casino Drive.
They also were told that a juvenile curfew is in effect through Sunday. Children ages 18 and younger are not permitted on Casino Drive from 6 p.m. to 5 a.m. without adult supervision.
"Everything is an automatic citation," Las Vegas police Sgt. John Loretto said.
Mike and Judy Hutchens of St. George, Utah, were in Laughlin when violence marred the 2002 event. After that, the two said, they stayed away from the River Run because they didn't want to be around that kind of trouble. But the couple made a return to the event this year to buy some T-shirts and take a look around. They drove the family car so that they could bring along their dog, Lucy.
"We came to look at the bikes and do some shopping," Mike Hutchens said as he took a break from the heat under one of the canopies. "We're just here for a few minutes before we go back to Las Vegas."
Art Gompper, marketing director for Harley-Davidson Motor Co., said he noticed that attendance at River Run fell off after the 2002 clash between members of rival motorcycle gangs, but only briefly. In recent years, Gompper said, attendance is up and so is interest in all things related to two wheels and the wind.
On Thursday, more than 500 people signed up to ride Harley-Davidson's demo bikes, according to Gompper's count.
"The biggest joy here is for people to come down and actually ride the motorcycles," he said.
At a display set up by Redneck Engineering, a custom bike company out of South Carolina, looking ran a close second to riding for motorcycle enthusiasts.
A 1951 Vincent Black Shadow with its original engine and a custom design drew admiring individuals who wanted to take a picture with it or watch someone mount it.
The take-home price: $350,000.
"Someone's going to buy that bike," Redneck founder Vince Doll said cheerfully. "You're not going to find another one like it."