A visit to Carlito's sends chile aficionados on a trip to New Mexico
August 26, 2014 - 11:05 pm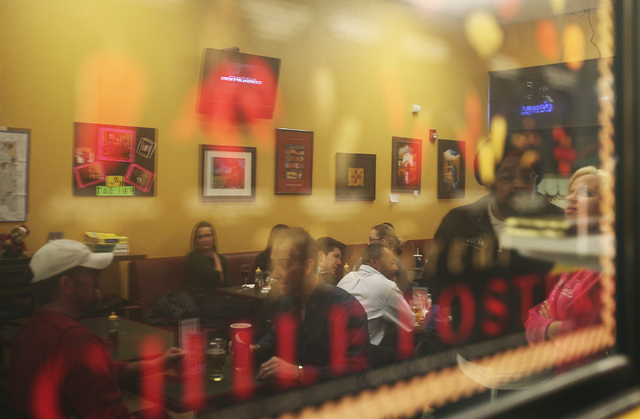 It's about 650 miles by interstate from Las Vegas to the heart of New Mexico's green chile country.
But pull up outside Carlito's Burritos at 3345 E. Patrick Lane, and that distance swiftly fades in a pungent cloud of roasting peppers. In the parking lot, a pair of propane-fired roasters filled with peppers turn for long hours at this time of year.
Inside David Samuels' delightful hole-in-the-wall, symbols from the "Land of Enchantment" are everywhere. From the framed map of New Mexico to the Native American artwork on the walls, there's no mistaking Samuels' roots and sensibility. True New Mexican cuisine is a melding the best of the indigenous and Mexican cultures.
New Mexico green chile is king at Carlito's, and this is the heart of the high season back home, where they take their chiles very, very seriously.
Recent articles in the Albuquerque Journal and the Santa Fe New Mexican heralded the news that authorities were increasing their efforts to ensure the state's chiles were grown in New Mexico before carrying the name. And the Las Cruces Sun-News reports inspectors with the New Mexico Department of Agriculture, the state's "chile police," are on the lookout for anything suspicious or inauthentic.
Three years ago the state passed the New Mexico Chile Advertising Act to raise the profile of the industry, and the New Mexico Chile Association recently announced a new trademark program to improve and protect the brand.
If that sounds like a lot of trouble to go to for chile, well, you need to take a seat at Carlito's and taste the authentic green and red. If it doesn't change your life, it at least will certainly increase your pepper IQ while it opens your sinuses.
This week marks the final days of the chile roasting at Carlito's, where Samuels annually sells 45,000 pounds in a few weeks to transplanted New Mexicans and green chile junkies. Between the smell outside and the aroma of the finished product inside, the experience is almost as dizzying as it is delicious.
Although the name "Hatch chile" is the best-known to the uninitiated, Samuels says, "Hatch is just a region in New Mexico. They actually grow chile all over the state. Hatch just happens to be where the bigger farms are, where the more commercial crops are grown and more frequently exported. There's great chile grown in every corner of the state. From Socorro to Los Lunas, up in Espanola and Chimayo and San Felipe. There's great chile grown all over the place."
Raised in Los Alamos, educated at Cornell, Samuels came to Las Vegas in 2008 with a plan to open a restaurant. After a little experimenting saw a distinct lack of New Mexican cuisine in a place loaded with wonderful traditional Mexican restaurants, he decided to conjure the magic of the green and the red and opened Carlito's, which was named "Best New Restaurant" by Review-Journal readers in 2009.
These days, the last of his annual 45,000-pound shipment is being roasted.
"Some of the people around here, they ask me, 'What am I going to do with 30 pounds of chile?' " Samuels says, laughing. "A New Mexican would ask, 'What don't you do with it?' You put it on everything, not just 'Mexican food,' but turkey sandwiches. It goes on a bagel and cream cheese and in spaghetti — everything.
"It's definitely a way of life, and it's a good source of Vitamin C."
Move over, Florida orange juice.
Forgive Samuels if he sounds a touch obsessed. He is, after all, from New Mexico, where they take their chile very, very seriously.
Try one of his enchanting burritos, and you might start to think you're from there, too.
John L. Smith's column appears Sunday, Tuesday, Wednesday, Thursday and Friday. E-mail him at jsmith@reviewjournal.com or call (702) 383-0295.