About 500 rally against effort to dilute public employee unions
February 21, 2011 - 2:17 pm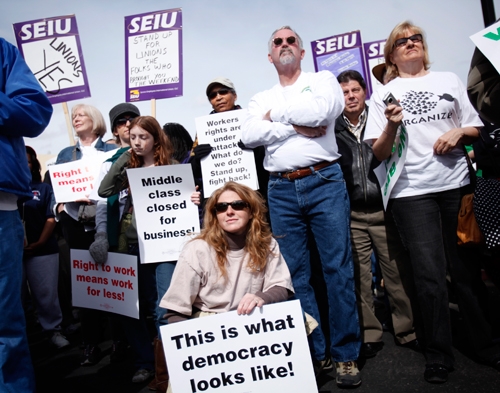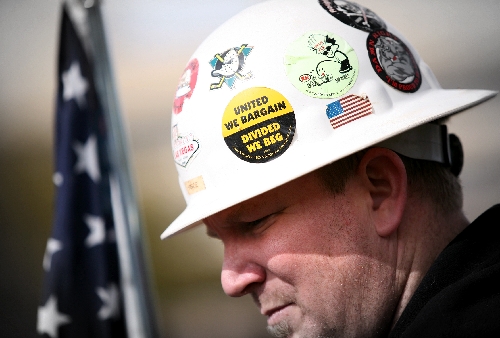 Proposals to dilute collective bargaining laws and cut state workers' wages by 5 percent spurred protests in Las Vegas and Carson City on Monday, with labor advocates decrying what they called harsh attacks on unions and an attempt to balance budgets "on the backs of workers."
In Las Vegas, roughly 500 people rallied at the Sawyer Building against a growing legislative effort to weaken labor laws for public employees.
Bellowing their messages through loudspeakers, union leaders and sympathizers expressed fears that the Wisconsin governor's push to deflate collective bargaining there could spread to Nevada.
"Obviously what's happening in Wisconsin has ripple effects here," said Al Martinez, president of Service Employees International Union Local 1107. "It would destroy middle-class America."
He added that Wall Street caused the economic slump, not public employees.
SEIU represents about 9,500 Clark County workers. The teachers union and assorted building trade unions also had large turnouts.
Martinez and others called on public and private unions to unify, arguing that an assault on government employees' rights affects all workers.
"Do not let them conquer and divide!" said County Commissioner Chris Giunchigliani, a staunch union advocate. "We cannot afford to let them turn back the clock."
So far, Nevada lawmakers haven't proposed anything as sweeping as Wisconsin Gov. Scott Walker, who wants to eliminate collective bargaining for most public employees.
Sen. Don Gustavson, R-Sparks, introduced a bill that would prohibit giving workers' seniority greater weight than job performance when considering layoffs.
Sen. Michael Roberson, R-Las Vegas, plans to introduce at least two bills.
One would allow governments to consider reopening labor contracts in situations deemed fiscal emergencies. The other would identify at least three points when contract offers from employers and unions must be publicized.
Matthew Sorvillo, a union bartender at The Mirage, said many public employees have made concessions, and yet that isn't enough for hard-line politicians who now want to strip workers of their rights.
He agreed that all unions are under attack, not just those in the public sector.
"It would break the back of organized labor," Sorvillo said.
In Carson City, more than 300 union members gathered in front of the Legislative Building to trumpet their support for their Wisconsin union brethren and rail against Gov. Brian Sandoval's proposed cuts in wages and programs.
Several carried signs: "Wisconsin Today, Nevada Tomorrow."
Meanwhile, about 100 yards away, 25 people rallied near the state Capitol in support of Sandoval's budget plan and for Walker.
Senate Majority Leader Steven Horsford, who runs a training program for Culinary Local 226, even bought the union protesters 15 pizzas, saying he would rather give them a "slice of pizza instead of slicing your pay."
While there will be budget cuts, Horsford, D-Las Vegas, said he will not stand for Sandoval balancing the budget "on the backs of working people."
Sandoval wants state workers to take 5 percent pay cuts.
Sen. Sheila Leslie, D-Reno, added that Sandoval is not proposing a solution with his demand that no taxes be increased.
"Taking revenue off the table is not a solution," she said. "We have the worst budget crisis proportionally in the nation."
While Sandoval proposed a two-year, $5.8 billion budget, $400 million less than current spending, state agencies requested $8.3 billion in spending.
Speakers at the Las Vegas rally focused less on specific concerns than the general worry that some politicians might use the budget crisis as a rationale for undermining unions.
Giunchigliani said it's no accident that the surging nationwide push to cripple unions is coming just before the 2012 presidential election. Unions were instrumental in getting out the vote for President Barack Obama and Nevada Democratic Sen. Harry Reid, she said.
She echoed the sentiments of Wisconsin labor leaders who contend that Walker hopes to hobble the unions that funded political candidates who opposed him and other Republicans.
Elizabeth Farrington, a Las Vegas resident, said she has friends in Madison, Wis., who are teachers and would be affected by Walker's plan.
Although she is self-employed, selling advertising to publications, she sympathizes with union workers trying to make a living.
"It's just a fundamental right to collectively bargain," she said.
Sandoval said Monday that he has recently spoken with Walker twice, once Saturday and again on Monday.
"I was just calling to lend him my friendship and support," Sandoval said of the conversations.
In Nevada, Sandoval has tried to stay above the fray. He refused to support a bill by former Republican Gov. Jim Gibbons that would have virtually scrapped collective bargaining for public workers. Instead, he asked legislators and local communities to propose their own solutions for him to consider.
However the Lahontan Valley News on Monday reported Sandoval, while speaking Saturday to an audience in Fallon, said he had told Walker: "We are all working together. No one is going to buckle, no one is going to blink."
Monday evening Sandoval said the quote was about balancing the budget without taxes and implementing education reform.
"We didn't even talk about collective bargaining," Sandoval said of the Fallon remark. "It was in the context of the budget situation as well as education."
When asked whether he supported specific proposals by Walker, Sandoval said he is facing a different situation than the Wisconsin governor.
In Wisconsin, Republicans hold a legislative majority. In Nevada, Democrats control both houses of the Legislature.
Also, state workers in Wisconsin have collective bargaining rights. Those in Nevada have none.
Here, public employees collectively bargain at the local level, making it a less direct issue for Sandoval than it is for Walker.
One member of a conservative think tank argues that in the current budget crisis the state should reduce unions' bargaining power.
"It's difficult to lower compensation through the bargaining process," said Geoffrey Lawrence, deputy director of policy at the Nevada Policy Research Institute.
Labor contracts should automatically be opened when a government's tax revenue drops and can't cover wages and benefits, he said. Also, senior employees, who might be less productive than junior employees, shouldn't be shielded from layoffs, he said.
But Courtney Errington, a public employee, said removing workers' protections doesn't solve budget problems.
Questions such as who to lay off or how much to trim wages should be addressed in negotiations, she said. "Finding the best solution is what the collective bargaining process is about."
Contact Scott Wyland at swyland@reviewjournal.com or 702-455-4519. Contact reporter Ed Vogel at evogel@reviewjournal.com or 775-687-3901. Contact reporter Benjamin Spillman at bspillman@reviewjournal.com or 702-477-3861.
Senate Bill 169 – regarding seniority of government employees