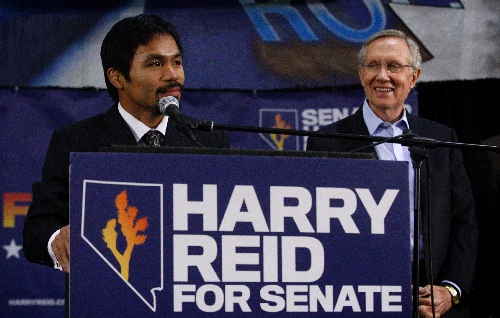 Saying Americans are "mad as hell" about the direction of the country, Sen. John McCain, R-Ariz., fired up a Friday night rally inside The Orleans hotel-casino with a call to elect Sharron Angle so Republicans can retake control of the Senate.
Three miles away, Sen. Harry Reid, D-Nev., held his own get-out-the-vote event at Orr Middle School with Filipino boxing champ Manny Pacquiao, who seemed to be the biggest draw for the mostly Asian and Hispanic crowd.
Just days before the election, the dueling Las Vegas rallies held to get people to the polls were a sign of how close the Senate contest is between Tea Party favorite Angle and Democratic incumbent Reid.
McCain, the GOP presidential nominee in 2008, declared the race key to the fate of the country because, he said, Reid as Senate majority leader is driving the deficit spending in Washington.
"I'm here tonight because this election will change America," said McCain, addressing more than 500 people after Angle introduced him to the conservative crowd. "My friends, the 51st vote to give Republicans the majority in the U.S. Senate will come right here from the state of Nevada. I look forward to standing side by side with Sharron Angle."
McCain campaigned for Angle on the last day of early voting in Nevada as polls showed the GOP challenger leading Reid by 4 percentage points, 49-45, heading into Tuesday's election.
Getting McCain's support before Election Day could help Angle with moderate Republicans, giving her a seal of approval from another GOP outsider with a populist following from the independents that she also needs to defeat Reid.
"He's here tonight to share with us why he's manning up with Sharron Angle to defeat Harry Reid," Angle said in her introduction, using a phase she hit Reid with in their only debate when she told him to "man up" about Social Security.
Today, both Angle and Reid are set to appear in the annual Nevada Day Parade in Carson City, a flag-waving must-stop for politicians .
Two years ago, McCain lost badly to President Barack Obama, but he also brought onto the national stage Sarah Palin, his vice presidential running mate and leader of a new brand of Tea Party conservatism that's fueling Angle's run.
McCain said the movement is about reducing taxes and government spending, which has led to a record $13 trillion deficit under Obama and Reid. McCain and Angle also vowed to try to overturn the new health care law, saying it is unconstitutional because it requires people to buy insurance.
"Americans are not scared like the president said," McCain said, noting Obama has been traveling the country giving speeches to rally voters to his side and save his agenda. "We're not scared. We're mad as hell."
At that, the red-white-and-blue U.S. flag-draped ballroom erupted in roars as Angle supporters waved signs and chanted, "Dump Reid! Dump Reid! Dump Reid!"
"Americans don't scare," continued McCain, a former prisoner of war in Vietnam. "Americans stand up and fight. And you are here standing up in the fight to send Sharron Angle to the United States Senate."
McCain said Angle would be a good Senate partner in his long-term effort to end earmark spending on useless state projects, such as an infamous "bridge to nowhere." He said the Republicans also would restore fiscal discipline, although he acknowledged both parties have failed on that score in the past.
McCain criticized Reid for once saying the Iraq war was lost, and he asked a show of hands for military members of the audience. About one-fifth stood or raised their hands. About two-thirds of the crowd said they had voted early, and he urged them to get their friends and neighbors to the polls.
"My friends, next Tuesday we're going to kick Harry out of his penthouse at the Ritz-Carlton and send him back to Searchlight," McCain shouted to loud applause.
Before McCain's appearance at the rally, actor and conservative activist Jon Voight spoke, as did Michael Reagan, a conservative radio talk show host and son of the late President Ronald Reagan, a GOP icon.
Reagan recalled that his father visited Nevada in 1986 to campaign against Reid, who went on to win his first Senate term. He urged voters this time to reject the four-term senator.
"You get a mulligan, Nevada. You get to do that on Tuesday," Reagan said, adding that voters could then fulfill his father's "last wish in politics, to rid this country of Harry Reid."
At the Reid rally across town, the loudest cheers seemed to come for the boxer Pacquiao, and chants of "Harry! Harry!" competed with chants of "Manny! Manny!"
Boxing promoter Bob Arum introduced Reid and Pacquiao, who walked to the stage together.
"I'm here to support Harry Reid," Pacquiao said in broken English before speaking in his native tongue.
Reid, a former amateur boxer, peppered his speech with boxing references and parallels between himself and Pacquiao, who this year became a congressman in his home country.
"One thing Manny and I have learned is it's not enough to fight for yourself. We can always do that," Reid said. "It's not enough to want to be a champion. He's a champion in one way, and I'm a champion in another. What we've learned is we want to be champions for others."
Reid spent the rest of his short speech criticizing Angle for her positions on Wall Street regulation, Social Security and other hot-button campaign issues.
When the speech was over, Reid and Pacquiao walked together along a line of people who crowded forward trying to take photos or get something signed. Pacquiao obliged, penning his signature on Philippine flags, boxing gloves and campaign signs.
Felix Tuazon came away beaming with a pair of signed boxing gloves. He had lined up at the school 90 minutes before the doors opened to get a front-row spot, and it paid off.
The longtime Democrat said the rally helped Reid by exposing him to many who came to see Pacquiao. And when asked why he attended the rally, Tuazon replied, "Manny Pacquiao, of course."
Tuesday, the Democrats are expected to take major electoral losses because of anger and disappointment in Obama, the new health care law, joblessness and the dismal economy that didn't turn around despite the $787 billion stimulus bill.
Most political analysts predict Republicans will take back the House, but won't win enough Senate seats to control the upper chamber unless the GOP and Tea Party movement wave is big enough to swamp all the competitive states.
Review-Journal writer Brian Haynes contributed to this report. Contact reporter Laura Myers at lmyers@reviewjournal.com or 702-387-2919.
John McCain joins Sharron Angle at rally
Pacquiao, McCain stump for Senate candidates