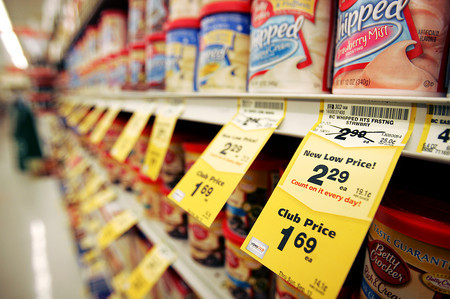 Is Southern California's ongoing food price war spreading to Southern Nevada?
A major grocery retailer took what might have been a shot Wednesday when it announced it was paring prices on thousands of products to help draw in bargain-hungry shoppers.
California-based Safeway said Wednesday it is cutting prices by as much as 30 percent starting this week on about 5,000 items in its 15 Las Vegas Vons stores.
"We're in some tough economic times. We have been listening to our customers, who have been telling us time and again that price matters a great deal," said Daymond Rice, director of public affairs and government relations for Vons. "We began reducing prices in 2008 on several types of items, but we needed to do more for consumers."
Price relief at Vons will vary depending on the product, but Rice cited three examples: A 23-ounce box of Kellogg's Frosted Flakes that sold for $4.99 now retails for $3.99. A 33-ounce canister of Folgers commanded $9.99 pre-price break and now goes for $8.99. And a 21-ounce Tombstone pepperoni pizza used to cost $7.19 but runs $4.50 now.
Shoppers don't need club cards to qualify for the lower prices, Rice said.
The cost cuts at Vons come on top of price drops at other traditional grocery stores.
Smith's Food and Drug has been clipping prices for the last four years, including a reduction on produce two to three months ago, said spokeswoman Marsha Gilford.
The Kroger Co.-owned grocery chain also offers $4 generic prescriptions and savings of up to 15 cents a gallon for gasoline sold through discount programs at stores with fuel stations. It even gives shoppers $10 to $20 or more off their grocery bills based on points they rack up inside Smith's stores.
Albertsons rolled out its Big Relief pricing initiative in April, dropping prices by up to 20 percent on thousands of items including peanut butter, pasta, deodorant, detergent and other staples. Like Smith's, Albertsons also has a discount-gasoline program.
"It's almost like the gas wars. People are lowering prices to get my business," said shopper Richard Rorex of Apple Valley, Calif.
"I am noticing a 10 percent to 30 percent reduction on my register tape each time I go to the store," said Rorex, who said he found lower prices at Stater Bros., Vons and Albertsons in recent weeks.
In Southern California, grocery retailers including Vons, Ralphs and Albertsons have spent much of the year trimming prices as they seek to win back budget-minded consumers who have migrated to Wal-Mart and Target.
Price is "the No. 1 reason" consumers mention when they pick where to shop, said Leslie Sarasin, chief executive officer of the Food Marketing Institute in Arlington, Va.
"The discounters have picked up more business, and the traditional grocers are responding," said Tom Keller, president of Vons.
Rice took issue with the "price war" concept, noting that Vons has been reducing prices companywide since 2008.
Experts and other store operators say Vons' latest move won't likely lead to immediate new price reductions among competing grocers.
Smith's doesn't adjust prices in response to other stores' programs, Gilford said.
At Albertsons, the focus rests on customers, not the competition, said Lilia Rodriguez, a spokeswoman for Eden Prairie, Minn.-based parent company Supervalu.
David Livingston, a supermarket research analyst with DJL Research in Waukesha, Wis., said the stores aren't waging a price war as much as they're responding to a long-term trend squeezing traditional grocers.
Think of the grocery business as an hourglass, said Livingston, with stores such as Whole Foods and Trader Joe's at the top and discounters such as Wal-Mart at the bottom. Traditional stores such as Vons, Albertsons and Smith's are constricted in the middle.
"The high end and the low end continue to grow, but the market for the middle-of-the-road, average supermarket is shrinking; and those stores are fighting harder and harder to get a piece of market share."
What's more, traditional, publicly traded grocers such as Vons answer to investors, and that's partly behind the price cuts, Livingston said. As consumers head for cheaper competitors, some retailers face dwindling same-store sales year over year, and that's anathema to companies that produce quarterly reports.
"Their primary focus is the shareholder, and they are really looking at next quarter's numbers at all times," Livingston said.
"They want to have some kind of number to report to Wall Street that doesn't look negative, so in the short term they will lower some prices, hoping to generate sales."
But Rice said the price changes are no short-term strategy. They won't last only a week or even just six months, but for the foreseeable future. Plus, executives at Vons are always evaluating their merchandise for additional price relief, he said.
If competition continues to tighten marketwide, consumers can expect additional repricing programs in coming months, Livingston said.
Look for double coupons, a "gimmick" he said has proven popular in California, and expect price freezes, whereby a company stocks up on nine months' worth of supply and then "freezes" prices on merchandise it's already bought.
The Los Angeles Times contributed to this report. Contact reporter Jennifer Robison at jrobison@reviewjournal.com or 702-380-4512.