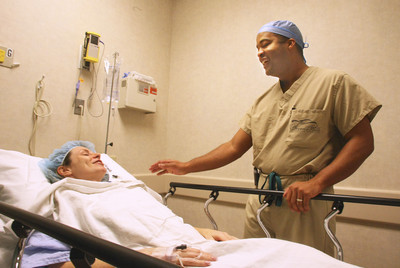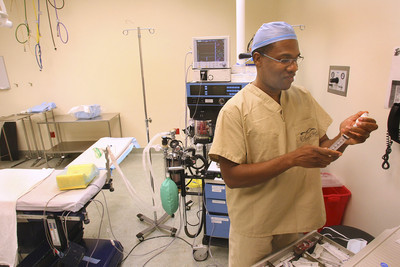 Ambulatory surgery centers have come under increased scrutiny in the past year, since the announcement of an outbreak of hepatitis C at the Endoscopy Center of Southern Nevada.
The scrutiny has led to the creation of legislative bills that call for annual inspections of these surgery centers. Some are aimed at monitoring the use of anesthesia and sedation drugs.
Now, in an effort to streamline patient care and implement a controlled anesthesia protocol, one local surgery center is moving away from what's typically done in Nevada.
Seven Hills Surgery Center, a Henderson-based multi-specialty outpatient surgery center, has contracted with a Las Vegas Valley anesthesiology group to exclusively handle its anesthesia services.
The center is one of only a few ambulatory surgery facilities to operate under this model in the United States, said Jovanna Lee, chief operating officer for ProMed Management Group, the management company for Seven Hills Surgery.
Prior to Seven Hills Surgery's decision to go with the single anesthesia group — Valley Anesthesiology Consultants — the center's surgeons could bring in whomever they wanted as needed for anesthesia. This is commonly known as a surgeon-request system.
"If we have 50 different surgeons with 50 procedures scheduled in one day, we could see 50 different anesthesiologists with 50 different ways of doing things," said Lee, a registered nurse. "That's not what our patients need. They need continuity. That's what we're lacking. That's where errors happen.
"That's been the protocol at ambulatory surgery centers in Las Vegas," Lee said.
This model is common within hospital settings across the country, said Dr. Jonathan Zucker, a Las Vegas anesthesiologist and president of the Nevada State Society of Anesthesiologists.
Under the traditional system the ambulatory surgery center was at the mercy of the anesthesiologist. In some cases surgeries were canceled or rescheduled because the anesthesiologist couldn't make it. Other times, Lee said, anesthesiologists would run late because they were at a hospital or another facility, which led to the rescheduling of surgeries.
Working with one group ensures Seven Hills Surgery's surgeons and patients that an anesthesiologist will be available at any time. The relationship between Valley Anesthesiology Consultants and Seven Hills Surgery also ensures the use of consistent national standards for pre-surgical testing and post-surgical patient management, Lee said.
This is important in light of the issues relating to patient safety in Nevada, the most obvious of which was when eight cases of hepatitis C were linked last year to the Endoscopy Center of Southern Nevada as a result of unsafe injection practices. Tens of thousands of clinic patients were subsequently notified they needed to be tested for various blood-borne diseases.
The outbreak has led to federal and state health officials taking a closer look at how outpatient surgery centers operate and are inspected. A federal health agency has also conducted a study on health-care associated infections.
"It's a whole team approach. We work with the same people, surgeons and nurses, over and over again," said Dr. Garland Cowan, a Las Vegas anesthesiologist and managing partner of Valley Anesthesiology Consultants. "This is all very critical because typically in a situation where you have someone coming in for a day, it is tough for them to know where all the equipment is or to remember (where it was) from the last time. If we're there all the time, we know where things are, which improves the flow."
Valley Anesthesiology Consultants, based in Henderson, is comprised of 10 board certified or board-eligible physicians. Although the group places special emphasis on outpatient anesthesia, its physicians have a range of experience, including pain management, critical care medicine, and obstetrical, pediatric, trauma, cardiovascular and regional anesthesia.
Zucker said medical facilities moving away from the surgeon-request system is becoming a trend. He said most U.S. hospitals contract with one anesthesiology group.
"There are many pros to having just one anesthesiology group per facility and fewer cons," Zucker said.
But some medical professionals don't agree with this approach or buy the explanation that it creates a better environment for patient safety.
Dr. W. Bradford Isaacs, a Las Vegas anesthesiologist who specializes in pediatric cardiology anesthesia, said this model has little to do with patient care and more to do with saving money.
"The surgeons I work with are used to working with me. It is that relationship between the surgeon and anesthesiologist that is more advantageous to the patient," Isaacs said. "Operating in a surgeon-request system is far from working outside the norm in the United States. A surgeon-request system is less assembly line-like medicine."
Isaacs said it's disingenuous to say that granting an exclusive contract to one group results in "continuity of care" because patients are better off having a procedure done when the surgeon and anesthesiologist already have a close relationship.
"There are theoretical advantages to move more toward an assembly line-like manner, however the practical part, that's in question," he said.
Dr. Rudy Manthei, owner of Seven Hills Surgery, said it took him nearly two years to agree to the new approach.
He acknowledged there are cost-savings in going with just one anesthesiology group, but the most important factor in the decision was the use of consistent national standards for pre-surgical testing and post-surgical management.
"We need to make sure providers are doing what they are supposed to be doing," Lee said. "Patients should be speaking with their anesthesiologist before surgery just like they are their surgeon. Today, you're lucky if you see the anesthesiologist."
Contact reporter Annette Wells at awells @reviewjournal.com or 702-383-0283.