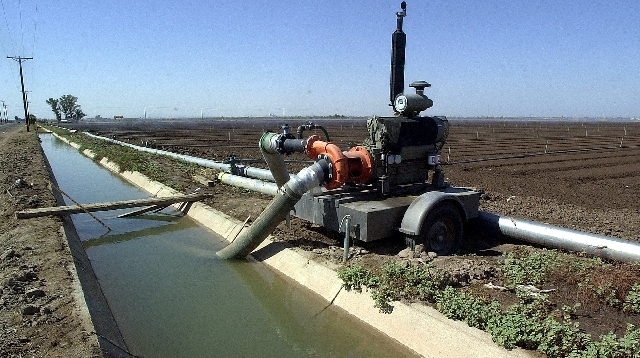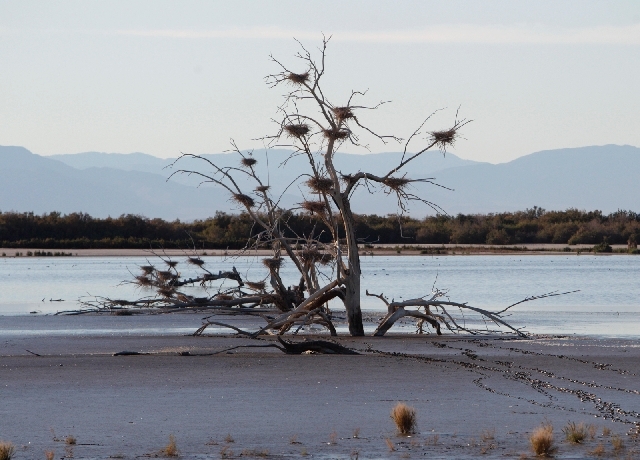 As water managers in Nevada and elsewhere fight to keep Lake Mead as full as possible, an irrigation district in California has significantly overdrawn its Colorado River allotment over the past three years.
The Imperial Valley Irrigation District is the single largest water user on the Colorado, but it is "isolating itself" with its actions, said Pat Mulroy, general manager of the Southern Nevada Water Authority.
She called the situation "very serious" and said the irrigation district's behavior has "the flavor of arrogance."
Particularly galling to Mulroy was the irrigation district's decision to send billions of gallons of river water into the Salton Sea to freshen the brackish inland lake in 2010, just as Lake Mead was nearing an all-time low.
She called the move and the rationale behind it "preposterous."
Now the U.S. Bureau of Reclamation is ordering the irrigation district to pay the river back for that water, which totaled 46,546 acre-feet, enough water to supply more than 90,000 single-family homes for one year.
"A depletion of this magnitude, without prompt responsive action, has the potential to tip the system into shortage earlier than might otherwise occur, with IID at the focal point of such a destabilizing event," said Terry Fulp, the bureau's Lower Colorado regional director, in a letter to the irrigation district earlier this month.
The bureau gave the district until June 30 to come up with a plan and a schedule to return the water to the river system.
IID spokeswoman Marion Champion said the district is still crafting its response. The board of directors is expected to discuss the matter during its meeting next week.
The irrigation district also will be a topic of discussion in San Diego next week, during a meeting of representatives from the seven states that share the Colorado River. Mulroy said she and other municipal water managers in the group are almost sure to bring up the issue.
"I think there's going to be heightened scrutiny on IID," she said.
IID is entitled to 3.1 million acre-feet of river water each year, more than 10 times Nevada's annual allotment from the Colorado.
From now to the end of 2014, the irrigation district is slated to pay back almost 217,000 acre-feet of extra water it delivered to farms in the Imperial Valley in 2011 and 2012.
That's enough water to raise the level of Lake Mead by two to three feet.
The district will return the water to the river by cutting its deliveries over the next two years. To accomplish that, some farmers will be required to fallow fields in the Imperial Valley, Fulp said.
Water from the district is used to irrigate nearly half a million acres of farmland just north of the Mexican border. That land produces more than $1 billion worth of crops a year, including 85 percent of the nation's winter vegetables.
Champion said IID used less than its total allotment in five of the last 10 years for a total savings of about 820,000 acre-feet, but the district has no way to store large quantities of water so it essentially went to someone else.
As for what's happened in the past three years, she said, "IID has been proactively working to address overrun and drought conditions along the Colorado for some time now."
In January, for example, the district formed a water conservation committee to come up with ways to use water more efficiently and improve communication among growers so water can be moved from farm to farm based on need.
Fulp said a series of water agreements struck over the past decade require IID to cut and conserve enough water to make deliveries to municipal users in San Diego. The district also agreed to send some water to the shrinking Salton Sea to slow the decline expected to occur there as farms in the Imperial Valley conserve more and reduce their runoff.
Fulp noted that IID's overruns to date are still within the 310,000 acre-feet it is allowed under the operational rules for the Colorado. But he also understands why Mulroy and others are worried, considering the continued drought and bleak outlook for Lake Mead.
The last thing you want to do is push the river into a shortage — and force Arizona and Nevada to cut their use — because a large user like IID took more than it was supposed to and failed to pay it back, Fulp said.
"There is a concern that if you fall too far behind you won't be able to catch up," he said.
Mulroy is definitely worried about Lake Mead, which supplies about 90 percent of the Las Vegas Valley's drinking water. But she also voiced broader concerns about river water being used to prop up a shallow lake in the California desert that was formed by a man-made flood on the Colorado more than a century ago and is now sustained by water running off fields in the Imperial Valley.
"The Salton Sea is an accident," Mulroy said. "It's agricultural runoff; that's all it is."
She said it's ludicrous to imagine fresh water being sent to evaporate in a lake that's already saltier than the Pacific Ocean while Lake Mead threatens to shrink low enough to shut down Las Vegas' water intakes and the turbines at Hoover Dam.
"If the dams are spilling, fine, send water to the sea," Mulroy said. "But I don't know how they expect to be able to sustain it if we get into shortage" on the Colorado River.
Contact reporter Henry Brean at hbrean@reviewjournal.com or 702-383-0350.