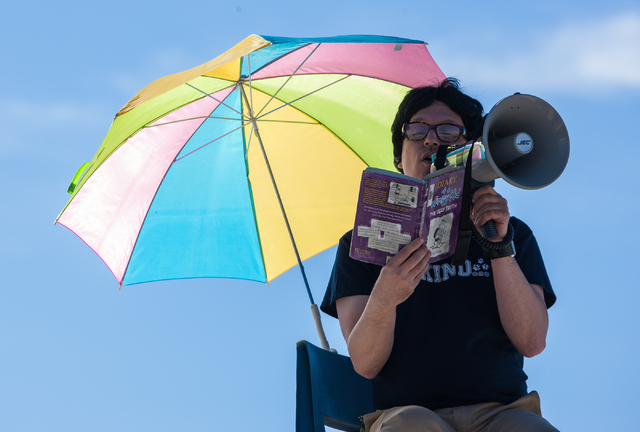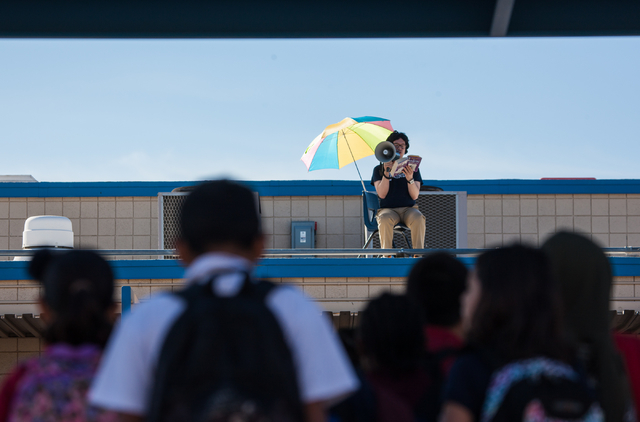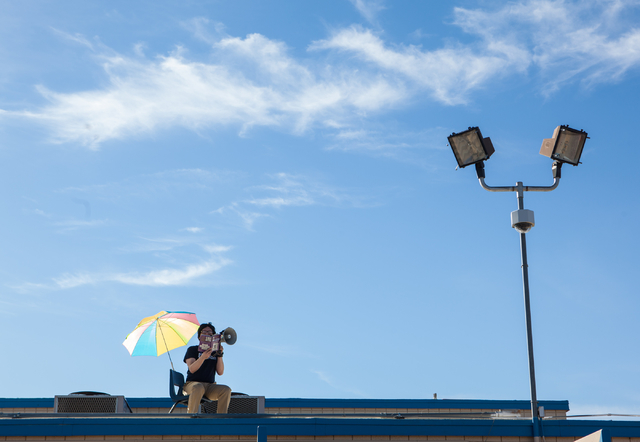 Students shot him sidelong stares, not knowing what they were seeing.
"Is that you, Mr. Aimetti?" asked a boy Thursday morning before class, giggling at the Bell Elementary School principal, who usually has a shaved head and wears a three-piece suit.
Not today. Jaymes Aimetti sported a T-shirt and a floppy wig of black hair with a messy cowlick.
Aimetti smiled but didn't break character as he walked down the hall toward the blacktop at the back of the school. He climbed a ladder onto the roof.
"He's scared of heights," remarked counselor Janet Cotton, who has known the principal for years. "He would do anything for these kids."
A fifth-grade class at the school near Sahara Avenue and Interstate 15 dared Aimetti to read from the rooftop all day for Pizza Hut's BOOK IT! program, which has been awarding personal pan pizzas to reading students for 28 years.
Pizza Hut challenged principals across the country to read their hearts out last week.
Out of 77 Las Vegas area schools using BOOK IT!, only Aimetti and the principal of Lone Mountain Christian Academy participated, qualifying their schools for a chance to win 101 copies of "Diary of a Wimpy Kid: Hard Luck."
The books aren't the only motivation for Aimetti, who read all 217 pages of the original "Diary of a Wimpy Kid" in character, using a megaphone.
Aimetti's message to students: "They can read anywhere, not just in the classroom. Reading is universal."
It wasn't the first time he had pulled a stunt to excite students about reading.
"Not even close," he said, remembering all the things he has done and may do. "It's funny, but serious."
Bell Elementary faces many challenges in getting students able to read. Three-fourths of them are poor enough to qualify for free or reduced-price lunch, and half are learning English as a second language.
"Children come to school hungry. Some children come to school filthy, actually," said Aimetti, who was transferred to the 50-year-old school last year.
Less than half the school's third-graders read at grade level last school year, according to the Nevada Department of Education. About 60 percent of fourth-graders and 37 percent of fifth-graders met the bar for reading skills.
The principal believes in getting creative, which captures students' attention. On Thursday, students on the blacktop cocked their heads back to look at their rooftop principal. They struggled at times to hear him over passing helicopters.
Aimetti is already practicing for another self-issued challenge.
He presented it to students in a recent video that teachers played in class. It starts with Aimetti rollerblading up to the camera, his legs stiff and awkward. The challenge: If 80 percent of students earn an average of 85 percent on their reading tests by holiday break, he will wear in-line skates all day before they leave for the break. Students take a comprehension test on each book they read.
Aimetti also has a mailbox outside his office where students leave him letters. He writes each one of them back, doing so on nights and weekends, careful to include corrections in his responses.
"I want them to see you don't spell 'they,' t-h-a-y," he said.
Each grade level of teachers makes pre- and post-tests for each week's lessons given to students. If any class or student does worse than the others, the teachers come together to see why. Aimetti attends all grade-level teacher meetings and receives weekly reports.
"We're definitely seeing progress," he said.
Chris Madrid, the fifth-grade teacher whose class dared Aimetti onto the roof Thursday, sees progress on the horizon. Madrid is new to the school and said she is staying because of the principal, who in the words of her student, Ciara Ramos, "shocked" them with a yes to their challenge.
Even though proficiency is the goal, "school should still be a fun place to come," said Aimetti, the principal with a megaphone and skates in the corner of his office.
Contact reporter Trevon Milliard at tmilliard@reviewjournal.com or 702-383-0279.