BLM considers spaying wild horses to control herds
April 24, 2013 - 11:30 am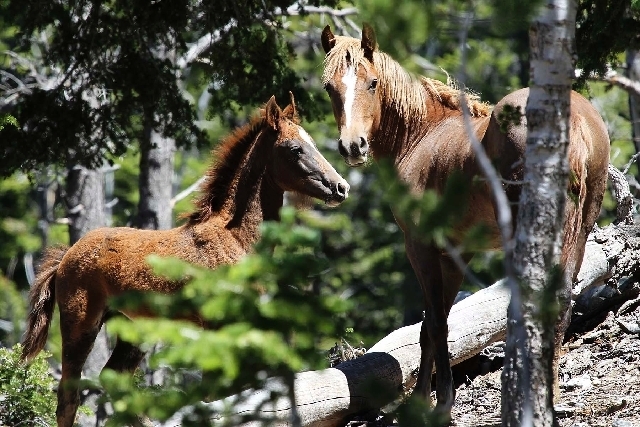 GRAND JUNCTION, Colo. — The federal Bureau of Land Management hopes spaying will help control wild horse herds, a plan opponents say is possibly dangerous and unproven.
A lot of research would be required before the program goes into effect.
The BLM has already tried contraceptives, which haven't worked well to reduce herd sizes. Birth-control drugs are effective for less than two years and require expensive repeat roundups.
Initially, the agency will seek recommendations from veterinarians about the best way to conduct field spayings. If those veterinarians give their approval, the BLM plans to try out the procedure in holding facilities, followed by research in the field, before implementing any widespread program.
"We will be proceeding on this soon. It's a very high priority for us. We are going to proceed carefully and responsibly," said Dean Bolstad, the BLM's wild horse and burro senior adviser.
The agency is looking at new measures because there is a lack of space for more horses in holding facilities, which already are home to more than 50,000 wild horses and burros.
Last year, the federal agency spent $43 million to maintain those animals in captivity. Adoptions of wild horses have dropped from 7,600 in 2001 to about 2,500 last year.
Under a 1971 federal law, the BLM is charged with protecting the nation's remaining wild horse herds, which are roaming 10 Western states. The most current statistics, from February 2012, show 18,425 wild horses on the Nevada range. That's more than half the wild horses in the West. Wyoming had the next-highest count at 3,543.
A Review-Journal series in December 2011 detailed the costs and challenges of caring for the horses that have been taken off the range. That population has ballooned to more than 50,000. The BLM rounds up horses to reduce the herds' impact on lands that are leased for cattle grazing. Many of those horses are put up for adoption.
Wild-horse activists have criticized the plan to spay the animals, saying that spaying mares in the field would amount to mutilation. Researchers recommend using water and food as bait to corral horses long enough to treat them.
Tim Harvey, the wild-horse advocate on a national advisory board, said the procedure is government-approved and has been used safely on race horses.
The BLM in 2011 planned to spay mares that had been rounded up before returning them to a herd-management area in Wyoming but backed off, saying that more research was needed.
Las Vegas Review-Journal staff contributed to this report.
RELATED STORY