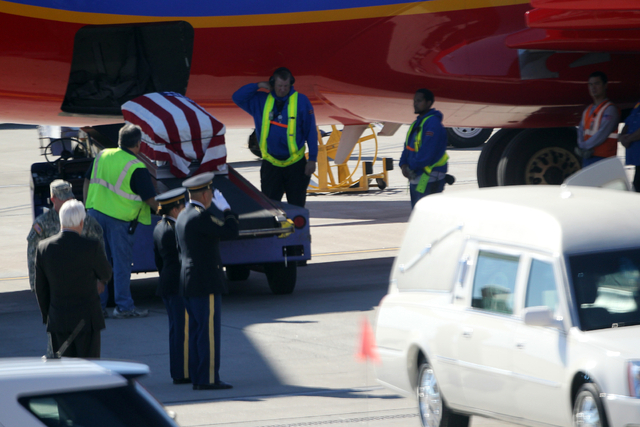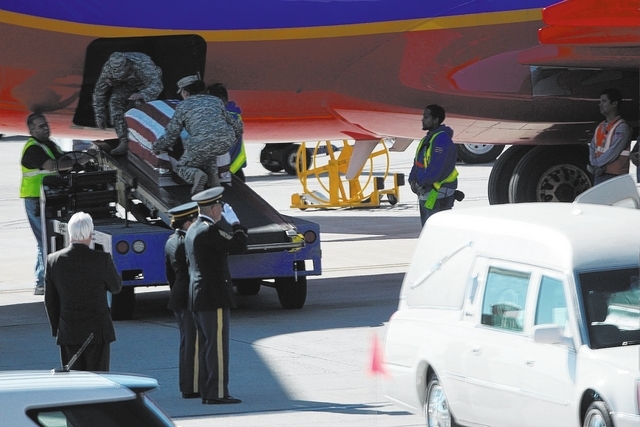 A woman touched the flag-draped casket, head bowed in grief. Two people accompanied her, visibly distraught.
A Nevada Army National Guard Honor Guard unit carried the remains of a soldier killed in a North Carolina home robbery to the hearse as military members saluted and airport personnel, firefighters and Las Vegas police looked on somberly.
The body of Army Sgt. 1st Class Sean Wayne Wells, 35, arrived at McCarran International Airport Wednesday afternoon, en route to his final resting place in the Southern Nevada Veterans Memorial Cemetery in Boulder City.
Wells was killed in his home in Fayetteville, N.C. on Oct. 7. Two suspects took his wife and son into another room before Wells was shot, according to the Fayetteville Observer. The woman and child were not injured.
Wells' wife took her 4-year-old son to a neighbors house while on a cellphone with a 911 dispatcher.
The two men stole the couple's 2012 Toyota Camry before ditching it a couple of hours later in another neighborhood.
Fayetteville police said the fatal shooting did not appear to be random and found no evidence of a break-in. No other information was released about the suspects, the Observer reported.
Wells, a soldier in the 2nd Battalion, 3rd Special Forces Group (Airborne), was stationed at Fort Bragg, slightly north of Fayetteville.
In a biography provided by the Fort Bragg Special Forces Command public affairs office, Wells enlisted in March 1999, and after training in Fort Bliss, Texas, moved to Fort Bragg. In 2002, he went back to Fort Bliss for two years before spending another two years in Korea.
He began special forces training in 2006, which he completed in 2007. He spent the last six years in his unit, deploying twice to Afghanistan in that time.
Wells earned a bronze star, a Army commendation medal, two Army achievement medals, and four good conduct medals among a variety of other awards and achievements, including a basic parachute badge and his ranger and special forces tabs.
The Nevada National Guard Unit provided the honor guard and casualty assistance at McCarran for Wells' family because there is no active duty Army base in Nevada.
The transfer of a soldier's remains, called a "dignified transfer," occurs a handful of times a year, McCarran spokesman Chris Jones said.
The transfer is to "ensure it has the full honor and respect it deserves," Jones said of the airports accommodations.
Wells was born in Los Angeles. His ties to Las Vegas were unclear Wednesday.
Visitation for Wells will be held from 4 p.m. to 7 p.m. on Friday. Funeral services will take place at 11 a.m. on Saturday at Palm Mortuary, 800 S. Boulder Highway, Henderson. The burial will be a private ceremony.
Review-Journal writer Annalise Porter contributed to this story.
Contact reporter Rochel Leah Goldblatt at rgoldblatt@reviewjournal.com or 702-383-0264.