Bomb kills man at Luxor; two suspects are arrested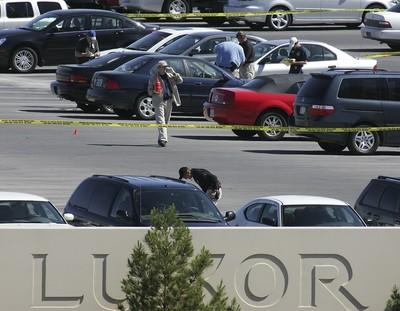 A small homemade bomb exploded at the Luxor parking garage early Monday, killing a man and stoking fears of a terrorist attack on the Strip.
Las Vegas police soon determined that the 4 a.m. explosion, which killed Willebaldo Dorantes Antonio, was an act of homicide, not terror.
On Friday, police pinned the slaying on two men, including the former boyfriend of Antonio's girlfriend. Detectives believe Antonio was targeted because of his relationship.
"This was a very cold, calculated, planned attack," homicide Lt. Lew Roberts said at a news conference Friday announcing the arrests of Omar Rueda-Denvers and Porfirro Duarte Herrera.
Rueda-Denvers, 32, had been fighting with his ex-girlfriend over visiting their child, and he was kicked off the Luxor property two months ago because of harassment, police said. Detectives booked Rueda-Denvers on charges of murder, attempted murder and possessing an explosive device.
Herrera was booked on a charge of being an illegal alien in possession of a firearm. Police believe Herrera accompanied Rueda-Denvers to plant the bomb.
The girlfriend, whose name was withheld by police, worked with Antonio at Nathan's Famous hot dog restaurant in the Luxor food court. The couple had walked to the parking garage about 4 a.m. after finishing their shifts when Antonio noticed an object on the roof of his 1996 Dodge Stratus. When he picked it up, it exploded.
He died shortly after arriving at University Medical Center. His girlfriend was standing about 4 feet away but was unhurt in the blast.
Homicide detectives cracked the case Thursday after identifying a mystery car, caught on security cameras parking briefly next to Antonio's car 90 minutes before the explosion.
MONDAY
Soldier killed on second tour to Iraq
Army Reserve Staff Sgt. Coby Schwab went back to Iraq for a second time because he didn't want his buddies to fight the country's freedom-wrecking militants alone, his family said.
On May 3, the 25-year-old Henderson soldier died doing just that when a roadside bomb exploded as he was trying to recover a Humvee that had been hit by a previous bomb in the pre-dawn hours near Ramadi.
"His commanding officer said he died a hero," said Schwab's mother, Jane Hanson.
TUESDAY
Convention center upgrade approved
The Las Vegas Convention and Visitors Authority voted unanimously to approve an $890 million upgrade to the Las Vegas Convention Center, an increase over the previous cost estimate of $737 million.
The work, scheduled to be complete by the end of 2011, comes as Southern Nevada's top trade show competitors are pouring hundreds of millions of dollars into renovations of their own.
WEDNESDAY
Gibbons pursues
highway funding
Gov. Jim Gibbons was to announce a plan to raise $2.5 billion for highway construction by reallocating existing room, sales and live entertainment taxes, the Review-Journal reported.
During the announcement Thursday, Gibbons emphasized that his plan would solve the highway construction fund shortfall without an increase in taxes.
The governor's proposal drew immediate opposition from some Democrats; the Las Vegas Convention and Visitors Authority, which could see its convention center expansion scuttled by the plan's call for diverting room taxes; and the Nevada Resort Association.
THURSDAY
Casinos' take drops from year earlier
State casinos reported that gamblers lost $1.054 billion in March, a decrease of less than 1 percent compared with the $1.063 billion collected from gamblers in March 2006.
On the Strip, casinos also saw a less than 1 percent decrease in gaming win, collecting $543.7 million in March, compared with $546.3 million a year ago.
FRIDAY
Judge assigned to replace Halverson
The state Supreme Court assigned a senior judge to indefinitely replace District Judge Elizabeth Halverson, who court officials say breached courthouse security.
Officials changed the locks and deactivated the rookie judge's key card to enter secured areas on Thursday night after Chief Judge Kathy Hardcastle barred her from entering the Regional Justice Center. The lockout is in place until Halverson agrees to meet with court officials, who have said the judge has grown increasingly paranoid that everyone is against her.
"She's created something in her mind that just doesn't exist," Hardcastle said.
COMPILED BY MICHAEL SQUIRES
READ THE FULL STORIES ONLINE AT
www.reviewjournal.com/wir
Week In ReviewMore Information