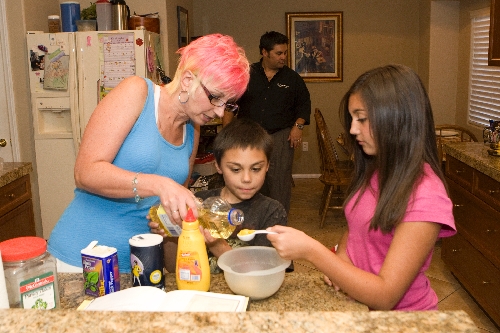 It is the afternoon of Maura Bivens' 15th wedding anniversary, Sept. 16, and she is having thoughts that most happily married women never entertain. She is thinking about her husband's next wife.
They are a one-of-a-kind couple, Maura and Mark, happily married and still wildly in love. If two people were ever meant for each other, it is them. But Maura is a practical woman and she is planning for her family's future, one that does not include her.
In November, Maura Bivens, 41 — a wife, mother of three, devout Christian, amateur comedian and martial artist — was diagnosed with terminal breast cancer. In January, she was told she had 12 months to live.
"George Burns lived 50 years without his wife, Gracie," Bivens says. "That's a long time to be without companionship. I'm conscious of that."
Are her thoughts a little morbid? Maybe. But someone has to think of these things. It's part of life, whether long or short, Bivens says.
Don't mistake her, though. As grim as it sounds, Bivens considers herself a survivor. She says she is determined to give her family a normal life and for the most part, she does. It's just that they live with an awareness most others don't.
"People who walk outside one day and get hit by a bus made assumptions about their lives," Bivens says. "They never assumed they would get hit by a bus."
Bivens has three kids: Hunter, 5; Jackson, 7; and Zoe, 11. She is slender but fit with a head full of hair and a healthy color in her cheeks. To look at her, you wouldn't think she has cancer, especially because she is so jovial and energetic. She also is blunt; there is no time for avoiding the truth.
"I should be one foot in the grave by now," Bivens says. "That's what we're all prepared for, for me to get sicker and sicker and then die. That's what's confusing for the kids, because I got better."
The youngest of five siblings, Bivens was diagnosed with triple negative breast cancer in 2008. Years before, while eating lunch with her three sisters, Bivens pointed out that one in four women are diagnosed with breast cancer.
"I said, 'Oh, which one of us will it be?' " she recalls. "When I was first diagnosed, I was so shocked. I even told the surgeon: 'We are not breast cancer people. We are colon cancer people.' "
That's good, he told her, because doctors can cure her breast cancer.
And at first, it seemed as though they did. Bivens opted to have both breasts removed, even though cancer was present in one. After receiving chemotherapy and radiation, doctors pronounced her cancer-free.
Those months were hard, especially during the chemotherapy, Bivens recalls. It made her feel bone-tired and sick. To get her through her treatments, she vowed to earn her first-degree black belt in tae kwon do. Bivens had been studying and teaching at a local studio for a few years and knew it would require a tremendous amount of effort and focus to achieve a black belt. It gave her a goal.
She was cancer-free for about a year. During a follow-up exam, her doctor discovered that the breast cancer had metastasized to her lungs. Her prognosis is so grim, she says, because of the type of cancer and because it recurred so soon after treatment. Now she is at work on her second-degree black belt. (In tae kwon do, there are nine degrees of a black belt, with the ninth being awarded posthumously).
Since January, Bivens has undergone chemotherapy and radiation. So far, it's holding the tumors at bay, but Bivens is not in remission and never will be. That is a fact she has had difficulty explaining to friends. They see her looking so good and living a seemingly normal life that they don't realize that she is, indeed, a very sick woman.
"Once it's metastasized, there's no curing it," she explains. "You can treat it as a long-term disease. There's no sprint to treat it; now it's a delicate balance of what your body can take. And that's a fine line that affects the quality of life you can have."
On this day, Bivens sits on the living room sofa where sunlight streams through the window blinds, shining onto the trappings of a happy life: a room with comfortable furniture where the family gathers to watch television or talk. A kitchen where they eat dinner as a family every night. It's the kind of home that Bivens wants others to feel welcome in; hospitality is their thing, she says.
She likes her life. Cancer has made her more aware of that than ever. She strives to make it a normal one.
On the last day of her most recent treatment, she says she got up that morning, fixed the kids' lunches, took something out of the freezer for dinner, made sure the kids got to school. After radiation, she took two Valium and then went shopping at Costco.
"My priorities have changed. I'm calmer, more peaceful," Bivens says of the effect cancer has had on her personality. "I've learned how to be patient and sit and wait. I learned time wasn't going to be what I wanted."
Amid the daily chores, taking the kids to their various activities and volunteering at her church, Bivens prepares for her family's future. It's hard to know when to start preparing and how much to do, she says. Bivens has already filled out the paperwork to donate her body to science.
She made a scrapbook for the kids who are aware of her illness and deal with it in their own way.
"Jackson said, 'You know what, Mama, I can look at this when you die and think of you.' It's become almost matter of fact," Bivens says.
She plans to write a lot of letters. She wrote a letter to Hunter explaining how he got the scar on his chin. Sometimes, he asks, "Will you be old one day?"
"My parenting style has changed. I'm always giving them life lessons instead of telling them, 'Don't do that.' I'm trying to cram 40 years of parenting into this time," Bivens says.
For Mark's anniversary present, Bivens planned to give him a photo album she made called "The Story of Us." It starts at the beginning, when they first met in Seattle. There is no ending.
In the past, when Bivens met someone for the first time or saw a stranger in the checkout line at the grocery store, this thought popped into her head: "I'm dying. If I told them, it would blow their minds."
Now, she says, under the same circumstances, she thinks, "I'm living."
Contact reporter Sonya Padgett at spadgett@review journal.com or 702-380-4564.
More Breast Cancer Awareness
Breast Cancer Awareness