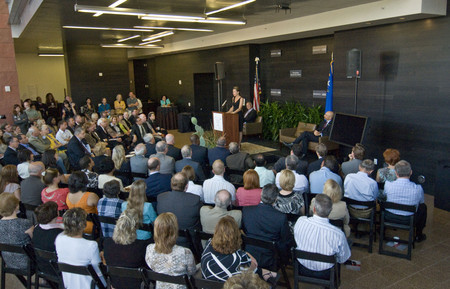 Las Vegas has been called many things, but a laboratory for studying public policy?
Yes, now it has.
The Brookings Institution, one of the nation's most prominent think tanks, announced Tuesday that it was moving into offices at the University of Nevada, Las Vegas to open the Mountain West Initiative.
The collaboration will bring prominent scholars to UNLV on a rotating basis. The goal will be to study public policy issues from the perspective of the Mountain West states of Nevada, Utah, Colorado, New Mexico and Arizona.
UNLV President Neal Smatresk called it "one of the most seminal events in UNLV history."
The announcement brings immediate prestige to UNLV, which will be Brookings' largest branch outside its headquarters in Washington, D.C.
It will share space with the newly formed Lincy Institute in Greenspun Hall. The Lincy Institute was created last month after a $14 million gift from the Lincy Foundation, the nonprofit founded by billionaire Kirk Kerkorian. The institute's goal is to foster collaboration between nonprofits and the university.
Seed money from that gift, about $3 million, will fund the first two years of the Brookings effort at UNLV. After that, it will be self-supporting, officials said.
Robert Lang, a Brookings nonresident senior fellow, will join UNLV's faculty as a sociology professor. He will be interim director of the Lincy Institute and the Mountain West Initiative's research director.
Lang said the initiative will bring in scholars to study issues particularly important to Las Vegas and the region, including the economy, the environment and transportation. Water and energy issues will be important topics of study.
The idea of bringing Brookings to UNLV was hatched more than a year ago, when the institution released a report titled "Mountain Megas" that focused on Las Vegas and other rapidly growing areas in the West. The report said Mountain West states were poised to become a "new American heartland," and proposed cooperation among the states and federal government in ensuring the area prospered.
"We saw ourselves reflected in that report in ways that were profound," Smatresk said. "It hit us between the eyes like a thunderbolt."
A buzz began around UNLV, said Smatresk, who was then the executive vice president and provost of the university.
Brookings officials had been looking to expand to one of the nation's fast-growing areas, and UNLV seemed a likely fit, said William Antholis, director of Brookings Mountain West.
Brian Greenspun, editor and publisher of the Las Vegas Sun, is an honorary trustee of the Brookings Institution. He invited the Brookings trustees to Las Vegas, and a relationship was born.
"Somehow, we just knew that Brookings and UNLV had to be together," Greenspun said at Tuesday's festivities.
The gift from the Lincy Foundation sealed the deal, providing enough startup money to make the partnership between UNLV and Brookings happen.
Contact reporter Richard Lake at rlake@reviewjournal.com or 702-383-0307.