Bruckheimer still has NHL dreams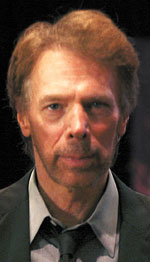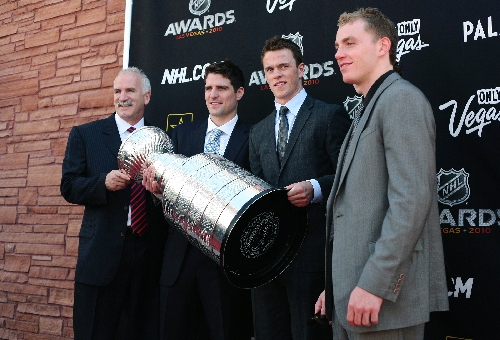 Hollywood producer Jerry Bruckheimer is best known for his blockbuster movies such as the "Pirates of the Caribbean" franchise.
Had it not been for the financial crisis, there was a strong possibility he would have been at the ownership helm of a National Hockey League franchise in Las Vegas.
"I think so. We were so on our way, and then the loan market kind of disappeared," Bruckheimer said Tuesday in a red carpet interview prior to the NHL Awards Show at the Palms.
The recession hasn't dampened his interest in owning an NHL team in Las Vegas. When Harrah's and entertainment giant AEG announced plans in August 2007 for a 20,000-seat arena to be built behind Bally's, the date given for the arena opening was 2010.
And Bruckheimer, who has a close relationship with the NHL (he was a presenter at the league's glitzy award show Wednesday) was the NHL's leading candidate to get a franchise, he all but confirmed .
The parties involved remain interested, he said, but it's a waiting game until the economy recovers.
Las Vegas, he said, "is a growing city, a big city. It has travelers from all over the world who are hockey fans, and I think this city could use a professional sports team."
NICE TRY
Memo to the Amy Winehouse imposter who showed up Tao on Tuesday night: work harder on your homework next time around.
The doppelganger who passed herself off as the bee-hived Grammy-winning British singer had her cover quickly blown.
Winehouse's arms are covered with tattoos.
The fake Winehouse had just two small tats.
Tao Group's head of entertainment marketing, who had met the real "Rehab" singer, sat down for a close look and let the phony know the game was over.
"She quickly asked for the check and a made a mad dash for the door," a Tao rep said in an e-mail.
It's not the first time Tao has smelled a rat when it comes to faux celebrities.
Among them: a poor imitation of actress Dev Patel of "Slumdog Millionaire," a Kristen Bell look-alike was about a foot too tall to pass as the "Veronica Mars" star, and a Kevin Spacey wannabe didn't get his foot in the door.
SIGHTINGS
Among those on the NHL red carpet Wednesday: actress Natasha Henstridge and more than a dozen members from Cirque du Soleil's "Love." … Actor Armand Assante, cheering and applauding wildly at Steve Dacri's magic show at the Hilton on Tuesday. … Siegfried Fischbacher was not at the Hofbrauhaus watching Germany's World Cup Game on June 13. My mistake: Hofbrauhaus management was at his 71st birthday party.
THE PUNCH LINE
"Just lost a tank betting on North Korea in the World Cup." — From David Letterman's Top Ten Signs Your General is Losing It
Norm Clarke can be reached at (702) 383-0244 or norm@reviewjournal.com. Find additional sightings and more online at www.normclarke.com.