'BUFFALO JIM' FAMILY MEMBERS UNSATISFIED
December 30, 2008 - 10:00 pm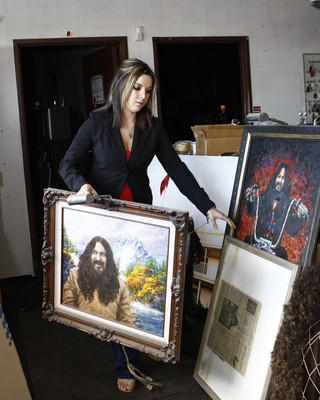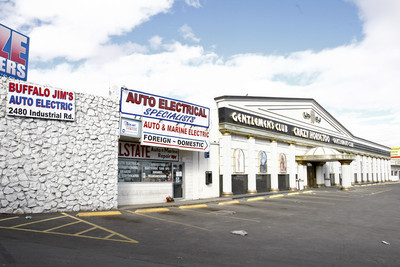 It was once the site of an ugly war between two neighboring businessmen: one a white-haired topless club owner with reputed mob ties, the other a bearded, loud-mouthed mechanic known as Buffalo Jim.
On a recent December day, the site of the adjoining businesses near a Sahara Avenue underpass was bare, save for the old newspapers and plastic cups blowing around the parking lot.
Once a bustling location with limos pulling in and out and valet attendants scrambling about, the sole human present is inside a tiny Industrial Road auto shop. She is packing away paintings depicting James "Buffalo Jim" Barrier and boxing up mementos collected over the past three decades.
It's only a few days before Christmas, but 25-year-old Jennifer Barrier's mind is not on shopping or spending time with her family. She is focused on two missions: clearing out her father's shuttered auto shop and solving what she calls his murder.
"This is killing me," she said, her eyes welling up with tears.
The war between Buffalo Jim and his neighbor and landlord Rick Rizzolo was triggered a decade ago when Rizzolo wanted Barrier off his property east of Interstate 15 so he could expand his club. Barrier refused to leave. At the end of the battle, there were no winners.
Rizzolo, owner of the Crazy Horse Too Gentlemen's Club, pleaded guilty to tax evasion in 2006, spent six months in federal prison and was stripped of his business. Barrier was found dead in a motel room in April, a day after Rizzolo was released from prison.
Law enforcement officers have never indicated that Rizzolo had anything to do with Barrier's death. In fact, officers who responded to the Motel 6 room where Barrier's body was discovered never considered the area a crime scene.
Jennifer Barrier is convinced her 55-year-old father was murdered, and her family has long pointed a finger at Rizzolo. Rizzolo's attorney, Tony Sgro, has declined to return numerous phone calls seeking comment on the family's assertions.
But conspiracy theories surrounding Buffalo Jim's death were disputed in an autopsy report that indicated his heart failed while he was using cocaine. Clark County Coroner Mike Murphy said Buffalo Jim suffered from dilated cardiomyopathy, a condition in which the heart muscles become inflamed.
Jennifer Barrier senses that authorities and some community members are tired of hearing from her, but she is not going anywhere. Like her father, she will not be bullied.
"I'm living his life now. I slipped into his shoes," she said. "I respect him. I think that's why I'm doing this."
ACCIDENTAL DEATH?
Jennifer Barrier likens her father's case to the investigation into casino mogul Ted Binion's death in 1998. The millionaire was found dead in his home, and authorities initially ruled the cause an accidental overdose.
After the case was reopened, police arrested Rick Tabish and Sandy Murphy on murder charges.
Her problem, Jennifer Barrier said, is that Metropolitan Police Department detectives continually dismiss her concerns regarding their investigation.
Police closed the case after the coroner's ruling. Calls to Las Vegas police last week seeking comment were not returned.
Jennifer Barrier is not satisfied with the coroner's explanation. She recently abandoned her successful skin care business in Everett, Wash., to return to Las Vegas to pursue the case with or without the assistance of law enforcement.
"They say it was an accidental death. Well, that's what they said about Binion," she said.
Earlier this month, she demanded to see the police file on the investigation. She said she found inconsistencies in an interview with a key witness in the case. She spent three hours poring over transcripts of an interview with a woman identified only as "Lisa," the last person known to see Buffalo Jim alive. Jennifer Barrier said Lisa's story changed several times throughout the interview. Lisa told police that Buffalo Jim was snorting large amounts of cocaine and acting strangely. She told detectives that when he went to the bathroom, she left the room. Later in the interview, she said Buffalo Jim was lying in bed suffering from a seizure when she left the motel.
"She lied," Jennifer Barrier said. "I asked why they won't make her take a lie detector test, and they said she (Lisa) would have to agree to it. The way this has been handled is really not fair."
She is angry that police did not seal off the motel room where her father was found. Instead, they gathered his belongings — a garage door opener, his cell phone, credit cards and his wallet — and handed them to her sisters.
Jennifer Barrier said police were aware of death threats against her father in the weeks before his death. Further raising her suspicions was a single $1 bill found in Buffalo Jim's wallet, a sign, she believes, that he was the victim of a mob hit.
Even Buffalo Jim indicated he could be a target of the mob.
In a survey taken last year by a business consultant, Buffalo Jim was asked his greatest professional accomplishment. His answer: "Being able to stay in business while being attacked by the mafia for 25 years."
Early on, Las Vegas police Capt. Randy Montandon acknowledged the family wanted answers to its questions but said there was just no evidence of foul play.
Montandon said Jim Barrier made numerous reports to police "outlining all kinds of situations," but no death threats had been recently reported.
Although his daughters at the time said they believed that someone else checked into the room and placed Barrier's body on the bed, Montandon said it wasn't so.
Jim Barrier personally checked into the room and conversed with the motel clerk, Montandon said.
"I personally watched video of him doing that. He was not under duress. He was not accompanied, and he appeared to be in good spirits," Montandon said.
Jennifer Barrier continues to visit Las Vegas police's Investigative Services Division and calls detectives to find out whether they plan to reopen their investigation. She said she was told to quit talking to the media. She said the coroner's office also stopped answering her questions.
A gentle giant
When Jennifer Barrier was in kindergarten, she and her classmates were asked to draw their favorite cartoon character. Some kids drew Inspector Gadget. Others sketched CatDog. Barrier produced a drawing of her father.
When her teacher approached her, she explained, "'I don't have to watch cartoons. I watch my dad.' He was so animated."
He was a big man with long black hair and a beard that flowed down his chest. He had a sense of humor, once building a volcano in the backyard of his half-million dollar home.
He was a regimented man, taking his four daughters to lunch and the movies every Saturday.
He was a determined businessman, moving from Ohio to Las Vegas in 1971 and operating a mobile auto mechanic business out of a van. In 1978, he signed a 30-year lease and moved into the cramped, wood-paneled Industrial Road shop.
He was colorful. The walls at Allstate Auto and Marine were eventually covered with photos autographed by famous boxers, wrestlers and Ultimate fighters. A former professional wrestler who ran his own wrestling school, Buffalo Jim drew the attention of television networks.
He was persistent. Despite death threats and vandalism, he continued to show up at Las Vegas City Council meetings and court hearings to rail against the behavior of Rizzolo and his associates, alleging drug use and beatings at the strip club.
"My dad spent his whole life on this. He spent hundreds of dollars at Kinkos," Jennifer Barrier said. "He spent a fortune showing the world what this guy was doing."
Buffalo Jim filed a harassment lawsuit against Rizzolo. During a hearing last year, he told a federal judge about his feud with the strip club owner. He said vehicles at his shop were vandalized, which forced his employees to park cars down the street at night and bring them back in the morning.
"I was afraid to leave anything at my lot because of vandalism or them towing cars away," Buffalo Jim said during the hearing. "It was like being under siege."
FRACTURED FAMILY
Jennifer Barrier said her family tried to persuade Buffalo Jim to close or move his shop, but he refused.
In 2001, frustrated with her father's persistence, she and her mother packed up and moved to Seattle. Jennifer Barrier said they had received one too many death threats.
"I was president of my student body," she said, referring to her junior year at Las Vegas High School. "But I couldn't handle it anymore."
Call her stubborn, but she has no intention of dropping the case. Asked what authorities could tell her that would allow her to move on with her life, she was silent.
The holiday season has not been easy. Her new Las Vegas apartment is full of photos of her father. In the corner, there is no Christmas tree; Christmas lights wrap around a large painting of Buffalo Jim. There will be no phone call. There will be no silly Christmas songs left on her answering machine.
Instead, she will likely spend her holidays cleaning out her father's shop. Like the neighboring Crazy Horse Too, Buffalo Jim's Allstate Auto and Marine will be taken over by the U.S. marshal's office.
It will be left to the federal government to unload the once-bustling property.
Contact reporter Adrienne Packer at apacker@reviewjournal.com or 702-384-8710.