First defendant in Bunkerville standoff case to plead guilty
August 16, 2016 - 4:08 pm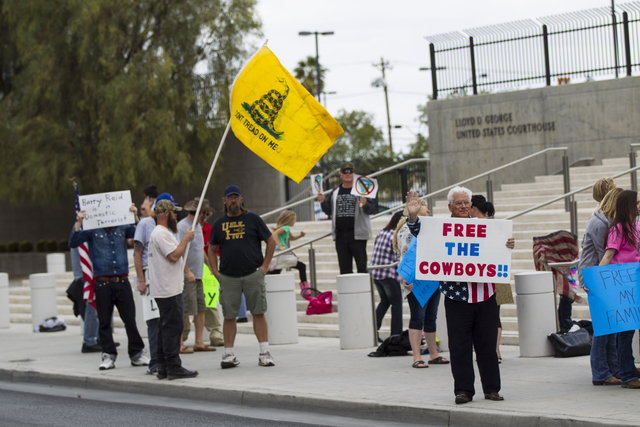 Gerald DeLemus, a politically active New Hampshire man, has become the first of 19 defendants to strike a plea deal in the 2014 Bunkerville standoff.
Federal prosecutors describe DeLemus, who has been in custody for more than five months, as a "gunman and midlevel organizer" in the Bundy family-led scheme to assault law enforcement officers who had rounded up Bundy cattle.
He is to enter a change of plea Aug. 23 before Chief U.S. District Judge Gloria Navarro.
In a court filing Tuesday, Navarro said she has received a signed guilty plea agreement from DeLemus, who was indicted on nine federal charges, including conspiracy.
Details of the agreement will not be made public until after he appears in court. But his Las Vegas lawyer, Brian Smith, said he is free to argue for a lesser sentence than the six years in prison prosecutors seek.
DeLemus, 61, co-chaired Veterans for Donald Trump in New Hampshire before his March arrest, and his wife is a Republican New Hampshire state representative.
Three other defendants in the Bunkerville standoff have pleaded guilty in the 41-day takeover of the Malheur National Wildlife Refuge in Oregon that ended in February.
Montana militia leader Ryan Payne, Bundy family bodyguard Blaine Cooper and Arizona militia member Joseph O'Shaughnessy have been ordered transferred from Oregon to Nevada so they can negotiate deals here.
The three men are among the 19 defendants — including alleged Nevada standoff leader Cliven Bundy and four of his sons — facing federal charges in the Bunkerville confrontation. Prosecutors have described Payne, 32, as a leader in both armed standoffs.
The Nevada defendants are accused of conspiring to assault BLM agents and take back impounded Bundy cattle that had been grazing on federal land.
DeLemus, a U.S. Marine Corps veteran, arrived in Nevada too late to participate in the alleged assault near the Bundy ranch on April 12, 2014, according to prosecutors.
But prosecutors alleged in court papers that he quickly became an "organizer of gunmen on the ground" at the ranch after the confrontation. The ranch is outside Bunkerville, about 80 miles northeast of Las Vegas.
DeLemus remained at the ranch for three weeks after the confrontation and was placed in charge of "Camp Liberty," where armed militia members were housed, prosecutors alleged.
The government has several photos of a well-armed DeLemus in tactical gear at the Bundy Ranch.
Last week, a federal magistrate judge denied DeLemus' latest bid for freedom, concluding he remained a danger to the community.
Contact Jeff German at jgerman@reviewjournal.com or 702-380-8135. Find @JGermanRJ on Twitter.
Previous coverage
See a timeline of events leading up Cliven Bundy's conflict with the Bureau of Land Management in 2014. Also, see the most recent reports involving Bundy and his family.