Judge delays Bunkerville trial after Las Vegas shooting
October 6, 2017 - 4:40 pm
Updated October 7, 2017 - 2:59 pm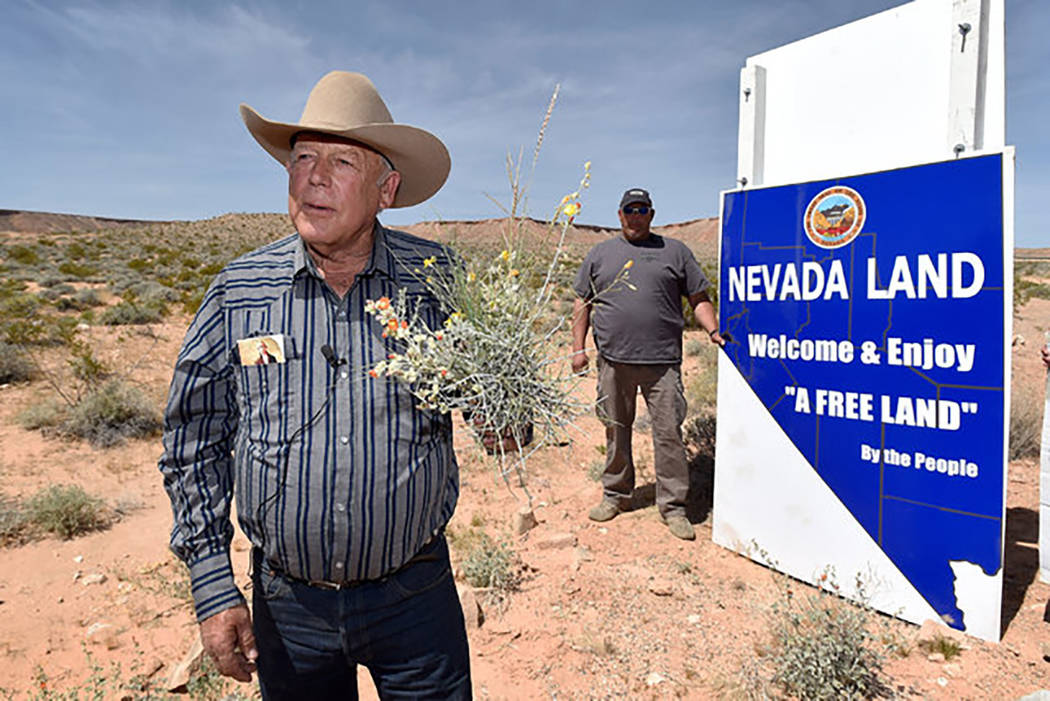 A federal judge has postponed a trial for six men on charges in the Bunkerville standoff as Southern Nevadans, including potential jurors and lawyers in the case, grapple with emotions following Sunday's massacre on the Strip.
The trial for Gold Butte rancher Cliven Bundy, two of his sons and three other men was initially slated to start Tuesday. But U.S. District Judge Gloria Navarro rescheduled it until Oct. 30, saying it would be difficult to find jurors who could "concentrate and focus on this case."
Mesquite resident Stephen Paddock opened fire from his Mandalay Bay hotel room, killing 58 people and injuring 489 others at the nearby Route 91 Harvest country music festival Sunday night.
Despite objections from jailed defendants Cliven Bundy and his son Ammon Bundy, lawyers on both sides of the case agreed that a delay would be necessary, at least in part to give potential jurors a chance to recover from the tragedy.
Prosecutors have alleged Cliven Bundy conspired to thwart the federal government's roundup of roughly 1,000 cows from public land. It will be the third trial in the case.
Men were poised with assault rifles less than 200 yards from Bureau of Land Management agents during the Bunkerville standoff.
Two defendants who were acquitted earlier this year on most counts are still slated to face a third jury on charges that include assault and threatening federal officers.
Cliven Bundy's attorney, Bret Whipple, told the judge that one of his associates was at the festival and would need personal time. The rancher, jailed for more than a year and a half, initially opposed postponing the trial, but Whipple told the judge Bundy was neutral on the issue.
Lawyers for Ammon Bundy asked to move the trial to Reno, but Navarro pointed out that Paddock owned a home there and that Northern Nevada residents also held vigils for shooting victims.
"It's not affecting them any less than it's affecting us," the judge said.
Urging a short trial delay, Assistant U.S. Attorney Steven Myhre questioned whether jurors would ever forget about Sunday night's shooting.
"At what point does this ameliorate where it's not going to be on someone's mind?" Myhre asked the judge. "These events are unrelated. We oppose a lengthy continuance."
Earlier Friday, Pete Santilli, a seventh defendant in the case, pleaded guilty to one count of conspiracy to impede or injure a federal officer, a felony, and was released pending a January sentencing.
According to a negotiation, he admitted he drove his vehicle toward a BLM agent's vehicle, which blocked the officer from trying to remove cattle from federal land. That allowed others to surround a government convoy and threaten officers, inducing them to leave the area, the agreement states.
Myhre said prosecutors would not seek more time behind bars for Santilli, who was originally jailed early last year. He is expected to be credited for time he already spent locked up, but Navarro could sentence him to up to six years in prison and order a $250,000 fine.
Contact David Ferrara at dferrara@reviewjournal.com or 702-380-1039. Follow @randompoker on Twitter.