Cal humbles Rebels at home
November 28, 2008 - 6:00 pm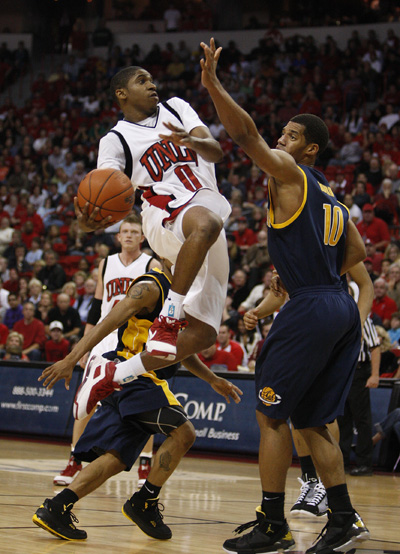 With an impressive shooting display, Jerome Randle, California's 5-foot-10-inch guard, took UNLV apart. In the aftermath of a surprising blowout, he made another big statement by taking one parting shot.
"We just went out and destroyed those guys," he said.
Nobody played better than Randle, and he said it best, too.
Randle scored 18 points as the Golden Bears ran the Rebels off their home court in a 73-55 victory Friday night.
Cal (5-0) put an emphatic end to UNLV's 19-game winning streak at the Thomas & Mack Center before a crowd of 13,830.
"I didn't think we were going to blow those guys out like that, but we played great," said Randle, who hit 4 of 5 3-pointers and added eight assists and six rebounds.
After losing in the third round of the Global Sports Classic, the Rebels (5-1) will play Cincinnati at 5 p.m. today. Florida State beat the Bearcats 58-47 in Friday's late game.
UNLV unraveled because of its poor shooting, but it also got pushed around by the bigger and more aggressive Bears.
The Rebels shot 19-for-64 (29.7 percent) from the field and were whipped 50-34 in the rebounding battle.
"We can't let that happen, especially on our home court," said UNLV senior Rene Rougeau, who finished with five points and 11 rebounds.
The Rebels' three senior starters └ Rougeau, Wink Adams and Joe Darger └ suffered through shooting misery by going a combined 6-for-30.
"Everybody went into a big shooting slump," said Adams, who was 3-for-14. "The way they were playing defense was very effective."
Adams, the team's leading scorer at 16.2 points per game, was held to two points in the first half and 10 in the game.
Cal grabbed control early and led 39-26 at halftime behind Randle's 13 points. UNLV shot 8-for-31 (25.8 percent) in the first half.
With 11 minutes remaining, the Rebels still trailed by 13 points, 54-41, and Adams, Darger and Rougeau were shooting 3-for-22.
UNLV hung around and got within 57-48 on Darger's free throw with 4:12 remaining, but the Bears pulled away from there.
"We were just missing way too many shots," said Rougeau, who shot 1-for-9. "We've got to have more pride on defense."
Rebels coach Lon Kruger said his players were "hurt" by the one-sided nature of the beating.
"It's a little embarrassing when that happens," Kruger said. "At the very least, when you get popped like that, you realize we've got a lot of work to do. They were the aggressors on defense, and they attacked and got us on our heels. They hurt us badly on the boards."
Cal forward Jamal Boykin was strong inside with 15 points and eight rebounds.
Five players scored in double figures for the Bears, who got 12 apiece from Patrick Christopher and Theo Robertson. Freshman guard Jorge Gutierrez, who was recruited by UNLV while he was at Findlay Prep in Henderson, had 10 points and five rebounds.
Rebels freshman Oscar Bellfield made two 3-pointers and finished with 10 points.
UNLV was whistled for 19 fouls to Cal's 18, but Adams questioned the accuracy of the calls.
"Everything we did on defense was a foul. We've got to learn to play defense without fouling, I guess," he said. "After the game in the locker room, everybody was really talking about the officials.
"We can't sit here and worry about this game. We've got to move on to the next one."
Contact reporter Matt Youmans at myoumans@reviewjournal.com or 702-387-2907.