Candidates address Hispanics at town hall event
October 20, 2012 - 2:01 am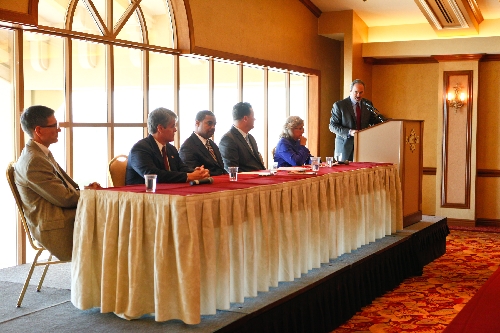 Who said bipartisanship is dead?
On the day before the start of early voting, Southern Nevada congressional candidates from both major parties agreed it's important to court a key electoral bloc.
Five of six Democratic and Republican candidates spent more than an hour Friday tackling immigration and other issues in front of a small audience of Latin Chamber of Commerce members and political activists.
It was a chance for the candidates to reach out to Hispanic voters, who make up about 15 percent of the electorate.
It was also a glimpse of how the candidates view the status of their campaigns, with those facing potential losses going after opponents and those viewed as leading in their races playing defense and giving only safe answers.
The importance the candidates placed on reaching out to a Hispanic audience was clear in the amount of attention they paid to immigration and the DREAM Act, a bill that would allow young undocumented immigrants gain legal status by serving in the military or going to college.
State Sen. Steven Horsford, D-Las Vegas, is locked in a tough race with Republican Danny Tarkanian for Nevada's new 4th Congressional District, had first crack at the issue and used it to make the most dramatic comments of the event and some shots at his opponent.
"This is the human rights issue of our time," said Horsford, who enjoys a double-digit Democratic registration advantage but lags Tarkanian in polls. "This is like women's rights, this is like civil rights in the '60s."
Horsford said he backs the DREAM Act, which passed the U.S. House of Representatives in 2010 but died in the Senate.
Besides declaring support for the federal bill, Horsford said at the state level he opposed efforts to introduce legislation similar to Arizona's controversial SB1070 anti-immigration bill.
That bill was unpopular in the Hispanic community, and Horsford sought to tie Tarkanian, who skipped the forum, to it.
He said that the bill would have hurt Nevada's convention and hospitality industry but that Tarkanian supported the concept "because of his rigid ideology, because of his willingness to just follow a tea party ideology."
Republican Chris Edwards, who is running a long-shot campaign for the 1st Congressional District against Democratic favorite Dina Titus, veered furthest from the party line.
Unlike Republicans nationally who have been accused of demonizing Hispanic immigrants, Edwards said the problem with the DREAM Act is that it excludes too many people.
Edwards said the act's requirements that people go to college or enter the military for a shot at remaining in the country legally are too restrictive.
He said as many as 60 percent of Hispanics in the 1st District do not have high school diplomas or GEDs, which means they cannot meet the requirements.
"That is going to minimize the number of people who would actually benefit from the current DREAM Act as it is written," he said. "There has to be many more options provided. That, I think, is one of the fundamental flaws. There are only two paths to staying here allowed. We have to come up with other alternatives."
Titus, who represented the 3rd District in 2010, reminded the audience she is the only member of the panel who actually voted for the DREAM Act.
"It passed the House of Representatives and failed in the Senate," Titus said. "It was the fault of the Republicans threatening to filibuster, acting as one to oppose things that many of them had previously supported, including John McCain."
The feistiest exchange on the issue was between 3rd District incumbent Rep. Joe Heck, R-Nev., and his Democratic opponent, state Assembly Speaker John Oceguera.
After blaming others for "demagogue-ing" on the issue, Oceguera, who faces an uphill battle against the incumbent, attacked Heck for questioning the Constitutional right to birthright citizenship and appearing at an event with Maricopa County, Ariz., Sheriff Joe Arpaio, who is famous partly for controversial, anti-immigration views.
"My opponent sounded pretty good on this, but I don't think he is interested in these practical solutions. He took the extreme position that we should revisit the area of birthright citizenship, that is a right that is guaranteed in the U.S. Constitution," Oceguera said. "He was endorsed by the sheriff in Arizona, Joe Arpaio; he thinks those immigration laws look good."
Heck said the DREAM Act needs to require a college degree or more than two years in the military, and fired back at Oceguera.
"While my opponent says he doesn't want to demagogue the issue, I think that is exactly what he did," Heck said. "You wind up at an event and you get a picture taken with somebody the next thing you know it is a mail piece, and that is what is wrong with politics, and that is what is wrong with this campaign."
Contact reporter Benjamin Spillman at
bspillman@reviewjournal.com or 702-383-0285 .