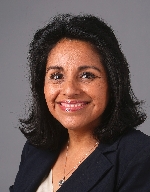 With all the negative back and forth in the Las Vegas Ward 3 City Council race, people might be surprised to discover that candidates Bob Coffin and Adriana Martinez actually agree on many issues.
Both think that the ward, which encompasses many of the city's older areas, suffered from neglect as the city grew.
They want more investment in roads, sidewalks and parks, more attention for code enforcement issues such as graffiti, and a mechanism that can make owners of foreclosed properties pay attention to maintenance.
Both have promised to reopen Huntridge Circle Park as soon as they are elected.
That leaves an extensive and sometimes complicated list of charges and countercharges they have levied at each other in an attempt to gain traction in the race.
MARTINEZ RESIDENCY
Charge: Martinez didn't meet the residency requirement to run for office.
This allegation has been around since the beginning of the campaign and a challenge to her candidacy is waiting for a Nevada Supreme Court ruling on legal issues.
Martinez bought a house on Sweeney Avenue in the John S. Park Neighborhood in 2009 and also owns a home outside the city limits. She changed her voter registration to the Sweeney address in 2010.
Bob Bellis, president of the John S. Park Neighborhood Association, and resident Kent Dagnall filed challenges to her candidacy, alleging she did not live in the house inside Ward 3 for the required 30 days prior to Feb. 4, which was the end of the candidate filing period.
A private investigator surveilled the house and installed a 24-hour video camera — Bellis has claimed responsibility for the PI — and compiled a report that says Martinez was rarely seen at the house and never spent any significant time there.
Martinez called the challenge a "smear." She said that during that time period she was working long hours and helping care for her ailing mother, and therefore wasn't home often.
So far, the case has turned on whether Bellis qualifies as a city resident (he listed an address outside the city) and whether the challenge was filed ahead of the required deadline.
Though the case is labeled "expedited," justices have not ruled on whether it will continue or not, even though the court accepted the case in March and the last briefs were filed April 25.
HISTORIC DOCUMENTS
Charge: Coffin hurt the University of Nevada, Las Vegas by selling a collection of historic documents to the school's library in 1997.
In 1989, Union Pacific Railroad contacted Coffin, then a state senator, to discuss strategies for a presentation to the Clark County Commission on moving the company's Las Vegas rail yard.
Coffin is in the rare book and document business and asked whether the company had any records pertaining to Las Vegas. The railroad did, in fact, have voluminous records dating to the city's earliest days that were stored in a Los Angeles basement and scheduled to be tossed out as garbage.
Coffin paid $500 for the right to inspect the documents and take any that were of value. He spent four years going through the records, which had been stored in a room without ventilation that had flooded and was used by homeless people. The records were in poor condition and Coffin spent $20,000 restoring them, according to the Nevada Ethics Commission.
The collection he assembled was eventually appraised at $500,000 to $750,000. He reached an agreement with UNLV's library to sell it for $330,000 paid over 11 years, and the documents are publicly accessible as part of the special collection.
Funding came from private donations. No tax money went to the purchase, according to the Ethics Commission.
Martinez's campaign said Coffin should have donated the collection to the university and her supporters started a "Give it back!" chant at a recent debate.
The Ethics Commission reviewed the transaction in 1996 and cleared it, calling it an "arms-length" deal in which Coffin took risks as a businessman and "did not discharge any public duties on UP's behalf."
ENDORSEMENT CLAIM
Charge: Martinez falsely claimed that Mayor Oscar Goodman endorsed her candidacy.
Early in the race, Martinez frequently used a picture of her standing on Fremont Street with Goodman and Ward 3 Councilman Gary Reese. She posted it to her Facebook profile Feb. 11 (as of Wednesday, it was still there) with the caption, "Great to have the endorsements of Mayor Oscar Goodman and Mayor Pro Tem Gary Reese!"
But Goodman didn't endorse her.
"Everybody has their picture taken with me. That's all I can tell you," Goodman said.
His standard practice is to pose for a picture with "anybody who asks, unless they have some sexually transmitted disease that I know about."
Martinez was asked about the matter at a forum by Steve Evans, who unsuccessfully ran in the Ward 3 primary and now is supporting Coffin.
"He gave me his endorsement," Martinez said. "Apparently, he endorsed all three. That was news to me."
Martinez has been endorsed by Reese, Councilman Ricki Barlow and Councilwoman Lois Tarkanian.
BUSINESS AND TAXES
Charge: Coffin's tax votes in the Legislature are anti-business and he is "on record for raising any tax any time."
Coffin, along with most of the rest of the Legislature, approved an $836 million tax package in 2003 to help fund public schools and the state's budget. The vote was 17-2 for approval in the Senate and 28-14 in the Assembly, and governor at the time, Republican Kenny Guinn, gave his assent.
Martinez also wants to knock Coffin for a 2003 vote in favor of a gross receipts tax, which opponents call anti-business. It was a committee vote that was 6-1 against the tax, with Coffin the only supporter.
The "any tax any time" statement is derived from remarks Coffin made at the beginning of the 2009 session, when lawmakers faced a yawning budget shortfall: "… everything on the table means it is 'code' for any tax that could possibly be raised in order to possibly balance the budget will be raised or will be considered. Therefore, this committee is an everything-on-the-table committee. That means that gaming, mining — all industries — are vulnerable to the necessities, the needs, the pressing urgency of balancing our budget."
VOTING
Charge: Martinez has never voted in a city election.
Coffin brought this up in a primary mailer that also mentioned the residency question.
"She wants to be our councilperson, yet she has not voted in a city election!" the mailer states. "Is that really the kind of person we want representing Ward 3?"
Martinez bought her house in the ward in 2009 but didn't list it as her registered voting location until 2010.
City elections are held in odd years. Before 2010, she said, she wasn't a city resident and wasn't eligible to vote in those contests.
Records show she has voted in every even-year primary and general election since at least 1998 and in this year's municipal primary.
PROSTITUTION
Charge: Coffin is in favor of legalizing prostitution in Las Vegas.
Coffin has said several times that he opposes this.
In 2009, when he was chairman of the Senate Taxation Committee, Coffin proposed a tax on existing legal brothels. He also said he was willing to hold a hearing on legalizing prostitution in Las Vegas and other urban areas where it's illegal.
At the time, he said he was undecided about legalizing it. During this year's campaign, though, he said, "I don't favor legal prostitution," although he added that elected officials should still be willing to listen to people who are in favor of it.
Contact reporter Alan Choate at achoate@reviewjournal.com or 702-229-6435.