Casino gunfire trial starts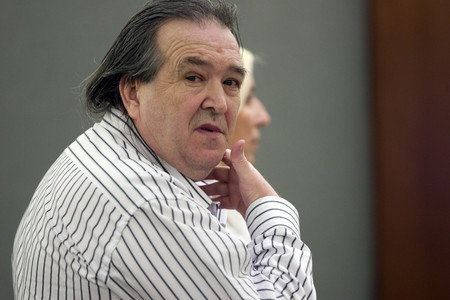 When Steven Zegrean opened fire in a crowded casino two years ago, he turned a typical night on the Strip into a nightmare.
Dozens of tourists scattered as Zegrean fired a 9 mm handgun from the balcony of the New York-New York. Some people ran for exits; others hid behind slot machines.
Four people were struck with gunfire, including a 13-year-old boy, before Zegrean was tackled by a vacationing National Guardsman.
On Tuesday, Zegrean, 53, sat in District Court during the first day of his trial. He was indicted on 17 counts of attempted murder and another 17 counts of battery or assault for the July 6, 2007, incident.
He fired 16 rounds during the shooting and was taken down before he could fire the 17th, authorities said. He had a total of 249 rounds with him, county prosecutor Ravi Bawa said.
During his opening statement, Bawa briefly showed jurors a suicide note Zegrean allegedly had written that police found on him after they arrested him.
"If you shot me — thank you," the note stated. "I was very mad and I want to kill everybody."
Bawa said prosecutors also intend to play surveillance footage of the shooting, which shows Zegrean firing a Springfield semiautomatic handgun inside the casino.
One woman, a dance instructor, was shot in the leg and no longer dances because of her injury, he said.
No wounds were life-threatening.
But Zegrean's attorney, Deputy Public Defender Bita Khamsi, told the jury that her client never meant to kill anyone. She said he had been depressed and wanted Las Vegas police officers to shoot and kill him.
"Suicide by cop," she said.
Zegrean, originally from Hungary, came to the United States when he was 26. He lived with his wife in California and worked as a house painter. Far from the monster portrayed in the media, Zegrean has three grown children and at one point was "living the American dream," Khamsi said
His life began to unravel about the time he moved to Las Vegas in 2001, she said. He suffered from chronic pain and had trouble working. In 2002, he was devastated when he divorced from his wife. He remarried, but his new wife ran up his credit card debt, Khamsi said.
Zegrean then lost his house and essentially became homeless for a while. He tried to drink away his pain and regrets, Khamsi said, but his feelings of hopelessness continued.
Several days before the shooting, police were called to Zegrean's residence because he was suicidal. But the officers left after Zegrean told them he didn't want to kill himself, according to a police report.
Zegrean then wandered the Strip in a black trench coat armed with a handgun and five extra cartridge magazines, each holding 16 rounds. He also had 132 bullets in his pocket.
Some wondered why authorities or casino security didn't stop Zegrean as he walked on the Strip in the trench coat. He would have stood out because of the excessive heat during the week. At one point, the temperature reached 116 degrees.
Zegrean entered New York-New York about 10:30 p.m. on July 5 intending to shoot up the casino, authorities said. But he temporarily delayed his plan because there were too many children inside the casino, according to the police report.
He retreated to a nearby food court and waited about two hours before carrying out the shooting, authorities said.
Zegrean's trial is scheduled to resume today.
Contact reporter David Kihara at dkihara@reviewjournal.com or 702-380-1039.