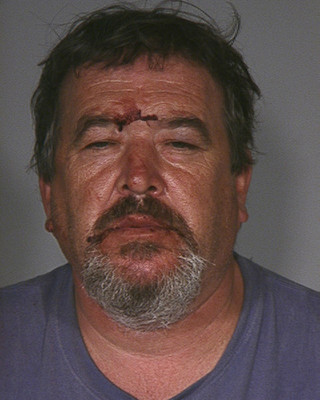 The Las Vegas man accused of opening fire inside the New York-New York casino, injuring four people, had more than 200 bullets on him at the time of his capture, the prosecutor in the case said Wednesday.
But Steven Zegrean was tackled by hotel visitors before he could get off the 17th round, authorities said.
A grand jury indictment was announced publicly Wednesday before District Judge Kathy Hardcastle, who approved prosecutor Roy Nelson's request to increase bail to $3 million, from $1.5 million, in connection with the July 6 attack.
Zegrean is expected to be arraigned Sept. 20 on the charges, which include 17 counts of attempted murder with use of a deadly weapon.
"He'll be pleading not guilty," said defense attorney Lynn Avants, a deputy public defender.
New attempted murder charges were added for each time, prosecutors said after watching the casino's video surveillance footage, that Zegrean fired his 9 mm semiautomatic handgun.
"Since we've witnessed it (the video), shown it in front of the grand jury, we've added 12 counts of attempted murder with use of a deadly weapon," prosecutor Roy Nelson said.
Zegrean, 52, was depressed and suicidal and went to the New York-New York on the evening of July 5, hoping to incite a confrontation with authorities and commit "suicide by cop," police have said. Relatives had described him as threatening to others in the days before the incident, and said he had just lost a job as a painter.
Nelson said Zegrean came equipped with five magazines, each with 16 rounds, and 132 bullets in his pocket.
The shooting occurred about 12:45 a.m., about two hours after Zegrean had left the second-floor mezzanine area because, a police report said, too many children were around.
"He had over 200 (bullets)," Nelson said Wednesday.
Police said Zegrean used one full magazine. He loaded another and was trying to shoot, police said, when he was tackled by Justin Lampert, a North Dakota National Guardsman.
He and David James, a Navy reservist, helped wrestle and subdue Zegrean with the help of other visitors inside the casino, police said, and they held Zegrean until security guards and authorities arrived.
Four people were wounded during the attack.
Zegrean initially was charged with four counts of attempted murder for those victims in addition to other lesser counts.
Avants said he thought prosecutors had overcharged his client.
"There were a number of people that were unfortunately injured, and I think the state should focus on those charges," Avants said.
The attempted murder charges stem from each time Zegrean pulled the trigger, including all 16 rounds fired, and the one bullet Zegrean attempted to fire before he was tackled, Nelson said.
The grand jury also indicted Zegrean on 17 battery and assault-related charges.
In addition, Zegrean was charged with burglary while in possession of a firearm, one count of carrying a concealed firearm and 16 counts of discharging a firearm into a structure.
Each count of attempted murder carries a two- to 20-year sentence plus potential additional time for using a deadly weapon.
In asking for the higher bail, Nelson cited the new charges and told Hardcastle that Zegrean has family ties overseas and could be a flight risk.
Zegrean is a naturalized citizen from Hungary, Avants said.
"Almost any bail is going to be too much for Steven to make, so it may be a moot point," he said.
Zegrean's brother, who now lives in Australia, received court approval to visit Zegrean in jail this week, Avants said.
The attorney declined to comment specifically about Zegrean's defense.
"I can tell you he is trying to keep his spirits up," he said. "As far as I know, he is doing very well at the jail."