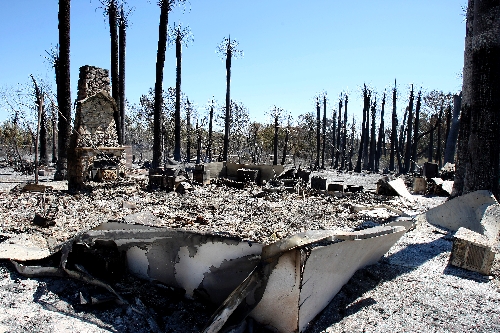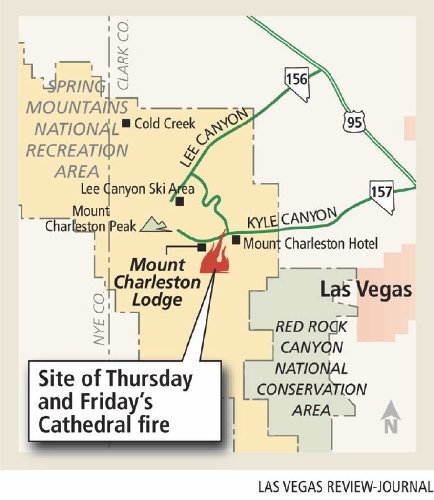 When the flames closed in on her Mount Charleston home, Nachia Hamilton didn't run. She grabbed a hose.
The 36-year mountain resident doused her house with water while fire crews battled back the flames 100 feet away.
"You just hope for the best and be ready to run," she said.
Mountain residents got the best as firefighters turned the tide Friday in their battle against the Cathedral Fire, which burned 20 acres in Kyle Canyon since the fire started about 11 a.m. Thursday.
Investigators believe the blaze started when someone built an illegal campfire in the Cathedral Rock area, said Kirsten Cannon, spokeswoman for the U.S. Bureau of Land Management.
About 250 firefighters from Nevada and three neighboring states had the fire about 70 percent contained by 7 p.m. Friday. Ground crews were aided by two helicopters dumping water on hot spots and an air drop of 3,000 gallons of reddish-orange fire retardant.
Jorge Gonzalez, incident commander for the Nevada Division of Forestry, was coordinating efforts with the firefighters still battling the blaze Friday evening from the agency's fire station on Kyle Canyon.
Soot covered his face and flame-resistant shirt, and Gonzalez hadn't gotten a wink of sleep since the blaze began Thursday and threatened homes in the Rainbow subdivision. At 5:30 p.m. Friday, Gonzalez was only a few hours away from being relieved of his duties for the night and was looking forward to "a hot shower and cuddling up with my wife."
"I'll be back in the morning," he said.
Gonzalez predicted the blaze would be fully contained Sunday.
Authorities evacuated about 70 percent of the mountain's 1,100 residents Thursday under a voluntary evacuation order and both the main road into Kyle Canyon, state Route 157, and state Route 158 were closed.
All roads were reopened at 4 p.m. Friday, and residents were allowed to return home. Most trails and campgrounds on the mountain also reopened except the Cathedral Rock Picnic Area and Trailhead, Trail Canyon Trailhead, Old Ski Tow Trailhead, Mary Jane Falls Trailhead, Echo Trailhead and all parking lots and facilities near the fire area, according to the BLM.
Eight-year Mount Charleston resident Allan "Jamup" Hirschorn, who lives in the Rainbow Subdivision, recounted the harrowing moments soon after the forest fire started.
He could see the thick smoke rising over a neighbor's house and knew it was trouble.
"It was pretty scary," Allan "Jamup" said.
As Hirschorn and his wife, Patricia, were packing for a possible evacuation, he got dozens of calls in about 20 minutes from Las Vegas Valley friends offering them a place to stay, reporters looking for comment, and fellow mountain residents telling him to flee.
"They were saying to me, 'Pack your bags,'" Hirschorn said.
He did, but he didn't leave. He said he felt a duty to help his fellow residents, including Hamilton, and to protect his home.
"To abandon your home, you just don't know what you're going to come home to," he said.
Shanon Daines, 37, was born and raised on Mount Charleston and has experienced many wildfires in her time on the mountain. She said the blaze worried her, especially because of her most valuable possessions — her four-legged furry "kids," pet chow chows Abbie and Cody.
"Personal belongings can be replaced, but animals can't," Daines said.
For both Hirschorn and Hamilton, the Cathedral Fire highlighted the dangers of living in a mountain community where one careless person can cause so much devastation.
"One little match can destroy our whole mountain," Hirschorn said.
Contact reporter Brian Haynes at bhaynes@reviewjournal.com or 702-383-0281. Review-Journal photographer Jason Bean and Review-Journal reporter Antonio Planas contributed to this report.
Slide show of day two
Video of of day two