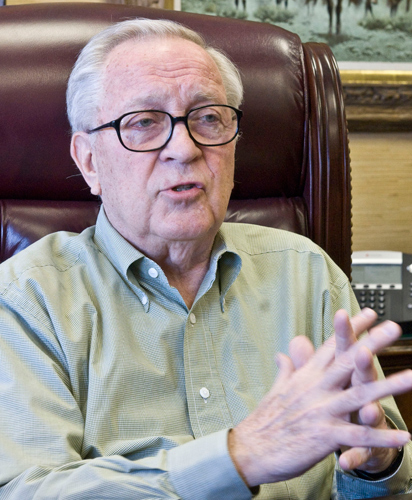 The famous temper of Las Vegas TV station owner Jim Rogers may be a factor in why his attorneys are maneuvering for federal arbitration in the discrimination lawsuit filed by former KSNV-TV, Channel 3, anchor Sue Manteris.
According to two sources, Rogers blew up during an April staff meeting and threatened to "slit" the throat of morning show co-host Kim Wagner for using the term "whether or not" on air.
Rogers repeated the "slit your throat" threat, the sources said, during the meeting in general manager Lisa Howfield's office in the presence of upper management and Wagner's husband, Dana, a producer and morning anchor.
Manteris sued the station in federal court in May, alleging age, race and gender discrimination while claiming she was subjected to a hostile work environment. She left the station in June when her contract was not renewed after a 22-year stay.
The alleged incident involving Rogers is not mentioned in Manteris' legal documents. But it probably would come up if Rogers and other station executives and employees were called to testify if Manteris' attorneys are successful in getting a jury trial.
Earlier this month, KSNV attorney filed documents contending Manteris signed an employment agreement that included an arbitration provision to settle disputes.
Her attorneys, in a court brief filed last week, responded that "while she may have agreed to submit certain species of claims to arbitration, (she) never agreed to arbitrate any and all causes of action she may hold against the defendants."
Flangas McMillan Law Group, representing Manteris, contends that eight claims rise under federal acts and noted that KSNV holds a privileged federal license.
Asked for comment via emails sent to them and the station's public relations department, Rogers and Howfield and others did not respond. Wagner said she would not comment on Rogers' alleged blowup.
THE SCENE AND HEARD
Here's a better link (translation: one that works) for the Jeff Jordan benefit at Green Valley Ranch's Ovation showroom at 4 p.m. Sunday — www.greenvalleyranch resort.com/entertainment/concerts.php …
And while we're at it, our apologies if you tuned into the History Channel expecting to see the home of former Lt. Gov. Lonnie Hammargren featured on "American Restoration" last week. We've asked for an explanation and so far, no luck.
Longtime nightclub operator Steve Davidovici sounds like he's ready to leave the business to pursue the sweet life. His Sugar Factory venture is going so well Davidovici has plans to branch out to New York City, Los Angeles, Hawaii and Florida. He has stores in The Mirage, Planet Hollywood and Paris Las Vegas, where he also oversees Chateau nightclub and Sugar Factory American Brasserie. …
Elton John, who returns to Caesars Palace in September for a three-year deal, has a new album planned with T Bone Burnett, starting in January. Burnett was executive music producer for the films "Walk the Line" and "The Big Lebowski."
SIGHTINGS
Several cast members of the aquatic show "Le Reve" (Encore) paid homage to former "Baywatch" star David Hasselhoff on Tuesday by wearing speedos and flotation devices during his backstage visit with girlfriend Hayley Roberts. Earlier, they attended Donny & Marie's show at the Flamingo. … Boxing legends Mike Tyson and Roberto Duran at the Fight Nights news conference at The Cosmopolitan on Wednesday.
THE PUNCH LINE
"The NFL lockout is over. All the parties agreed, and we have a compromise. It's too bad the national debt isn't as important as football." — David Letterman
Norm Clarke can be reached at 702-383-0244 or norm@reviewjournal.com. Find additional sightings and more online at www.normclarke.com. Follow Norm on Twitter @Norm_Clarke.