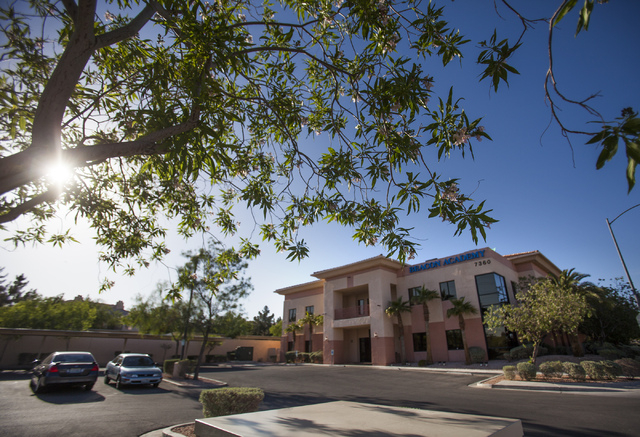 Beacon Academy of Nevada, the charter school dedicated to serving at-risk high school students, will plead its case for reaccreditation before the State Public Charter School Authority Board at 9 a.m. today at the Grant Sawyer Building.
A lot rides on the meeting's outcome. Beacon is unlike most other charter schools. It not only accepts disabled students and those who have failed in a conventional public school setting, but it embraces them. That's a thing to be encouraged and celebrated, in my mind, but it also means its graduation rate trails conventional high schools.
It will be interesting to see if the charter board appreciates the reality many of Beacon's students face. The school serves teens with a variety of challenges that prevent them from attending school in a traditional classroom setting.
As a matter of disclosure, my daughter, Amelia, is a Beacon student. That proximity to the program gives me perspective on the effort teachers and administrators make on behalf of students with disabilities and young mothers attempting to achieve a high school diploma. Beacon also makes it possible for aspiring athletes, entertainers and actors to pursue their dreams and still graduate from high school.
Meanwhile, the Clark County School District is preparing to increase its own online learning presence.
RUN-ON SENTENCE: The wheels of justice grind slowly in the ongoing federal investigation of corruption inside local homeowners associations and the construction defect litigation racket. In the grand scheme of things, Paul Citelli appears a minor player. He pleaded guilty on May 31, 2012, to conspiracy to commit wire and mail fraud.
It still has taken awhile to sentence him. His sentencing hearing set for Aug. 28, 2013, was postponed until May 19, 2014.
HOPEFUL EVENT: The Evening of Hope to benefit Candlelighters Childhood Cancer Foundation of Nevada is set for June 6 on the 16th floor of the World Market Center. With 17 culinary partners and counting, the fundraiser promises to be tasty as well as heartwarming. For more information on tickets or to make donations, go to candlelightersnv.org or call 737-1919.
ON THE BOULEVARD: The Boulevard lost one of its favorite characters recently with the death of the great Strip maitre 'd Emilio Muscelli. Emilio started his career when the boys ran the town and possessed a remarkable memory for a man of nine decades. … Longtime Las Vegans, including former Nevada Gov. Bob Miller, turned out to celebrate the life and contributions of the late Dan Bowman, former chief deputy district attorney and a Vietnam combat veteran. Bowman's colleague Bill Koot gave a eulogy that brought laughter in all the right places. Former prosecutor Koot is a Marine Corps veteran who also saw combat in Vietnam. The two men spent their careers in Southern Nevada putting criminals in prison. … The venerable El Sombrero Cafe, which closed recently, lives on with its own Facebook tribute page. … Pals of the late gambler and businessman Denny Mason gathered recently at the Las Vegas Country Club for a farewell toast to their high-rolling friend. No word yet whether disbarred lawyer and HOA scandal player Barry Levinson attended.
BOULEVARD II: Book 'em. The entertaining memoir, "The Real Tony Montana: Life in the Chicago Outfit," is just hitting the streets. Montana was an associate of the late Tony Spilotro. … Legendary Las Vegas gambling guy Irving "Ash" Resnick didn't leave a memoir, but his old friend and admirer Sheldon Sid Brodkin has just published a slender tribute titled "Ash and Me." … Longtime Nevada author and publisher Stanley Paher is polishing a manuscript in celebration of the state's 150th birthday. … With all the talk of potential profits from the inevitable pot dispensaries downtown, I hear George Harris is considering renaming his Mundo restaurant "Muncho."
Have an item for Bard of the Boulevard? Email comments and contributions to jsmith@reviewjournal.com or call (702) 383-0295.