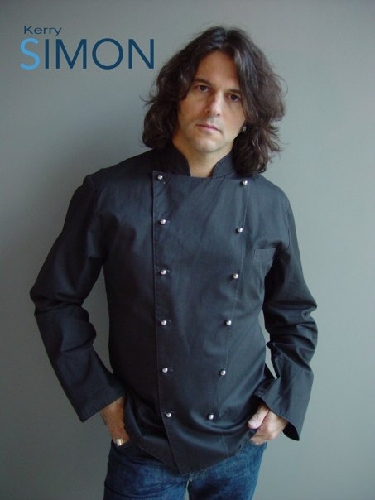 Here's a crazy coincidence: When Las Vegas celebrity chef Kerry Simon was 16, he worked at a Little Caesars pizza place with Bill Murray.
This was in Evanston, Ill. Simon was a guitar player. He had no plans of becoming an iron chef.
After Little Caesars, Simon and Murray didn't see each other until years later, when Simon was working at a Miami hotel, and a buddy, movie producer Mitch Glazer, said to him, "Oh, hey, would you like to say hi to my friend Bill?"
That's when Simon and Murray met again.
"I was like, 'Is it Bill from Little Caesars?' " Simon said.
Then Murray said, "Oh my God, the guitar player."
"We've been good friends since," Simon said.
That's why, if you follow Simon on Twitter, you'll occasionally see him post a photo of him and Murray at Simon at Palms Place.
"He is the real deal," Simon said of Murray (my favorite actor). "The staff loves him. He pops in out of nowhere. He'll be headed to L.A., and he'll stop through Vegas."
It is odd to hear Simon talk about someone as famous as Murray. Simon is one of the most discreet people in Vegas.
At his restaurant Simon at Palms Place, I have personally seen Mariah Carey and Nick Cannon enjoying an anniversary meal; Britney Spears in a cabana; a "Real Housewives" film shoot; and Avril Lavigne in PJs at a Sunday pajama brunch.
In each of those instances, no one informed me that stars were on site. I just happened to be there for food and friends.
Simon doesn't call the media when stars walk in. He absolutely never says a bad word about them.
"Everybody's pretty well-behaved when they come in here," he said.
"The thing is, if you (alert the media that a star is eating), then they're going to read that story, and they're going to say, 'Maybe I'll go somewhere else next time.'
"I pick up the paper every day, and I see (celebrity sightings). And I'll be like, 'God, I wish I could tell!' "
Simon said the economy is picking up, including at his Palms Place restaurant and at his KGB eatery at Harrah's. He has a new menu at Palms Place.
In November, he opens a restaurant in the Hard Rock Hotel in Punta Cana, Dominican Republic. He's contemplating whether to serve his style of food, or something more Latin-flavored.
His long-term personal goal is to help fight world hunger. He's involved in charities, including Vegas' Three Square Food Bank.
He still has guitar chops.
"I could probably play you Stones songs and stuff like that."
But Simon, known for eating healthy and exercising regularly, is watching his fish intake.
"I eat a lot of seafood. But I have to watch my mercury level because it was really high there for a while. So it's a balance."
TIM-AND-FAITH WATCH
The Venetian holds a news conference at 11 a.m. today to announce entertainment news. Keep an eye open for breaking news in the Review-Journal online and @Norm_Clarke on Twitter.
Doug Elfman's column appears Tuesdays, Thursdays and Fridays. E-mail him at delfman@reviewjournal.com. He blogs at reviewjournal.com/elfman.