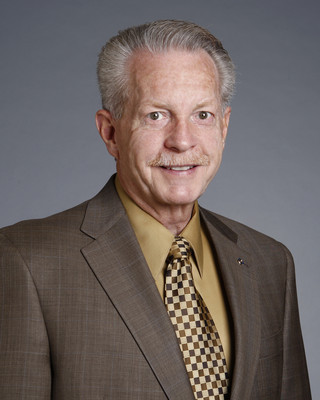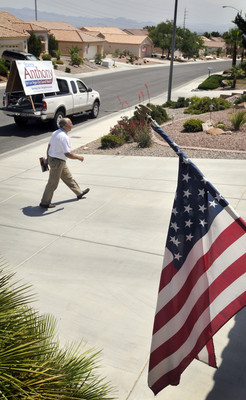 On one side of the Ward 4 Las Vegas City Council race is Glenn Trowbridge, a candidate well-versed in the deliberative procedures of public bodies who has secured support from large city unions and members of the current political establishment.
On the other side is Stavros Anthony, a veteran police officer and seven-year regent with the Nevada System of Higher Education who is pitching himself as an independent outsider without ties to the groups supporting his opponent.
Early voting in the contest continues until May 29, and Election Day is June 2. The Ward 4 race is the only one on the Las Vegas ballot, since other contests were decided in the primary.
Trowbridge and Anthony emerged from a field of six candidates and have been campaigning since last year for the seat left vacant by Larry Brown, who is now on the Clark County Commission.
In a strange development, both men have claimed to have the support of Brown, who served three terms on the council and was unopposed for his last two council bids.
One of Anthony's mailers features a grip-and-grin photo of Brown and Anthony and a quote from Brown praising Anthony's work as a police officer and regent.
"He will be a fine addition to the City Council," Brown is quoted as saying of Anthony.
But Trowbridge also has a mailer featuring him with both Brown and Las Vegas Mayor Oscar Goodman. Words attributed to Brown say Trowbridge is "the right choice," and Goodman is quoted as saying, "I urge you to vote for Glenn Trowbridge."
"I have not endorsed either candidate and feel the voters need to choose. It's their choice," Brown said Friday.
"I've known both of them for a while, and the commitment I made at the beginning of the race is that I wouldn't endorse either one. I honestly believe both would do a wonderful job."
Goodman and Brown both have championed the idea of building a new City Hall as part of a complicated plan to spur development downtown. And it's on that issue that the clearest difference between Trowbridge and Anthony has emerged.
Trowbridge said pursuing the project means "the city's showing confidence in itself" and describes it as a key part of redeveloping downtown.
Trowbridge says voters are concerned that a new City Hall would raise property taxes, and he tells them that it won't.
Anthony has taken the opposite stance, calling a new City Hall "wasteful" and saying that most voters he talks to are dead-set against the idea.
He is using that stance to make the case that he would be a change agent on the City Council, which so far has unanimously supported the new City Hall project.
Anthony's mailers make a point of saying that "police union bosses" and "powerful insiders" don't support him.
Trowbridge "is going to represent them on the City Council. That's the way that works," said Anthony, who counts among his supporters the Las Vegas Metropolitan Police Managers and Supervisors Association, the Downtown Business Council and Northwest Residents for Responsible Growth.
"I'm being supported by the residents, and we're making sure the people of Ward 4 understand that," he said.
The people Anthony boasts of not supporting him are lined up behind Trowbridge. It's a long list, including the Las Vegas Police Protective Association, the firefighters union, the Las Vegas City Employees Association, various construction unions, Nevada Concerned Citizens and even the National Rifle Association and Veterans in Politics.
Trowbridge dismisses the assertion that he will be beholden to those interests. In fact, he expects that being on the City Council will mean making hard, even harsh choices because of the state of the economy and the city's budget.
"It's really not going to be popular the next few years. We're going to be cutting back," Trowbridge said.
"I'm old enough that I have no political future. I'm going to do what I think is right. If it angers the power structure, I don't care."
Contact reporter Alan Choate at achoate @reviewjournal.com or 702-229-6435.