Clark County Commission introduces medical marijuana ordinance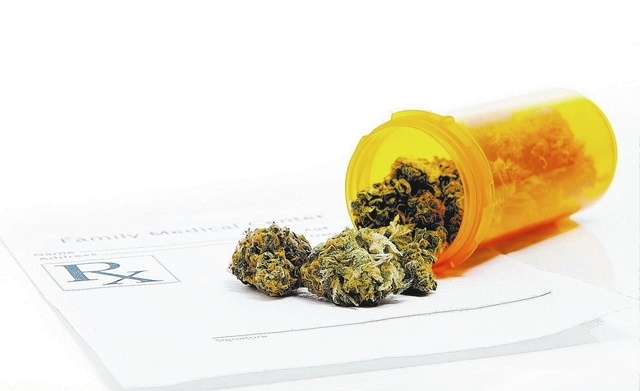 The Clark County Commission introduced an ordinance Wednesday that would allow medical marijuana dispensaries to operate in the county, setting the stage for a public hearing and a possible commission vote on March 19.
Much of the hourlong discussion among commissioners centered on how close the dispensaries should be to residential neighborhoods; where the grow houses should operate, in commercial or industrial zones or a combination of both; and how the marijuana itself would be transported across county lines if it's grown elsewhere.
"It's not like we have ports of entries, so there's no way to enforce it," said Commissioner Steve Sisolak, of ensuring that the marijuana is transported to the proper locations.
Residential protection dominated the meeting that focused on zoning regulations, with a few commissioners saying some constituents feel that the proposed 330-foot setback from residential neighborhoods might not be enough and that the dispensaries could become targets of burglaries.
One resident pleaded with the commission not to make it too difficult for patients to acquire their medication.
"People shouldn't have to go down to a dark park to get it," said Kathy Gillespie, a caregiver who had difficulty in procuring medical pot for her mother, Florence, as she lay dying from cancer a few years ago.
One fear is that the dispensaries, in the absence of federal government backing and FDIC-insured bank loans, operate on a cash-basis, opening themselves up to criminal elements, according to commissioners.
But Commissioner Larry Brown said the dispensaries should be regarded as nothing more than a new drugstore in town, such as a Walgreens. He said the commission should be careful not to apply double standards.
Pharmacies operate on the fringes of residential neighborhoods and they dispense narcotics and pharmaceuticals that have a "tremendous street value," Brown said.
"Besides, we're talking about Fort Knox here," he said, referring to the 24-hour security mandated by state law.
Commissioner Lawrence Weekly disagreed, saying the dispensaries aren't going to be selling "trail mix and Gatorade" inside their confines.
"This is something a little different," Weekly said while admonishing the entire commission to take their time in all medical marijuana decisions.
"We're talking about a seven-member board who's about to make a decision that's going to affect the entire neighborhoods and communities," he said.
One controversial aspect of the ordinance that's starting to emerge is a clause in the county ordinance that says Clark County can only use its own seeds and strains and cannot get them from other counties in the state. That has raised the specter among medical marijuana advocates as to the quality of the medicinal properties.
"I would like to know more about how we're going to get the mother plant here to begin with," said Sisolak.
Commissioner Tom Collins jokingly said one place to look for seeds was the Metropolitan Police Department's evidence file.
Steven Cooksey, a licensing consultant for The Med Men, a medical marijuana consulting group based in Los Angeles, said that ultimately the current medical marijuana patients are going to be the ones to turn to for help.
"They've been doing this for 12 years now," he said outside the commission chambers, referring to when the state passed the law allowing patients to use medical marijuana but failed to provide dispensaries.
The commission has been the only governing entity in Clark County to accommodate the new law. Assembly Bill 374, passed last year, authorizes 66 dispensaries to be operated in the state, 40 of them in Clark County and the major cities in the county.
The commission is the first governing entity in the Las Vegas Valley that's gearing up for dispensaries. The county might end up accommodating as many as 40 of them if the cities of Las Vegas and Henderson don't get on board.
While those two cities have issued moratoriums while they study the implications, the cities of Mesquite, North Las Vegas and Boulder City have outright rejected the concept.
Commissioner Chris Giunchigliani said sometime between April 2 and April 18, the commission will have to sit down and hold a marathon meeting in which it approves the applications for dispensaries.
But for right now, everybody is still waiting for the state to finalize the law's regulations, scheduled for April 1.
Contact reporter Tom Ragan at tragan@reviewjournal.com or 702-224-5512.