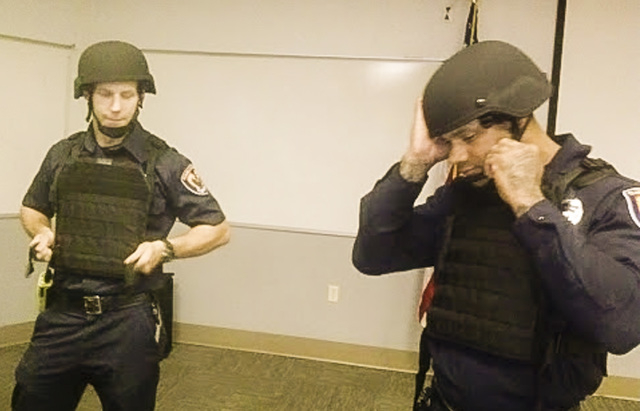 Clark County firefighters will have body armor when they aid law enforcement officers in situations involving active shooters and mass casualties.
The Fire Department has received 118 sets of the gear for fire stations in unincorporated areas of the county and the cities of Las Vegas, North Las Vegas, Henderson, Boulder City and Mesquite, with a federal grant paying for the equipment, officials said Thursday.
The equipment, which includes vests that can withstand rifle shots and helmets that protect from shrapnel, marks a shift in how firefighters are deployed to provide emergency medical care to victims of shootings and other hostile wide-scale acts of violence.
Instead of firefighters waiting for law enforcement to clear an area, the equipment allows them to respond in teams with law enforcement to provide medical care sooner to victims in the initial life-saving minutes.
The new equipment comes as high-profile mass killings have attracted headlines across the nation in recent years, from the Boston Marathon bombing to the Sandy Hook school shooting. The equipment would be used were such an incident to unfold in Southern Nevada.
The equipment could be used for incidents similar to the June shooting that killed two Las Vegas police officers at Cici's Pizza and a bystander at a nearby Wal-Mart, officials said.
"Our whole goal is to get in quickly and go ahead and treat the injured," said Capt. Evan Hannah with the county Fire Department.
Historically, 42 percent of all deaths occur immediately in a mass casualty situation, while 10 percent of deaths occur after treatment has been initiated, he said. That makes the need for a rapid medical response critical, he said.
Firefighter training consists of learning about the equipment, police terminology and how law enforcement and firefighters should coordinate. It also includes the principles of entry and concealment in a variety of hostile situations, a skill set traditionally limited to police officers.
"It's a paradigm shift for all of us," Hannah said. "We've never gone into situations like this before so it's definitely a learning curve."
The county Fire Department is just one part of the effort. In all, the training encompasses 1,700 firefighters in Southern Nevada fire agencies, with input from law enforcement agencies.
Firefighters won't go into a hostile area without backup. Instead, teams of several firefighters protected by police officers will work together in such situations.
Fire officials are focusing on widespread training instead of concentrating the equipment and training on specialized teams.
"We felt that we can make the biggest impact and save the most lives by training everybody instead of specialty teams," he said.
That's also the case with the equipment. Initially, each county battalion will have 15 sets of armor. The goal is for every firefighter and paramedic who is working to have the armor.
Clark County School District Police Capt. Ken Young said the improvements will take a bit of the stress off responding officers working alongside fire­fighters because of the added degree of protection they provide.
"It's good to know that if there's a situation, we have that added help," he said.
Contact Ben Botkin at bbotkin@reviewjournal.com or 702-387-2904. Find him on Twitter: @BenBotkin1.