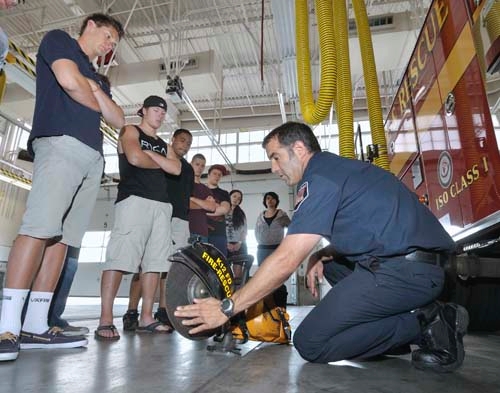 Clark County firefighters trying to cram a college education into their schedules are spending tens of thousands of taxpayer dollars on out-of-state tuition costs for online courses to get their degrees.
That's because institutions lack the flexibility for a firefighter's 24-hour schedule that makes it impossible to attend class, which means Nevada schools are losing out on those dollars.
But that's changing.
Greg Gammon, program director for the College of Southern Nevada's fire science program and a former Las Vegas fire chief, recognized firefighters were seeking an education elsewhere. So he moved the program to an online format and has seen a 28 percent increase in classes taken in the past year. About 650 students are in the program.
There are 21 fire science classes, 16 of which are online and geared toward working firefighters, who are allowed to study on the job. The other five classes target students learning how to become firefighters.
"I knew why CSN wasn't getting as many students," said Gammon, who spent 27 years with the Las Vegas Fire Department. "It's because of the way the firefighters' schedules work. This is a lot more convenient."
He pointed to firefighters in Las Vegas who work 24-hour shifts, in North Las Vegas who work 48-hour shifts and at the Nevada test site who work 56-hour shifts.
As a Las Vegas firefighter, Gammon also took online courses through out-of-state schools for the convenience. He completed his bachelor's degree online at Utah Valley University.
"I knew the challenges local fire­fighters were facing to try to get their degrees," he said.
TRIPLE THE PRICE
The county spent more than $100,000 per year from 2008 to 2011 on fire­fighters who took college courses outside of Nevada, some as far away as Florida, Alabama and Kentucky.
A majority of employees at that time enrolled in online courses at Grand Canyon University, a private Christian school in Phoenix.
An environmental issues and hazard management course cost $1,940 compared to a similar hazardous materials class at the College of Southern Nevada, which cost $224.25.
Ryan Beaman, president of the Clark County firefighters union, said during a County Commission meeting last month that those schools solicit business by sending representatives to talk to the department.
Private universities tend to have more money and rigorous promotional campaigns, which most public universities cannot afford, said Michael Bowers, executive vice president and provost at the University of Nevada, Las Vegas.
"Part of our problem has been that we've taken over $70 million in budget cuts," Bowers said. "It's hard to justify ad campaigns when you're laying off staff and faculty."
UNLV's admissions office is putting together a package to present to county firefighters about the classes they provide at a lesser cost and why students should spend their tuition dollars here.
"We do a poor job, I think, in letting people know about the high quality of education we provide," Bowers said. "If these students come to UNLV, they're saving money for taxpayers."
Nevada full-time students pay about $2,600 a semester for UNLV courses compared to out-of-state students who pay about $9,400 per semester. UNLV offers a completely online bachelor's program in public administration, one of the programs eligible for tuition payments under the county firefighters contract.
LACK OF PROGRAMS STATEWIDE
CSN fire science is an associate degree program. Still, there are no bachelor's or master's degree programs in fire science or fire administration in Nevada. While rookies train at a fire academy for their jobs, firefighters who get their college degrees generally make more money and are promoted more often, Gammon said.
"The trend for positions of battalion chief or higher is to get that bachelor's or master's," Gammon said. "They're still having to go out of state. We're still in the same boat."
Under the fire employee contract, the county pays for all the courses needed to earn an associate, bachelor's or master's degree in fire science, criminal justice, public administration and fire administration.
The contract does not mandate tuition money be used in state; rather it gives an option to use Nevada schools or a regionally accredited university.
According to their contract, county firefighters must refund the money if they fail to maintain a C average or better for each course, fail to complete the course or resign from the department.
The discussion came about last month at a County Commission meeting as commissioners approved a three-year contract with firefighters that county officials say will save taxpayers $60 million over the next 25 years.
Assistant County Manager Ed Finger said commissioners could expect to see a promotion of in-state course offerings in future contract negotiations.
Commissioner Steve Sisolak, who spent a decade as a member of the Nevada Board of Regents providing oversight for eight academic institutions statewide, said it's important to spend money locally.
"There's a connection of community when they're using our schools and universities," Sisolak said. "Then our universities feel connections to students."
But Gammon said CSN's program "eliminates every excuse" firefighters might use to pursue degrees outside of Nevada.
"There's no reason they shouldn't be getting an education here," Gammon said.
Contact reporter Kristi Jourdan at
kjourdan@reviewjournal.com or 702-455-4519.