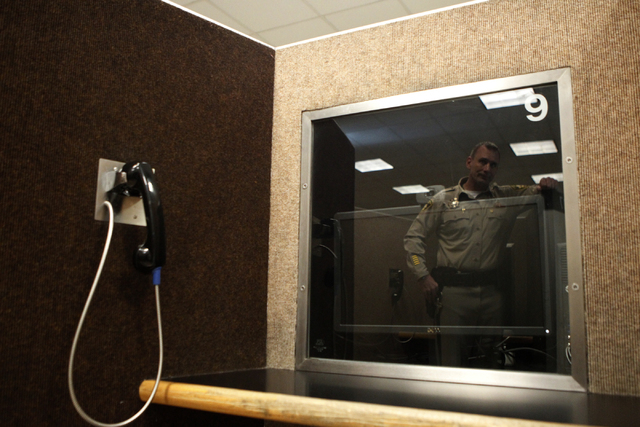 Clark County officials are planning a $1.18 billion general fund budget balanced with an eye toward keeping costs down at the detention center and University Medical Center.
Part of that plan includes moving into the house arrest program more inmates who are filling jail beds because of nonviolent offenses such as theft, petit larceny and malicious mischief.
County commissioners also signaled a willingness on Wednesday to support a budget that would give about $10 million more to the Metropolitan Police Department. In all, Metro plans to add 55 cops, all without raising the sales tax rate. Efforts to raise the sales tax to pay for more officers in recent years have failed to gain the commission's support.
Commissioners met to talk about the budget outlook for the next fiscal year, which starts July 1. They won't make final votes on the budget until May.
The proposed $1.18 billion budget for fiscal year 2016 is about $18 million — or 1.5 percent — smaller than the current fiscal year 2015 budget that ends June 30.
County spending for the current fiscal year is estimated to reach $1.19 billion, about $12 million less than budgeted.
Beyond the whole figures, individual parts of the budget need attention. The County Detention Center, for example, is projected to run a $21.9 million deficit this fiscal year.
Officials hope to avoid a deficit in the next fiscal year by aggressive moves to reduce the population of the 3,875-inmate facility. Reducing the population by 550 to 600 people would save about $16 million, County Manager Don Burnette said.
As part of that push, the county is putting four additional corrections officers on the house arrest program, which will allow about 150 nonviolent offenders in the jail to be moved to the house arrest program. The rest of the population reduction will come from efforts such as reducing the bail schedules for nonviolent offenders, allowing more people to bail out while their case works through the court system.
"It's important that we put our money where our mouth is," Burnette said, noting it's important to put resources in place where they yield the best financial results.
An analysis of the Jan. 29 jail population shows it had 476 inmates doing time after a conviction for a nonviolent misdemeanor.
Commissioner Susan Brager asked what authority officers have in deciding if someone goes to the detention center when it's a nonviolent situation.
Assistant Sheriff Todd Fasulo said officers do have discretion and often write citations instead of arresting offenders and keeping them in jail overnight. When that happens, offenders are still taken to the jail for processing and released later the same day after the paperwork is finished.
The county's contribution to Metro is expected to increase by $10 million to $226.7 million in the new year. Overall, Metro's full $538.6 million budget proposal, which includes its own revenue as well as contributions from the county and city of Las Vegas, includes money for 55 additional cops and 41 new civilian positions. That will allow Metro to reopen four area commands to the public that were shuttered during the Great Recession.
Of the 55 additional officer positions, 30 will be paid from Metro's budget that is supported by the city and county, and the other 25 will be paid from Metro's existing More Cops account.
Sheriff Joe Lombardo's planned addition of officers without a tax increase was praised by commission Chairman Steve Sisolak, who has been a faithful "no" vote when the commission has considered raising the sales tax rate for more police officers.
"You're talking about 55 more officers on the street with no tax increases," Sisolak said.
UMC, the county's public hospital, will need a smaller subsidy of county funds in the upcoming year: $31 million instead of $61 million.
The hospital also has repaid $7.4 million of a $25.5 million loan from the county and is on track to repay it all.
The hospital cut costs in 2014 with two rounds of layoffs that eliminated about 400 positions.
Commissioner Lawrence Weekly said he appreciates the hospital's financial efforts.
The budget recommendation includes an ending fund balance of $40 million.
The budget includes pay raises for county employees, most of which come through bargaining contracts with labor unions.
Contact Ben Botkin at bbotkin@reviewjournal.com or 702-405-9781. Find him on Twitter: @BenBotkin1.