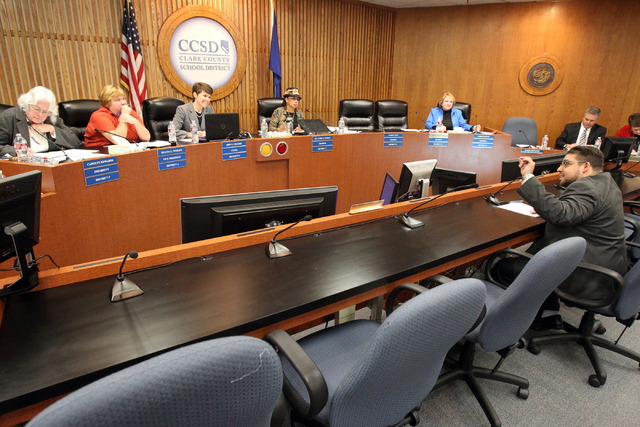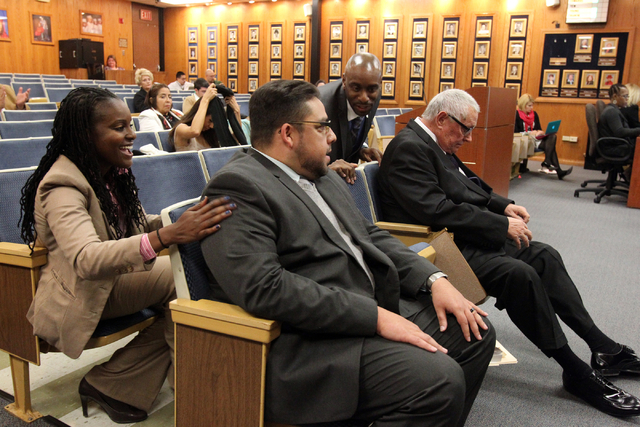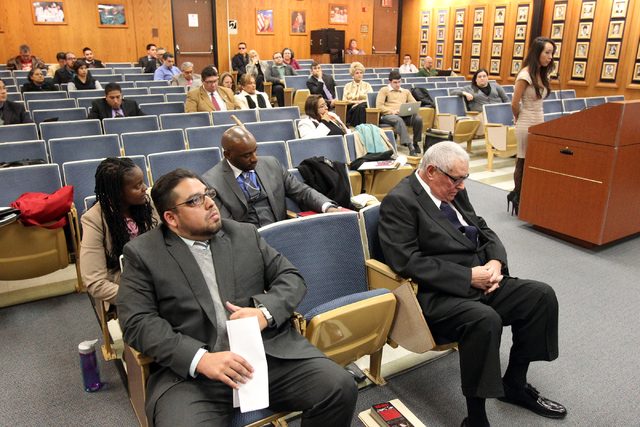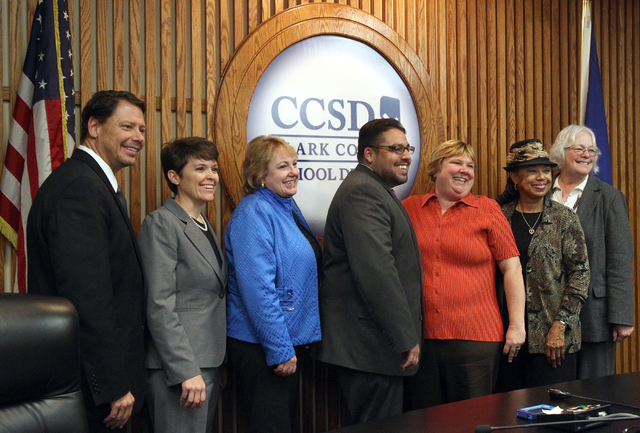 Hispanic community leaders showed in force Thursday and successfully lobbied the Clark County School Board to fill an empty board seat with the candidate they support – Stavan Corbett.
The School Board's six members unanimously chose Corbett, who's Hispanic, after interviewing four applicants to fill the board seat vacated by Lorraine Alderman on Oct. 23. She resigned with six days' notice and little explanation. Corbett, 39, will finish Alderman's term ending December 2014.
He'll represent 49,000 students in south-central Las Vegas' District D, which has the highest Hispanic population of Clark County School District's seven areas.
Hispanic students outnumber any two other ethnic groups combined in the district, according to this school year's official head count. Hispanics represent 44 percent of all students and their numbers are rising.
But as Hispanic students increase in number, so does the scope of challenges they bring to the district, according to state test results and graduation rates that show them lagging behind other student groups. The School Board asked each candidate Thursday how they'll connect with and represent this often "difficult to reach" population.
Corbett, an education consultant and three-year member of the Nevada State Board of Education, can personally relate. He didn't do well in school and was the oldest of three children whose parents didn't graduate high school because they weren't given the resources, he said.
"I wasn't the only one then, and I'm not the only one now," said Corbett, saying that although Hispanics can be "perceived" as a hard population to reach, they want their children to succeed in life just like anyone else.
He's resigning from the state board to take a seat on the local School Board to have a more personal impact on education, he said.
"This is the place where I live. It's where I grew up," he said.
Corbett's background garnered him support from 13 Hispanic leaders representing such groups as Hispanics in Politics, the Las Vegas Latin Chamber of Commerce, and the Latino Leadership Council.
"If this board truly wants to diversify its employees, it must start with itself," said Jose Solorio, chairman of the Latino Democratic Caucus, who supported Corbett at the meeting Thursday.
Solorio represented District D on the School Board from 1993-94.
"I'll say, as a School Board, we do not reflect the diversity of our district," President Carolyn Edwards said after the board gave each applicant a 20-minute interview.
The School Board consists of five Caucasian women and one black woman. Caucasian students represented 44 percent of students a decade ago, but that has consistently dropped and is at 28 percent this year.
However, Corbett wasn't chosen just because of his ethnic background, Edwards said. He's a dedicated educational advocate of more than a decade in Clark County. He's an experienced elected official and he's connected to the community.
"My responsibility is to serve all students," he said.
Corbett said he will formally announce his resignation from the Nevada State Board of Education within 48 hours, meaning a replacement must be appointed by Gov. Brian Sandoval.
Although three of Thursday's applicants were unsuccessful in winning the appointment, applicants Charles Ware, president of the Professional Fitness Institute, and Tara Raines, assistant professor of school psychology at UNLV, said they'd file for the seat in the 2014 election.
Corbett said he'll also be running in November to keep his seat.
"Each and every one of you is welcomed to run," Edwards said. "I encourage it."
Contact reporter Trevon Milliard at tmilliard@reviewjournal.com or 702-383-0279.