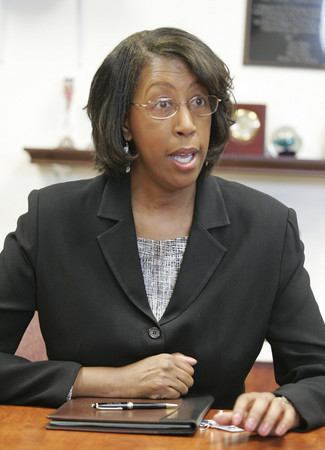 President Barack Obama showed Tuesday in his national back-to-school speech that he knows how to grab the attention of students.
He mentioned the XBox as a distraction from homework.
The message was not lost on the sixth-graders in Michael Maxwell's social studies class at Andre Agassi College Preparatory Academy near Martin Luther King and Lake Mead boulevards.
Students at the independent public charter school were quick to answer their teacher when he asked if they caught the presidential reference to the video game console.
"I don't think he was necessarily against it, but you need to have priorities," he said.
Most students at Agassi Prep got to see the speech live.
Clark County School District schools treated the president's speech as optional viewing.
"To be honest, I'm sure there were some schools that didn't show it all," said Michael Rodriguez, a district spokesman.
Officially, the decision to show the speech was left to classroom teachers, who were told the speech had to be relevant to what they're teaching, district officials said.
They also emphasized that students could watch digital recordings of the speech on their own time.
The speech was initially criticized by conservative critics as political indoctrination. Rodriguez did not know how many district parents had requested that their children not view it.
Green Valley High School Principal Jeff Horn said the Henderson school did not get negative calls on Tuesday about the speech. He credited the Obama administration for making the speech's content available on Monday.
"When they put out the speech, I think it pretty much calmed the nerves of those who thought it was an agenda," Horn said.
The president spoke about working hard and the importance of staying in school. Nevada has the worst graduation rate in the nation at 47.3 percent, according to Education Week's annual Diploma Counts survey.
Horn didn't know how many Green Valley teachers had shown the speech, but he knew some students had seen it.
The district did not track how many classrooms presented the speech, but it was popular at schools with large numbers of minority students.
Agassi Prep is 95 percent African-American and serves students in grades K-12. As a charter school, it receives public funds but is operated by a private foundation.
West Prep Academy, a K-12 school near Lake Mead and Martin Luther King boulevards, is 40 percent African-American and 51 percent Hispanic. About a third of the students saw the speech live.
West Prep Principal Michael Barton said the speech "was a great message. I know our kids liked it."
West student Nyeisha Washington, 14, said the president taught the necessity of getting a good education. "If you're not going to be a rapper or a big star, you ought to have a backup plan," she said.
Derrick Brown, 11, a sixth-grader at Agassi Prep, said he learned that "if you fail, keep on trying."
Marsha Irvin, the chancellor of Agassi Prep, said she had encouraged her teachers to show the speech.
Irvin said Agassi Prep welcomed the speech, because the "message aligns beautifully with the focus of our school," which is preparing students for college.
She said the speech was much "broader than a lesson plan. It encourages the mission of our school."
Contact reporter James Haug at jhaug@reviewjournal.com or 702-374-7917.