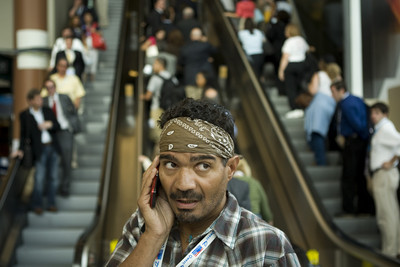 DENVER — Derek Washington almost didn't make it here for the Democratic National Convention.
"I had given up," said the passionate Hillary Clinton supporter, elected at the Nevada Democratic convention in May as an alternate. "A week ago, I did not have one dime."
Washington, 45, is HIV-positive and lives on disability payments in Las Vegas. But a couple of weeks ago, he got a call from the Clinton campaign asking him to be a delegate whip at this week's convention, where he'll keep track of Clinton delegates on the floor and minimize disruptions.
"I've never wanted anything so bad as to be here to support Hillary Clinton," he said Monday.
Washington, a former television producer with a big personality, sent a mass e-mail to all his contacts from the Nevada caucuses, when he and they poured their hearts into the cause. They forwarded the message to their friends. Washington heard from strangers all over the country, he says.
Clinton aides contacted Washington and told him his message made it all the way to Clinton herself. Small donations poured in: nearly $800 in cash, restaurant gift certificates to keep him fed, a free plane ticket from a friend's frequent-flier miles.
"This is the most amazing experience," he said. "It shows people are nice, and if you never give up, you can do anything you want to do."
Washington's story epitomizes the ebullient, dream-come-true mood of the Democrats who are here this week. Many of them, like him, are first-time participants in party politics who made it on a wing and a prayer. Washington said he has always voted, but he has never been involved in party politics to this degree.
But he's also part of the story Democrats don't want this week to be about: the lingering loyalty to Clinton that they wish they could push from the spotlight.
Republicans were trying to highlight the Democrats' divisions as the convention opened, with Republican John McCain's campaign airing a new ad featuring a former Clinton delegate expressing support for McCain.
Washington, who is black, has heard it all from those who support Barack Obama, who will leave this convention as the Democrats' nominee. Washington has been called "race traitor" and worse.
But to him, Hillary Clinton is a savior. Diagnosed with HIV about a year ago, he spent months on his mother's couch in Las Vegas, able to get up and change the channel on the television only rarely.
From cooking shows, he learned to make fried macaroni and cheese wrapped in bacon. From the History Channel, he learned the names of every member of Hitler's command. And from the news channels, he became a political junkie and a huge fan of Clinton, especially her advocacy for health-care reform.
"Senator Clinton has dedicated her entire life to being of service to the American people," he wrote in his e-mail pitch for donations. "Some people look at that as the same-old, same-old. I look at her service as the height of what it means to be an American. She embodied to me what an American can and should be."
He dragged himself off the couch and took a bus to participate in the Jan. 19 caucuses.
Now Washington feels the frustration of the Clinton supporters in Nevada. They are hurt and angry at being told to get over it, he said.
"These women know when they've been insulted, it's that simple," he said. "This is going to be a big problem in November. The party is divided, divided, divided."
Clinton is scheduled to speak tonight at the convention. Her people are working with Obama's to find a way for her supporters to have a symbolic say in the process without exacerbating or showcasing divisions.
Clark County Commissioner Rory Reid, Clinton's Nevada campaign chairman and a convention delegate, said Monday that whatever is worked out will be done "in such a way that it brings the party together to win in November."
The talk of division, he said, is coming mainly from those outside the party who want Democrats to fail. "Most people believe this country needs a change, and Barack Obama is going to make it happen," Reid said.
Washington is supposed to be trained today in his job corralling Clinton delegates. He will try to gently dissuade those who might want to hold up a "Nobama" sign in front of TV cameras, he said.
But that doesn't mean he's totally on board.
"The mood here in Denver is infectious," he said. "The pro-Obama mood is infectious. But without bitterness or rancor or any of that, he doesn't inspire me. He inspires a lot of people, but maybe I'm too old and too cynical."
What he and his fellow loyalists want, he said, is to honor Clinton. "We don't want to embarrass ourselves," he said. "We don't want to reflect badly on Hillary Clinton — that's the important thing."
Clinton's staffers have told him he might get to meet her.
If he does, what will he tell her?
"Thank you," he said somberly. "Thank you for saving my life. Thank you for allowing me to be a part of you."
Contact reporter Molly Ball at mball@reviewjournal.com.