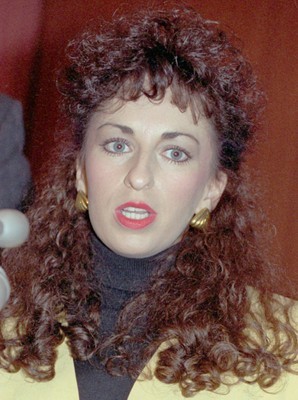 Gennifer Flowers and Paula Jones are teaming up on a Web site to remind Bill Clinton they're still around.
They met recently while appearing together on Geraldo Rivera's Fox show "and really hit it off 'cause we had so much in common," Flowers, Clinton's former mistress, said in an e-mail on Friday.
Both have been "vilified" over the years, Flowers said, and "we have both agreed that it's a shame that more of the 'Clinton Women' didn't get together long ago. There could have been strength in numbers! For now, it's me and Paula."
The Web site address is: www.genniferandpaula.com
Flowers, who lives in Las Vegas, said Jones agreed they should join forces because "we were both getting media requests to do certain things, but we weren't really able to tell our stories the way we knew they happened.
"So, while chatting in frustration, we decided to do this Web page and put a variety of topics on it in our own words," Flowers said.
"We will be changing out the topics about every six weeks. We have received a lot of attention and press coverage and have been fortunate to have a lot of visitors to the site. Paula and I will be getting together this coming Monday in Little Rock" for a follow-up story with the syndicated TV show "Extra."
"We are contemplating a visit to the Clinton Library since neither one of us has been there before."
Then she added, "Just kidding! Ha."
Flowers went public during the 1992 presidential race that she had a 12-year affair with the former Arkansas governor.
Jones, who has a husband and three children and is selling real estate in Arkansas, was in the headlines in the 1990s when the former Arkansas state employee sued President Bill Clinton for sexual harassment. Eventually, the court dismissed the lawsuit before trial, on the grounds that Jones failed to demonstrate any damages.
However, while the dismissal was on appeal, Clinton entered into an out-of-court settlement by agreeing to pay Jones $850,000.
LIKE FATHER, LIKE SON
Andrew Gans is a chip off the old Louisville slugger.
Like his father, Mirage headliner Danny Gans, Andrew was selected in the Major League Baseball amateur draft.
The 18-year-old outfielder from Coronado High School was taken in the 39th round by Tampa Bay.
His father was drafted by the Kansas City Royals and Chicago White Sox in the 1970s, Danny Gans' manager, Chip Lightman, said Friday.
Danny Gans eventually played in the Los Angeles Dodgers farm system before suffering a career-ending Achilles tendon injury.
Young Gans, who had a batting average near .400 at Coronado, will make a pro ball decision in the next week.
"Danny is hopeful he will go to college," Lightman said.
Danny Gans appeared in the baseball classic "Bull Durham" as Deke, the shortstop.
THE SCENE AND HEARD
Tony Crivello, the now-solo lead phantom in "Phantom: The Las Vegas Spectacular," has added sports talk-show host to his credits. He's on KKWN-AM 1100 weekdays from noon to 2 p.m.
The show is called "The Sicilians."
Crivello will do eight "Phantom" shows a week.
Brent Barrett, who alternated as the phantom with Crivello, had his swan song appearance on Friday.
Barrett will perform in the Las Vegas Philharmonic's July 4 show before moving to Cape Cod to star in "Dirty Rotten Scoundrels."
SIGHTINGS
NHL legend Luc Robitaille, dining at Fix Restaurant & Bar at Bellagio on Thursday evening with his wife and friends. … At Jet (Mirage) on Thursday: comedian Kevin James. … Salon operator Mike Boychuck and Jeff Beacher, resolving their differences during dinner at Simons at Palms Place on Thursday. They had words earlier this year when Beacher escorted Paris Hilton to the grand opening of Kim Vo's salon at The Mirage. Boychuck, who operates salons at Caesars Palace and the Palms, took umbrage after being Hilton's colorist for years. … At Revolution (Mirage) on Wednesday: Sarah Larson, Janelle Perry of "Sunset Tan" and Carrot Top. … Venetian headliner Wayne Brady, celebrating his 35th birthday with the cast of his show, "Making It Up." Also spotted in the house: "General Hospital" star Julie Berman, dining at Tao Asian Bistro. … At the Palms on Thursday: skateboard stars Rob Dyrdek and Danny Way and Dave Duncan, the voice of World Cup skateboarding.
THE PUNCH LINE
"Here's how you can tell it's summer. That thing on Donald Trump's head? It jumped off and chased an ice cream truck." — David Letterman
Norm Clarke can be reached at (702) 383-0244 or norm@reviewjournal.com. Find additional sightings and more online at www.normclarke.com.