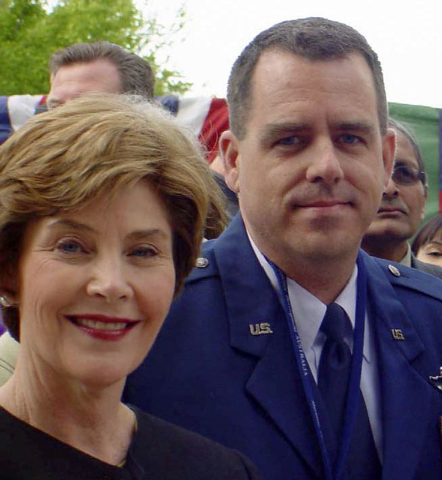 Las Vegas was reeling from the great recession in the wake of the 2007 mortgage crisis, yet life was sweet at a well-financed warfare research center at Nellis Air Force Base.
Launched in 2006, the Coalition and Irregular Warfare Center's central mission was critical: Find ways to counteract improvised explosive devices, or IEDs, the roadside bombs killing and maiming American troops in Iraq and Afghanistan.
With that overwhelming mission came a big budget, tens of millions of taxpayer dollars.
Less than five years later, the center was quietly "inactivated," its mission a casualty not of war but of waste and taxpayer abuse associated with contracts steered to a defense contractor.
"We were basically paying these guys to sit around at computers and play games," said retired Lt. Col. Timothy Ferner, whose whistle-blower complaints got him fired from the center staff in 2009 but ultimately led to the unraveling of large-scale contract abuse.
That assessment came in a July news release after it was announced that Ferner would be awarded nearly $1 million under the federal False Claims Act exposing the scheme.
Now living in New Zealand, Ferner told the Review-Journal the Air Force has little to show for more than $42 million in public money that passed through the center and an associated unit.
Center staff and consultants "spent a lot of money going to classes at Special Operations command at Hurlburt Field, Florida, learning about 'winning hearts and minds' but in the end did nothing," Ferner said in an email. "… To my knowledge, other than a Columbia air power assessment, the CIWC produced nothing and did nothing but waste the taxpayers' money and kill the careers of officers sent there."
warfare center
The Coalition and Irregular Warfare Center was conceived by a general who was trying to better align Air Force assets and capabilities to the realities of the Global War on Terror. The Air Force's superior technology and unquestioned air superiority, hard won during the Cold War, was seen as having little value in counterinsurgency campaigns in Iraq and Afghanistan, where crudely built roadside bombs, not MiGs or missiles, were taking a terrible toll on American troops.
The solution was creation of a new center staffed by senior officers, all experts in their field, who would find ways to defeat Improvised Explosive Device networks, hone air power abilities, and build relationships with partner nations in the so-called "long war" of counter-insurgency campaigns.
The center was initially called Detachment 1 of the Nellis-based United States Air Force Warfare Center. Later, the center's "dedicated crew of 13" officers and cadre of civilian contractors that grew to twice the number of uniformed personnel moved into its own offices, a remodeled barracks with the detachment's emblem etched on the entry door glass.
At the new facility's ribbon-cutting ceremony on April 6, 2009, the center's director, Col. Ross Victor, highlighted the difficulty of the mission, saying, "We're trying to turn this big ship, called the Air Force, and change direction."
By then, Ferner, the center's chief of staff, was openly questioning the direction of the center itself.
According to his whistle-blower complaint filed in U.S. District Court in Florida, the career Air Force officer began to suspect financial irregularities soon after he joined the elite operation in 2006. He became chief of staff in late 2008.
Col. Scott Pugmire, center director at that time, told Ferner to contact Lt. Col. Ted Anderson for guidance on securing needed funding.
Anderson was assigned to the 505th Command and Control Wing, which is based at Hurlburt Field, Fla., with a subordinate unit at Nellis.
The 505th had managed a coup by tapping $4.5 million from the Joint IED Defeat Organization while avoiding the normal government bid process by using War Fighter II, a contract services broker affiliated with the engineering firm Science Applications International Corp., or SAIC.
Ferner said Anderson put him in contact with SAIC employees Paul Fast and Matthew Black, who said Warfighter II and another SAIC-affiliated broker, TAgent, could save time and headaches by bypassing the Nellis office that oversees contracts.
Anderson last week confirmed Ferner's account to the Review-Journal.
The SAIC officials told Ferner that TAgent's director, retired Air Force Lt. Col. Steve R. Stallings, had access to a pool of contractors who could meet the center's needs.
Ferner said the center used TAgent after he was assured by Capt. Daniel Boeh at the Nellis contracting squadron that the company was OK.
"Based upon my discussions with Mr. Stallings, this is a legit organization, and will be able to assist you with your requirement," Boeh wrote in a Feb. 12, 2007, email to Ferner.
Stallings, who had sterling credentials as an Air Force command pilot, had retired in 2006 after serving as science adviser to U.S. Central Command at MacDill Air Force Base, Fla.
Science Applications International Corp., based in McLean, Va., is a longtime military contractor that grew from a one-man firm in 1969 to a $10.6 billion-a-year information technology and management services powerhouse with 40,000 employees.
An SAIC spokeswoman did not respond to repeated requests for comment, but CIWC documents obtained by the Review-Journal under the federal Freedom of Information Act show the company had a major role in Nellis operations from the center's inception.
In the center's first year, SAIC's contract to provide program support and consulting services to the Coalition and Irregular Warfare Center paid the company nearly $3 million. In 2010, when the center closed, SAIC was paid $16 million under the contract.
Documents show that between July and September 2007 alone, SAIC's contract was modified six times with no justification provided, increasing the company's pay from $5.3 million to roughly $8.3 million.
Back-to-back modifications totaling more than $640,000 came two days before the end of that fiscal year. That's when federal agencies typically spend big to avoid looking like they were allocated more money than they really needed and might be cut in the next budget year.
Each of the modifications was authorized by the same General Services Administration contracting officer in Chesapeake, Va., Tami Kinnard, under a blanket purchase agreement arranged by Stalling's company, TAgent, based in Valrico, Fla.
A GSA spokeswoman said she was unable to comment on Kinnard's status because of the federal budget shutdown.
Stallings later told General Services Administration officials he had authority to bypass the Nellis contracting squadron and expedite the no-bid contracts with SAIC, though Pentagon investigators determined that as a civilian he had no such power.
questionable spending
During the Coalition and Irregular Warfare Center's 54-month life, the blanket purchase agreement funneled $42 million through it and the 505th. It's unclear how much went for the main mission of improving irregular warfare capabilities and countering IED attacks. But records show spending clearly off-point, including $427,000 for an effort to develop passwords for monitoring finances of an Army warfare group.
Ferner said he questioned the center's finances from the start, and later was suspicious of the 505th's management when three contracts for mission support were combined into one for TAgent. He said this amounted to three violations of the federal Antideficiency Act, which prohibits federal employees from obligating the government to pay money before funds are appropriated for that purpose.
Ferner said he conveyed warnings about the violations in emails to the Air Force Warfare Center commanders in emails to their executive officers. Nevertheless, the commanders at different times between 2006 and 2010 allowed money to be transferred from the 505th Command and Control Wing budget to pay CIWC contractors. The commanders were Maj. Gen. R. Mike Worden, the father of the CIWC concept, Maj. Gen. Stephen L. Hoog and Maj. Gen. Stanley "Ted" Kresge.
In an email to the Review-Journal, Ferner described the response he received: "When I briefed Kresge on the fraud his comment to me was, 'It's the cost of doing business with contractors. Get over it, Tim!' "
But Ferner's warnings were not entirely ignored.
Not long after the center moved to its new office, it scrapped an assessment of the tiny Bulgarian Air Force after 18 months of planning. Bulgaria, a new NATO member, was eager for the review and recommendations for improvement.
"A formal complaint was filed by the (U.S.) air attache' in Bulgaria and it went through the embassy to the Chief of the Air Force expressing dismay … about how embarrassing the cancellation was for the U.S. government. That probably was the straw that broke the (center's) back," Ferner wrote in an email.
"Shortly after that there was an investigation … for misappropriation of funds for switchblades, high-intensity laser lights, body armor, retractable batons, handcuffs and other illegally purchased equipment, tens of thousands of dollars' worth of equipment, some of which went missing."
Ferner said the equipment was bought without his knowledge because the center had money to "use or lose" at the end of a fiscal year and identified the gear as "required equipment for the unit."
An Australian exchange officer attached to the center "laughed when he saw the list and disapproved the purchase," Ferner wrote. "Despite that, the items were purchased and some of it went missing."
Ferner said he took the gear to his home for safekeeping, and later gave it to a base contracting officer.
"He was stunned," Ferner wrote. "Federal law prohibits the purchase and possession of these items on military installations."
Even after investigators determined some of the items were missing, "there was no punitive action taken against any of the people involved," Ferner said. "This was just another example of the lack of accountability and leadership that was prevalent at Nellis."
Ferner's whistle-blowing also got results of another kind. In 2009, as the center's relationship with TAgent was coming under scrutiny, Victor fired him, citing personal compatibility issues, though an inspector general's investigation later called it retribution.
The Coalition and Irregular Warfare Center was shuttered on Dec. 8, 2010.
A Nellis spokesman said Kresge decided to "inactivate the CIWC and absorb the mission into the (Air Force Warfare Center) because there were organizations within the USAFWC that could accomplish the same mission with more people to improve the services provided to the component Numbered Air Force and component Major Command. The entire staff of the USAFWC was then able to work on the issues formerly assigned to a staff of 10 people."
Ferner attributed the closure to loss of faith in Victor's leadership and recognition the center "wasn't producing anything."
false claims act lawsuit
Ferner in 2010 filed a lawsuit under the False Claims Act, which encourages private individuals with knowledge of fraud on the government to sue on behalf of the government to recover civil penalties and triple damages.
Last July, federal authorities in Tampa, Fla., unsealed court papers that included Ferner's lawsuit and revealed that Science Applications International Corp. had agreed to pay the government $5.75 million to settle allegations that it circumvented the bidding process and induced the Air Force to award the company lucrative contracts.
Ferner wasn't impressed. He said he wanted Air Force and SAIC personnel who orchestrated the scheme or looked the other way to be held accountable.
The settlement "was the amount of profit they estimated SAIC made off the CIWC contract," Ferner wrote. "While I was stationed at Nellis, the senior leader­ship rule was a cross between a flying club and a criminal enterprise. The taxpayers paid (them) in excess of $200,000 to mismanage and be unaccountable to the taxpayer in excess of $40 million and nobody cares."
On Sept. 11, Ferner's lawyers announced that Stallings had agreed to pay the government $105,000 for his role in the scheme.
"Stallings has also agreed to cooperate fully with investigators (in cases) currently pending by the United States into other entities including another contract broker (Joint Technology Assessment Activity) located in Crane, Indiana," the law firm posted on its website, referring to Lawrence Solliday, a former Naval Surface Warfare Center director who also worked for Science Applications International Corp.
Stallings, through his attorney, declined comment for this article.
The contracts Stallings arranged were worldwide in scope and involved various military units, including the U.S. Special Operations Command, U.S. Central Command at MacDill Air Force Base in Florida and the National Aeronautics and Space Administration at Cape Canaveral.
Ferner said the government had valid claims against Stallings for more than $42 million, yet settled cheap.
"There was no prosecution, he didn't lose his security clearance — nothing," he said. "How's that justice?"
But Ferner's representative, the James Hoyer Law Firm of Tampa, Fla., notes the settlement "does not preclude any possible criminal charges against Stallings."
Ferner said he doesn't know how much money was wasted, because contract oversight was lacking, but he said the answer lies in the 5,000 pages of emails he gave the Department of Justice that remain under seal.
If the Air Force "wants to get to the bottom of this, all they have to do is look at the paperwork," he said, adding that the Justice Department only looked at the civil liability of the contractors, not the Air Force or the GSA.
William C. Daniels, a spokesman for the U.S. Attorney's Office for the Middle District of Florida, confirmed that documents in the whistle-blower case remain sealed even though, "We have either pursued and settled with, or declined to pursue, all the named defendants."
Yet Daniels said he can neither confirm nor deny a criminal investigation is ongoing.
contractors hire military retirees
In announcing the Science Applications International settlement, Ferner's lawyers said the long-standing practice of military and government officials going to work for government contractors contributed to the atmosphere that enabled waste and abuse.
"If you keep your mouth shut, you can set yourself up for a high-paying job at one of these giant, defense contracting companies — especially when you're close to retirement," Ferner said through his attorneys.
Nothing much has changed.
Victor, the colonel who fired Ferner, now works in Hawaii for Booz Allen Hamilton, a major defense and intelligence consulting firm.
Victor said he was contacted by federal investigators regarding Ferner's case but "was never charged with anything related to this incident. … The person that did the wrongdoing was with SAIC, and they settled."
Victor also said he wasn't recruited as a consultant before he retired.
"I had no intention of becoming a contractor when I left the Air Force," he said.
Science Applications International Corp.'s close relationship with the Air Force also remains intact.
In August, President Barack Obama nominated Deborah Lee James, president of SAIC's technology and engineering sector and a former assistant secretary of defense for Reserve Affairs, to replace retiring Air Force Secretary Michael Donley.
Nellis public affairs officials have said they have no record of any action taken against officers named by Ferner.
That's not good enough, Ferner said.
"When I joined the Air Force, I took my oath of office seriously. I believed my job was to protect and defend the Constitution of the United States against all enemies foreign and domestic, and I felt the wasting of money and the current economic climate the government faced … represented a threat. It was wrong. It was illegal, and it was immoral."
Review-Journal writer Brian Haynes contributed to this report. Contact reporter Keith Rogers at krogers@reviewjournal.com or 702-383-0308.