Cocaine use played role in Barrier death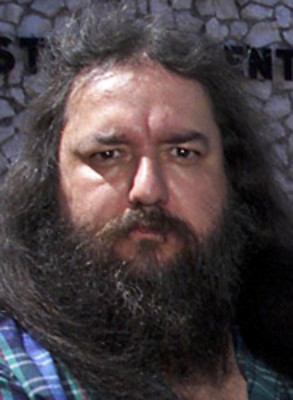 Conspiracy theories surrounding the sudden death of Las Vegas icon James "Buffalo Jim" Barrier in April were disputed Tuesday in an autopsy report that indicated the boisterous auto mechanic's heart failed while he was using cocaine.
Clark County Coroner Mike Murphy said Barrier suffered from dilated cardiomyopathy, a condition in which the heart muscles become inflamed.
"The combination of that heart problem and too much cocaine resulted in his death," Murphy said Tuesday. "Cocaine has been known to disrupt the electrical function of the heart. It is a very dangerous drug."
After reviewing pathology results and the investigation by the Metropolitan Police Department, Medical Examiner Lary Simms ruled Barrier's death an accident. Had cocaine not been involved, the coroner's office would have determined Barrier died of natural causes.
Jennifer Barrier, the mechanic's 24-year-old daughter, said the autopsy findings did not change her position that her father was murdered.
"This was foul play," she said, adding she was unaware her father had a heart problem. "This is not OK. Now I feel like we're back to square one."
Barrier, 55, was found dead April 6 inside a Motel 6 room at 4125 S. Boulder Highway, which he had checked into the night before. Simms indicated early in the investigation that Barrier died a short time after renting the room.
He was in the room with a woman identified as "Lisa." Police detectives who spoke with the woman said she told them that she left the motel after Barrier suffered a seizure. His family said a woman called repeatedly the night he died and asked whether he was OK.
Friends and family have said that he was in good health and that he was murdered. He was known for his long-standing feud with former Crazy Horse Too owner Rick Rizzolo. They said Barrier had received death threats in the months before his death.
Former Las Vegas City Councilman Steve Miller, who fought Rizzolo and city leaders alongside Barrier, has said he thinks Barrier was killed and placed in the motel room or forced into the room by his killers.
He and Barrier's four daughters outlined suspicious circumstances in the room: They said two glasses of tap water were on the bedside table though Barrier drank bottled water; and they questioned why he was lying on a neatly made bed or why no hairs from his long mane and bushy beard were found in the motel room.
But police said that a surveillance tape monitoring the Motel 6 lobby showed a good-natured Barrier conversing with the clerk.
Miller would not comment on the coroner's findings released Tuesday. He said the family is awaiting results from a pathologist and private investigator hired by the family.
"Once the private pathologist's report is completed, we'll see if any other factors are present," Miller said.
Jennifer Barrier said Las Vegas police ended their investigation after the autopsy results were returned. She expressed frustration with the handling of the case.
"Metro is not letting us see anything," she said. "The higher-ups said if we need to see anything, we need to have our lawyer write something up."
Jennifer Barrier said that after her father began receiving death threats, he told his four daughters that if he were killed, his death would be by a method that left no signs.
"My dad said he would be drugged and it would be hard to detect," she said. "This doesn't clarify anything for us. He could have been poked with something in it to knock him out and then fed him something. We need more tests to be done for more chemicals."
He left his home on Saturday, April 5, telling his then-15-year-old daughter he would return by midnight. The family received a call from police, who were notified of a body in a Motel 6 room by a maid.
Simms' preliminary report indicated there were no signs of a heart attack, fueling the family's belief that Barrier died under suspicious circumstances.
Murphy said that when an individual dies from a heart attack, the heart muscle is dead.
Barrier had no dead muscles but had heart disease. In medical terms, he died from a heart disease combined with cocaine use, Murphy said, clarifying Simms' findings.
Murphy said death is not an uncommon result for individuals who have bad hearts and use cocaine.
Barrier's cause of death is similar to that of John Entwistle, the longtime bassist for The Who, who was found dead in a Hard Rock Hotel room in 2002. The autopsy report for Entwistle, then 57, showed that cocaine had compounded the guitarist's heart problem.
Contact reporter Adrienne Packer at apacker@reviewjournal.com or 702-384-8710.